Movie Review
Parental Guidance
Here come the grandparents. There goes the rules.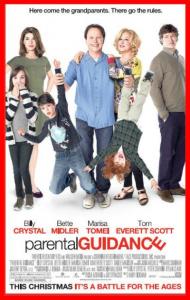 US Release Date: 12-25-2012
Directed by: Andy Fickman
Starring
▸
▾
Billy Crystal

,

as

Artie Decker
Bette Midler

,

as

Diane Decker
Marisa Tomei

,

as

Alice Simmons
Tom Everett Scott

,

as

Phil Simmons
Bailee Madison

,

as

Harper Simmons
Joshua Rush

,

as

Turner Simmons
Kyle Harrison Breitkopf

,

as

Barker Simmons
Tony Hawk

as

Himself

Reviewed on:
January 2nd, 2013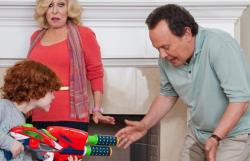 Kyle Harrison Breitkopf, Bette Midler and Billy Crystal in Parental Guidance
The combination of veteran stars Bette Midler and Billy Crystal certainly adds some interest to a film whose plot seems set and pat by a single viewing of the trailer. Both have been in the entertainment business since the 1970s but neither has been very prolific in film work recently, especially Crystal. Playing in the next theater over was the re-release of Monster Inc. featuring Crystal's last notable film work from 2001.
Crystal plays Artie, an announcer at a minor league baseball stadium. He loves his work and is shattered when he is fired from it for basically being too old. Not only does Artie have a legal argument about age discrimination, but the owners should have known that baseball fans love our old announcers who have personalities and fascinating baseball stories of old.
Anyway-Artie and his wife Diane (Midler) get a call from their only daughter Alice, who lives out of state. She and her husband Phil need them to stay with their three kids for a few days while the couple go on a trip for Phil's work and award nomination. Just after arriving we learn that they are anything but close to their daughter and her family. Alice makes her kids wear the ugly sweaters Diane made them and she tells the kids to laugh at all of Artie's jokes, whether they like them or not.
Phil is up for an award for designing a modern house packed with electronic/computer conveniences. This leads to many jokes of Artie and Diane not knowing how to use the technology. There are some laughs to be found in that, but the real good stuff is simply the clash of parenting techniques from one generation to another.
Artie is of the generation and mindset that you correct an issue with your child's behavior on the spot with a direct response, while his daughter and son-in-law respond to their kids by telling them to express them self and use words....etc. Alice objects when her parents bring her children squirt "guns". Although the plot leans more towards Artie's way of parenting, he does learn some patience from his daughter's method.
My favorite scene in the whole movie is when Alice takes her Dad to watch her oldest son play baseball. Artie is a bit shocked when he discovers that his grandson is a great pitcher, but even more shocked when he finds out that even after throwing three strikes, the batter is not out. Artie quickly approaches the umpire who explains that no one strikes out. All the batters stay at the plate until they get a hit. An incredulous Artie throws a fit where many fathers, and the ump, agree that the rule is ridiculous. I once coached my son's soccer team where we had similar ridiculous rules. Why should we waste time teaching kids that life is fair, when we all know it is not?
There are some really good moments here but some could have been improved on. After listening to her granddaughter get berated by her violin teacher, Diane tells her to never speak to her granddaughter that way again. The scene is played light when it could have been a much more emotional scene. Later, Alice tells her mom that she should not have threatened her teacher and Diane responds flippantly, "You say threaten, I say defended." The worst scene is when Artie goes to the skateboard park. It screams,"desperate for a joke."
Parental Guidance wears its heart on its sleeve. We see three generations trying to understand each other. They all love the other but have different points of reference and some old wounds that still need to heal. This wholesome little movie warmed my wife's and my heart. Like so many of us, we both deal with issues of our parents as well as our children. We related to much of what was happening on screen and recommend this film to family members of all ages.
Photos © Copyright Walden Media (2012)