Movie Review
ParaNorman
You don't become a hero by being normal.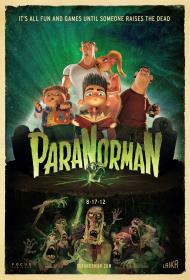 US Release Date: 08-17-2012
Directed by: Chris Butler, Sam Fell
Starring
▸
▾
Kodi Smit-McPhee

,

as

Norman Babcock (voice)
Tucker Albrizzi

,

as

Neil (voice)
Anna Kendrick

,

as

Courtney Babcock (voice)
Casey Affleck

,

as

Mitch (voice)
Christopher Mintz-Plasse

,

as

Alvin (voice)
Leslie Mann

,

as

Sandra Babcock (voice)
Jeff Garlin

,

as

Perry Babcock (voice)
Elaine Stritch

,

as

Grandma (voice)
Bernard Hill

,

as

The Judge (voice)
Jodelle Ferland

,

as

Aggie (voice)
Tempestt Bledsoe

,

as

Sheriff Hooper (voice)
Alex Borstein

,

as

Mrs. Henscher (voice)
John Goodman

,

as

Mr. Prenderghast (voice)
Hannah Noyes

as

Salma (voice)

Reviewed on:
January 19th, 2013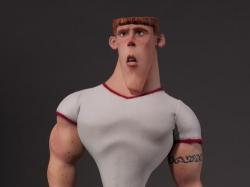 The openly gay Mitch in ParaNorman.
Norman is a rather odd boy living in the quaint New England town of Blithe Hollow. A place reminiscent of Salem in the sense that it shares a history of witchcraft. Like Haley Joel Osment in The Sixth Sense, Norman sees dead people. These include his ghostly grandmother (voiced by Broadway legend Elaine Stritch) that Norman watches television and carries on conversations with, much to the consternation of his father.
After we are briefly introduced to the various family members and eccentric townsfolk, the story quickly escalates when a 300-year-old witch's curse threatens the citizens of Blithe Hollow. Norman (with the help of a few equally oddball friends) must read from a special book at the witch's grave in order to stop the impending curse from destroying the town.
The scares are well-balanced with sharp-witted dialogue. An example of the humor is when Norman's mother states matter-of-factly that, "Not believing in an afterlife is like not believing in astrology." Norman's obese fellow-outcast Neil provides much of the comic relief. From the moment he befriends Norman by not letting Norman's aloof manner discourage his overtures, you can tell they will make a great buddy team. "I'd like to be alone." Norman snaps at him, to which Neil cheerfully replies, "So do I! Let's do this together!" During a confrontation in the school cafeteria Neil threatens a bully by saying, "Don't make me throw this hummus... it's spicy!"
From a technical standpoint ParaNorman is a bit innovative. It was shot on expensive new 3D cameras called Canon EOS 5D Mark II DSLR. In all, 60 of these cameras were used. I understand very little of the technical side of filmmaking but for the record this was the first ever stop motion film to utilize full-color 3D printers for replacement animation. Got it? Good, now explain it to me.
Of the voice talent John Goodman (whose career has been on a hell of a roll lately) stands out as Mr. Prenderghast, Norman's uncle and the town crackpot. He's the one that warns Norman about the impending curse and advises him on how to counter it. When he first approaches Norman and Neil as a ghost he asks, "Pssstttt, you know who I am?" Neil pipes up with, "The weird stinky old bum who lives up the hill?" The ghost, while pointing at Norman, says dejectedly, "I was asking him!"
I'm not a huge fan of animated features. Once upon a time they were a rare breed. When one came along every few years it was a cinematic event. Today they're a dime a dozen. I did, however, thoroughly enjoy this one. I related to Norman. He reminded me a bit of myself at his age (although thankfully, I never saw any ghosts). The resolution to the story is surprisingly touching for an animated movie.
I also loved the nonchalant manner in which they revealed that Neil's dumb-jock older brother Mitch is gay. He is reportedly the very first openly gay character in an animated kid's movie. Although a few conservative critics have voiced complaints about this - Nancy French of the National Review Online, for example, suggests that the film could lead parents, "to answer unwanted questions about sex and homosexuality on the way home from the movie theater." - for the most part it hasn't made much of a ripple. I see this as one step closer to the day gay people are viewed in the same mundane manner as straight people. Bravo to the makers of ParaNorman for getting us one step closer to that day.
Reviewed on:
January 20th, 2013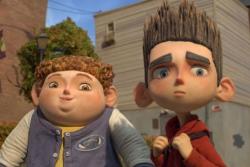 Tucker Albrizzi and Kodi Smit-McPhee provide the voices of Neil and Norman in Paranorman.
Patrick, if you hadn't mentioned or I hadn't read that Mitch is the first openly gay character in an animated kid's movie, I wouldn't have given it a second thought. And it seems a bit of a stretch that parents would have to answer questions about sex just because Mitch says he has a boyfriend.
Blithe Hollow, where the story is set, is clearly based on Salem, MA. The tacky witchcraft shops and old Town Hall featured in the story are all obviously based on their real-life counterparts. Like the real town, Blithe Hollow seems to have a schizophrenic relationship with its history. On the one hand, innocent people, who clearly weren't witches, were killed for being witches, but on the other hand, the town has made its reputation on being the witchcraft capital of the world.
I don't know if it was partly because I watched Frankenweenie, another stop motion film, before watching this movie, but the colors and animation in ParaNorman, seemed to really pop. Frankenweenie being filmed in black & white, may have made this one seem even more brightly colored than it is. Even without the comparison though, this a beautifully rendered film. I know that the amount of effort involved shouldn't affect how the finished product is viewed, but I am always more impressed by the painstaking process involved in physically moving stop motion animated figures one frame at a time than I am by a film that does the same thing on a computer. There's something about knowing that the figures actually exist in three-dimensional space that adds to the charm of this film.
Although I wouldn't call the comedy laugh-out-loud funny, there were a few moments that made me smile. When Courtney compliments Mitch on his muscles by saying how nice his deltoids are, he replies, "I've never used deltoids in my life. You can test me." In another scene that made me chuckle, when zombies are approaching, a man anxiously waits for his chips to drop in a vending machine, with the scene cutting quickly back and forth between the zombies and the slowly moving snack. And later, when Norman and his friends are looking up information in the town records and they're all complaining about it, he mutters to himself, "If I had known there was going to be so much reading involved, I'd have brought an entirely different set of people."
ParaNorman is a nice enough little animated featured. I enjoyed it without loving it, but there is plenty to like about it.

Reviewed on:
January 20th, 2013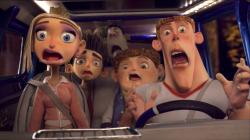 No, it is not Mystery Inc. It is ParaNorman
ParaNorman does have some decent one-liners. My brothers mentioned some while I will add one of my favorite. While Norman is sitting in a bathroom stall, a ghost comes out of the stool and says to Norman,"I got unfinished business here." and Norman responds, "Couldn't you use another stall?" One of my favorite sight gags is when the female motorcycle cop with the very big butt, keeps bumping into the side of Mitch's van to get him to pull over. However, it is her butt that is doing the slamming, not the motorcycle.
Although there are plenty of laughs to be had here, it is not a horribly original idea. Patrick mentioned that the gimmick of a boy talking to dead people is a direct lift from The Sixth Sense. The plot steals many ideas from Hocus Pocus (1993). It also takes place in a Salem type town and like ParaNorman, has a magic book that a boy must be read from, witches and a zombie.
As far as Mitch being gay, he could have just as easily mentioned that he had a girlfriend instead of a boyfriend and caused the same reaction in Courtney. Hollywood chose to make him gay for no other reason than to cause a reaction. It made people like Patrick cheer and conservatives to jeer. It by no means serves the plot in any other way. Scott wrote that he thought it, "...a stretch that parents would have to answer questions about sex just because Mitch says he has a boyfriend." On the contrary, when this film was in theaters a woman I worked with brought that scene to my attention as her son turned to her in the theater and asked, "Boyfriend?"
I enjoyed ParaNorman. The voice work is great and the animation has my worthless vote for the Academy Award for best animation. However, that one line spoken by Casey Affleck may very well be what this movie is most remembered for. That would be a shame as it has so much more to offer than just that.
Photos © Copyright Focus Features (2012)