Movie Review
Paranoia
In a war between kings even a pawn can change the game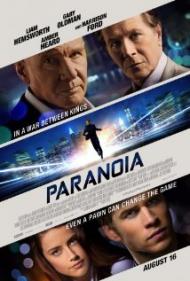 US Release Date: 08-16-2013
Directed by: Robert Luketic
Starring
▸
▾
Liam Hemsworth

,

as

Adam Cassidy
Gary Oldman

,

as

Nicolas Wyatt
Amber Heard

,

as

Emma Jennings
Harrison Ford

,

as

Jock Goddard
Lucas Till

,

as

Kevin
Embeth Davidtz

,

as

Dr. Judith Bolton
Julian McMahon

,

as

Miles Meechum
Josh Holloway

,

as

Agent Gamble
Richard Dreyfuss

,

as

Frank Cassidy
Angela Sarafyan

,

as

Allison
William Peltz

,

as

Morgan
Haley Finnegan

,

as

Chelsea
Kevin Kilner

,

as

Tom Lungren
Christine Marzano

,

as

Nora Summers
Charlie Hofheimer

as

Richard McAllister

Reviewed on:
December 3rd, 2013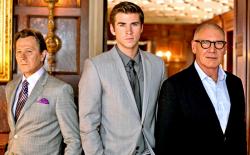 Gary Oldman, Liam Hemsworth and Harrison Ford in Paranoia
Some consider Paranoia to be Harrison Ford's worst film ever. It certainly was a flop at the box office and not well received by many critics. It is by no means though his worst film. Hell, you can hardly even call it "his" film as Liam Hemsworth has more screen time than anyone else.
The problem I had with Paranoia was with the movie's trailer. It gave away nearly every plot point, from start to finish. Adam is a young man eager to make it big in the techy world so as to take care of his ailing working class father. He gets hired by one wealthy CEO and groomed so as to get him hired by a competing company to spy on them. The FBI gets involved and poor dumb Adam finds himself in way over his head. He swears to a girl that he will make everything all right. The trailer ends with him smiling at the two bosses of each competing company. Add a few shirtless scenes of Hemsworth and you have not only the entire trailer, but the entire film condensed into two and a half minutes.
A trailer is not supposed to be a movie's cliff notes. It is supposed to create a set up that an audience will want to see the outcome of. Paranoia is supposed to be a tense thriller and if you have not seen the trailer, you may find it so. The enjoyment of a mystery/spy film is discovering the details as the characters do. To know so much of what is going to happen literally sucks all of the entertainment from the film.
Corporate espionage is ripe for a brilliant movie. Unfortunately, this film is bogged down with too simple of a set up. Adam is a blue collar boy, whom his one night stand calls a, "bridge and tunnel guy." The men he spies on and betrays are all ridiculously wealthy. Of course the girl comes around and there is never any doubt that Adam will come out okay. I am not giving anything away the trailer did not already divulge.
Maybe sometime in the future someone who has never seen the trailer will find this film and enjoy it. They will find Adam to be a likable working class kid. They may find him being used by the greedy rich to be intriguing. The setup is too simple to make for a great film, but at least none of the plot points will have been ruined for them.
Photos © Copyright Gaumont (2013)