Movie Review
Paradise Love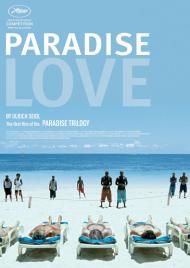 US Release Date: 04-26-2013
Directed by: Ulrich Seidl
Starring
▸
▾
Margarethe Tiesel

,

as

Teresa
Peter Kazungu

,

as

Munga
Inge Maux

,

as

Teresa's friend
Dunja Sowinetz

,

as

Tourist
Helen Brugat

,

as

Tourist
Gabriel Mwarua

,

as

Gabriel
Josphat Hamisi

,

as

Beachboy
Carlos Mkutano

as

Salama

Reviewed on:
April 28th, 2013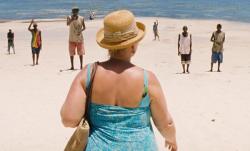 Margarethe Tiesel checks out the locals in Paradise: Love.
Paradise: Love (Paradies: Liebe) is the first part of a trilogy of films by Austrian filmmaker Ulrich Seidl. The other installments, which he already shot and originally planned to edit together as one long film, are called Faith and Hope. Each one features a female member of the same Austrian family undergoing a life changing experience. Love tells about the 50 year old Teresa who travels to Kenya as a sex tourist. (International Sex Tourism is a growing industry and not just for men.)
Ulrich used locals as the for-rent beachboys. They are well-built young men that hang around the beaches in front of resorts and befriend any vacationing European women (usually aging and wealthy) whose eye they can catch. Teresa sleeps with several of them but she is searching for love. She yearns for a man to gaze longingly into her eyes and make passionate love to her.
Realistically this just ain't gonna happen. Not with these men anyway. They are all at least 20 years younger than she is and Teresa is quite obese (see photo). She kids herself into believing one local man named Munga actually has feelings for her. But, like every other man she meets and sleeps with, he eventually gets around to asking for money; never for himself but always for a family member in dire need. In the most dramatic moment Teresa makes a scene in public after realizing that Munga is a prostitute and that the woman he introduced as his sister is really his wife holding their baby. Love comes with a price tag even on the sands of paradise.
Love, sex and race all get tossed into this celluloid salad. Teresa, and her fellow sex tourists (all of whom are Caucasian Europeans), sexually objectify these young African men (in the same manner men have traditionally objectified female prostitutes). But race also plays a factor. They say insulting things about these men (in German) right in front of their faces and one woman states that she just loves how Negro skin smells like cocoanut and that she can't get enough of licking and biting it.
At first Teresa seems different from these predatory females. She is searching for more than just hot no-strings-attached sex. She dreams of finding her soul mate. But by the end of the film she has become a much more morally ambiguous figure.
The most unique thing about Paradise: Love is the amount of nudity on display. Margarethe Tiesel is fearless. She spends half the film with her giant saggy tits out and even does a full frontal that isn't pretty. The men are not left out. In fact this is the most dick I have ever seen in a non-porn film. In one extended scene Teresa and 3 fellow sex tourists hire a young man to strip for all of them in her hotel room to celebrate Teresa's 50th birthday. One woman ties a pink string around the man's cock and they stroke it, and he rubs his semi-erect penis against Teresa's breasts. This isn't your typical Hollywood movie.
Paradise: Love takes a thought-provoking look at one woman's search for happiness in the little known world of sex tourism. By the time Teresa takes that final solitary walk on the beach, the movie leaves you with a feeling that it was all very sordid and kinda sad. Romantics be forewarned, this is not a happy take on either paradise or love. But as a character study it's riveting to watch Tiesel bring Teresa to vivid and fully-realized life.

Reviewed on:
September 12th, 2013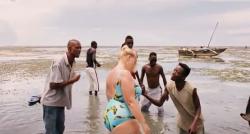 How is it not obvious that they are only after her money?
Teresa does not travel to Kenya with the explicit goal of being a sex tourist. If she did she would not have been so naïve to how it works. Early on she is a bit shocked by a fellow vacationer speaking so casually about it. She soon decides to spend time with local men but seems to not understand the arrangement.
The men all tell her that they love her and she seems so hopelessly desperate that she believes them. Short of a sheltered virgin, I cannot imagine a woman dumb enough to not get it. These young, poor men run up to her, call her mama and tell her that they love her. After they have sex they ask for money with some made up excuse. Packs of these men literally stand just outside the border of the resort waiting for a tourist to cross the line. These men sell trinkets or themselves very aggressively.
The fact that she becomes offended by a whore lying to her shows us how stupid she is. I would understand if she was a young socialite, but at 50 years of age, you would think she could see these men for what they are. I felt no pity for her, what-so-ever, when she finally realized they were only interested in her money.
As Patrick wrote, these old fat European women treat these men without the slightest amount of dignity. The scene Patrick mentioned where they hire a young man to strip for all of them in her hotel room is in fact pornographic. There is direct contact with his penis by their hands and breast. They end up disappointed when he does not get an erection and make fun of him because of it.
It takes lots of money and several lovers for Teresa to learn the age old lesson that you can buy someone's body but not their love.
Photos © Copyright Strand Releasing (2013)
Related Review