Movie Review
Paradise Faith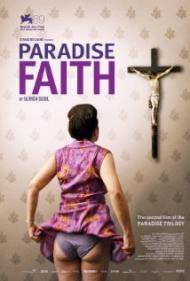 US Release Date: 08-23-2013
Directed by: Ulrich Seidl
Starring
▸
▾
Maria Hofstatter

,

as

Anna Maria
Nabil Saleh

,

as

Nabil
Natalya Baranova

,

as

Natalya
Rene Rupnik

,

as

Herr Rupnik
Daniel Hoesl

as

Messdiener
Reviewed on:
January 21st, 2014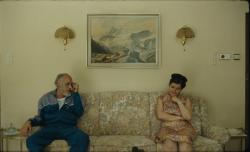 Nabil Saleh and Maria Hofstatter in Paradise: Faith.
Paradise: Faith (Paradies: Glaube) is the second entry in Austrian filmmaker Ulrich Seidl's Paradise trilogy. It was preceded by Paradise: Love and followed by Paradise: Hope. The three movies depict events which happen simultaneously to three different related women while on their summer holiday. Anna Maria, the main character in this film, is the sister of Teresa, the woman who visited Africa in Paradise: Love.
Anna is a devout Catholic, and loyal member of a quasi-fanatical religious group, whose stated goal is to convert all of Austria to Catholicism. She cheerfully spends her vacation going door to door, carrying a statue of the Virgin Mary, and attempting to spread the word of Christ. When not carrying out her missionary work she is often playing religious hymns on her electric harpsichord or self-flagellating her bare back while kneeling bare-chested in front of a large crucifix. In the movie's most talked about scene she masturbates with a crucifix, licking and kissing Jesus's body before placing it beneath the covers to pleasure herself.
The return of her errant husband Nabil complicates her vacation plans. He is Muslim and wheelchair bound. Just how this Catholic woman came to be married to this Muslim man is never explained. We can only imagine how the two of them ever fell in love. During the course of the movie they argue violently, even to the point of wrestling around on the floor several times. Anna refuses to share her bed with him and he calls her the most vile names while continuously trash-talking her religion.
Two individuals of different faiths are locked in a power struggle that is both ideological as well as practical. Nabil wants to sleep with his wife, watch television and drink beer. He also expects his wife to be submissive to his will. Anna Maria treats her husband like an inferior being that she must protect from his own weaknesses and for whose soul she prays. And yet as much as they are at odds with each other the viewer still gets an underlying sense that these two very different people once loved each other. Anna Maria never entertains turning her husband out, for example. He is simply a burden that she must bear. They could perhaps be happy together if only either of them were willing to meet the other halfway.
Paradise: Faith contains scenes that may offend members of both the Christian and Islamic faiths. But it isn't really an indictment of either. It is merely a character study of these two individuals. One of whom is Muslim (although not particularly devout) and the other of whom is Catholic (and fanatically devout). Say what you will about Anna Maria her religious beliefs are unshakable. At least up until the very end of the story.
I'm not sure exactly what the director was trying to say about the titular virtue with this movie. All in all I found it somewhat less satisfying than Paradise: Love. It has a grimmer atmosphere and less humor. Nevertheless I still look forward to the third installment. I only hope the final Paradise movie lives up to its title.
Photos © Copyright Ulrich Seidl Film Production (2013)
Related Review