Movie Review
Paparazzi
One good shot deserves another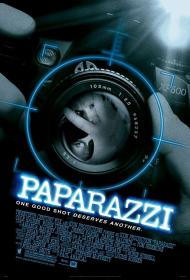 US Release Date: 09-03-2004
Directed by: Paul Abascal
Starring
▸
▾
Cole Hauser

,

as

Bo Laramie
Robin Tunney

,

as

Abby Laramie
Dennis Farina

,

as

Detective Burton
Daniel Baldwin

,

as

Wendell Stokes
Tom Hollander

,

as

Leonard Clark
Kevin Gage

,

as

Kevin Rosner
Blake Michael Bryan

,

as

Zach Laramie
Tom Sizemore

,

as

Rex Harper
Chris Rock

,

as

Pizza Delivery Guy
Mel Gibson

,

as

Anger Management Therapy Patient
Matthew McConaughey

,

as

Himself
Vince Vaughn

as

Himself

Reviewed on:
September 5th, 2004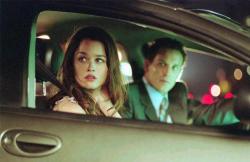 Paparazzi
Paparazzi is an eye opening look into the negative side of Hollywood fame. Sure, movie stars make lots of money and live in beautiful houses, but they also live constantly under the scrutiny of cameras and reporters trying to make a buck off them.
Bo Laramie has just starred in his first hit film and is currently filming its sequels. He and his wife and young son have just moved into a new Malibu home. All seems to be going great for him until one fateful day. On the way to his son's soccer game, he stops at a store and finds that he and his wife are nude on the cover of a tabloid magazine. Later that day, at the soccer game, Bo asks a photographer to not takes pictures of his son. The photographer continues and Bo slugs him. It was all a set up and Bo ends up getting sued by the photographer.
Things get even worse. While driving away from a party with his family, Bo's car gets surrounded by camera flashing photographers. They inadvertently cause Bo to get into a collision with another vehicle. The most disgusting scene of the movie is when the paparazzi get out of their cars and stare at the accident they just caused. For a moment, you actually think they are going to rush over and help the bleeding family. Instead, they grab their cameras and start clicking away. Meanwhile, the driver of the other vehicle is laying on the hood of his car dying.
At first the movie looks fake. I mean, how can people be so cold and cruel to someone just because they are famous? But lets look at reality. Brad Pitt unwillingly had nude photos of him printed in magazines. Shortly after getting out of the hospital for heart surgery, Arnold Schwarzenegger's car was purposely blocked in by paparazzi cars as he was dropping his kids off at school. And who doesn't remember Princess Diana's death and the paparazzi that took pictures of her dying in the car?
In one scene, a group of paparazzi are discussing their job. It sounds just like a bunch of hunters at deer camp. They talk about how they had a great shot of this celebrity. They talk about how they waited in a tree to get a shot at her. Paparazzi are hunters and celebrities are their prey.
Bo eventually has enough of this crap. He becomes the hunter and the paparazzi learn to fear him. He gets revenge. Even though it seems extreme, these idiots have it coming. The revenge portion of the movie is easily the weakest part. The paparazzi are never made to be even mildly sympathetic characters. In this movie, they are cut and dry evil people. At no point is the audience allowed to see them as anything but pariahs feeding of the misery of others.
Cole Hauser does a great job. You feel for his character, but never see him as perfect. He swears and loses his temper. He has to jog so he doesn't get fat. Bo is a "real" person. Paparazzi are one-dimensional demons.
Hauser has yet to become an A list actor, however, several A-listers do cameos. Vince Vaughn, Chris Rock and Matthew McConaughey all show up for one scene each. However, the best cameo belongs to Mel Gibson, who is also a producer on this movie. I won't spoil the joke, but it did bring the biggest laugh from the audience.
Paparazzi is a great flick that comes close to going over the top. The solid performance by Hauser and the knowledge that such events have happened in real life keep this movie on solid ground.
Paparazzi also has some good lines. Bo's anger management therapists informs the Montana native that; "Your old values aren't valuable any more." Another line that sticks with me is when Bo's son, referring to the nude photo, asks "Why does daddy have a black mark over his peepee?" As a father, I wondered how I would answer that.
Photos © Copyright 20th Century Fox (2004)