Movie Review
Paddington
A little bear will make a big splash.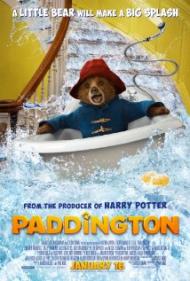 US Release Date: 01-16-2015
Directed by: Paul King
Starring
▸
▾
Ben Whishaw

,

as

Paddington (voice)
Hugh Bonneville

,

as

Henry Brown
Sally Hawkins

,

as

Mary Brown
Madeleine Harris

,

as

Judy Brown
Samuel Joslin

,

as

Jonathan Brown
Julie Walters

,

as

Mrs. Bird
Nicole Kidman

,

as

Millicent
Tim Downie

,

as

Montgomery Clyde
Geoffrey Palmer

,

as

Head Geographer
Imelda Staunton

,

as

Aunt Lucy (voice)
Michael Gambon

,

as

Uncle Pastuzo (voice)
Matt Lucas

,

as

Joe
Kayvan Novak

,

as

Grant
Peter Capaldi

,

as

Mr. Curry
Jim Broadbent

as

Mr. Gruber


Reviewed on:
January 24th, 2015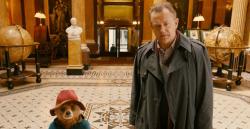 Paddington and Mr. Brown, played by Hugh Bonneville.
"A Bear Called Paddington" by Michael Bond, was first published in 1958. I recall as a child our mother reading it. All that I remember from the story was that Paddington was named after Paddington Station in London, he liked marmalade above all else and he always got himself into trouble.
My wife and I took our nine and ten year old niece and nephew to see the movie and both seemed to enjoy themselves. It begins in darkest Peru, of course, where we meet a couple of bears and a British explorer who teaches them to speak English. Most importantly, he introduces them to orange marmalade. Upon his departure, he tells the bears to look him up if ever they find themselves in London.
The movie then skips a few years where we find the two bears raising their nephew on marmalade. That is until a tragedy occurs and the small bear is sent off to London in search of a new home he hopes the explorer, his relative told him about, can provide. With only a suitcase full of marmalade and an old hat that once belonged to the explorer, the bear quickly gets lost until found by the Brown family in Paddington station, where he gets his British name. It was almost "Ketchup."
Although Mr. Brown is not keen on having the bear live with them, Mrs. Brown has already opened her heart to him. As for the children, young Jonathan takes to Paddington very quickly while his slightly older sister, Judy, needs more convincing. The family is rounded out by Mrs. Bird, who works like a live in maid but seems more like a relative.
All is very cute and cuddly with Paddington making messes around the house and having some fantastic adventures. A real threat shows up in the form of Nicole Kidman making like Cruella De Vil. Her Millicent is not after animal furs for wear but for stuffing as she is a taxidermist and Paddington would make a great addition to her collection. I have no memory of such a villain from the book but she does bring a real threat to the proceedings, trying to abduct Paddington and wielding a tranquilizing dart gun. The movie hits an exciting note with a little plot twist that puts Paddington in serious trouble.
I feared that my niece and nephew would not like this film as their father had recently allowed them to watch the R-rated Ted (2012) of all films. Yeah, I know. Still, they both laughed and responded very well to Paddington. As we left the theater, my nephew said to my wife, "I liked it more than I thought I would."
Paddington is as sweet a children's movie as you are likely to find. It celebrates family while also stating that sometimes families change. When the Browns set out to rescue Paddington, you know that he has found a home and that his presence has in fact made that home a better place for the Browns. Paddington is a brilliant family film.
I must also note the direction by Paul King. I would best describe it as Terry Gilliam light and I mean that as a sincere compliment. He has flights of imaginative fancy that make some routine scenes more enjoyable to watch. One part even seems like a nod to Gilliam's Brazil (1985). One of my favorite creative bits involves a large painting of a tree in the Brown's stairwell. You have to see it.
In fact, you have to see this film. Sure it is aimed at children but it is just too sweet to miss because you may think you are too old for it.
Reviewed on:
April 14th, 2015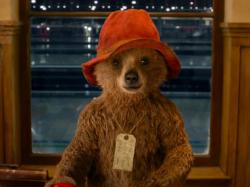 Please look after this bear.
Eric, this is the first time I've ever heard you being supportive of an illegal immigrant!
Having loved the Paddington books as a child, I was a little nervous to see what a CGI spectacle this movie would turn out to be. As Eric guessed, there was never a villain like Millicent in any of the Paddington books. Each of the books was comprised of multiple chapters, with each one really being a short story that could stand alone. Paddington's adventures were made up of the everyday trials of daily life in London. He could get into all kinds of trouble on something as simple as a shopping trip or an excursion to the seaside. His life was definitely never in danger and the only real villain of the stories was Mr. Curry, the grumpy next door neighbor, played here by Peter Capaldi, the latest Doctor in the revived version of Doctor Who. The books also featured a little less slapstick and there was never a mention of Paddington cleaning gobs of wax out of his ears with a toothbrush that Mr. Brown would subsequently brush with.
However, despite the changes and the expansion of the story, the filmmakers somehow still managed to capture the heart of the stories. Paddington is still the polite little bear with a heart of gold who always means well no matter what kind of trouble he gets into. And the central message of a stranger finding a home is there with all its positiveness still intact. It's heartwarming in the very best sense.
The cast is packed with recognizable British actors. Ben Whishaw (Q in the latest Bond film) provides the voice of Paddington, stepping into the role after Colin Firth and the studio amicably parted ways when Firth decided he couldn't find the right voice. Even the smaller roles are filled with famous faces. Jim Broadbent plays Mr. Gruber, the antiques dealer and Paddington's closest friend outside of the Browns in the books, although his part here is quite a minor one. Matt Lucas of Little Britain fame plays the cabdriver who runs foul of Kidman's Millicent. There are far too many others to mention, but any anglophile worth his salt will recognize virtually every speaking part.
Although I see the point Eric makes about the scene in the Explorers club being similar to Brazil, I wouldn't really compare Paul King to Terry Gilliam. Gilliam's humor is much darker and cynical than anything on display here. And while I also loved the Brown's house, with the tree in the spiral stairway, it feels too heartwarming to be truly Gilliamesque.
I'm actually a little surprised by how strongly Eric endorsed this film. It's pleasant enough and doesn't damage the legacy of the novels as I feared. In fact, author of the Paddington books, Michael Bond, must approve of the film as he agreed to make a cameo appearance as the man who raises a glass to Paddington in the train station. However, I wouldn't go so far as to say that anyone has to watch it. The best I would hope it could do would be to renew interest in the original books. No matter how admirable a job they did on this film, it's on the pages of those original stories where the real magic lies.
Reviewed on:
May 23rd, 2015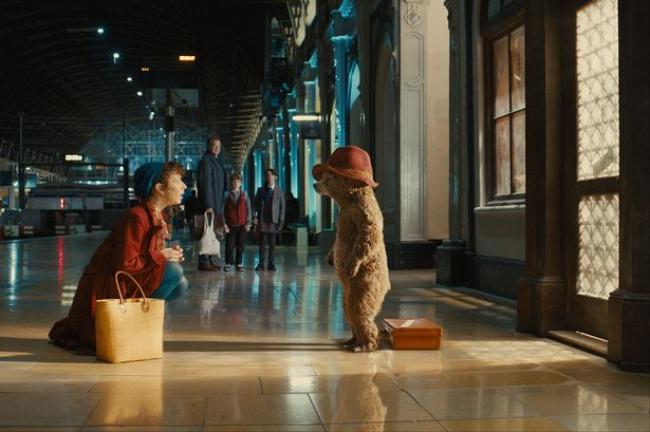 The Browns meet a stranger in Paddington.
I remember reading the books as a kid but the details are fuzzy at best. Like Scott, I enjoyed this movie adaptation up to a point. Although I thought it relied too much on slapstick best appreciated by toddlers, I did laugh a few times. Paddington's name sounds funny in his native language, which the Brown's daughter Judy learns to speak fluently. Julie Walters is funny as the old housekeeper Mrs. Bird. I do agree that Paul King directs with an imaginative flair that really brings Paddington's story to life. The opening sequence in Peru being my favorite part. The tone of the movie is spot on, or at least it is before the stereotypical villain shows up.
I could have done without Nicole Kidman's character. Once Millicent enters the picture, with her dastardly plot to stuff poor little Paddington, it goes from being refreshingly clever to irrevocably formulaic. Six year old's may find it new and exciting but unless this is your first movie you'll know exactly what's coming. Millicent's scenes are the only part of the movie where it loses the charm of the books.
There are a few jokes tossed in for the adults in the audience, including a reference to Shakespeare. When Paddington attempts to return a wallet to a pickpocket, the thief mistakes Paddington for a police bear and runs away. Paddington follows him and at one point finds himself flying through the air. He passes a classroom where the teacher mentions one of the Bard's most famous stage directions from The Winter's Tale - "Exit, pursued by a... BEAR."
Paddington reminded me a bit of the Stuart Little movie(s). Both are family films based on beloved 1950's children's books that feature a talking animal who gets adopted by a human family. In both cases you have to just accept the fact that everyone in this world readily accepts the presence of a talking animal. To be honest, I think it's a plot device that works better on the page than on the screen.
I can't find fault with the cast. Everyone does a terrific job. Ben Whishaw was a great choice to voice the lovable but accident prone bear. Paddington, the movie, has charm and whimsy. It contains a decent amount of humor of the type that kids will probably love. It could have been a classic family film but for me there was just too much slapstick silliness and the climax of the story is way too predictable.
Photos © Copyright StudioCanal (2015)