Movie Review
Over the Fence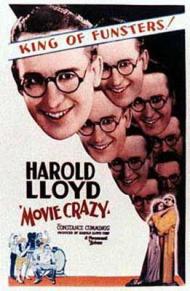 US Release Date: 09-09-1917
Directed by: Harold Lloyd
Starring
▸
▾
Harold Lloyd

,

as

Ginger
Bud Jamison

,

as

The Boss
Bebe Daniels

,

as

Ginger's girl
Snub Pollard

as

Snitch


Reviewed on:
January 21st, 2011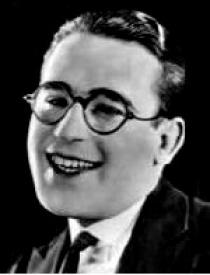 Harold Lloyd
This Hal Roach produced short is the first appearance of Harold Lloyd wearing glasses. He had been known for playing Lonesome Luke before, but this was the beginning of his most famous incarnation. He would later perfect his easy going "glasses" guy persona, as here he plays a rather studly jock.
Ginger works as a tailor and is excited to take his girl to a baseball game. Unfortunately the tickets get stolen from his pocket, and Ginger does not realize it until they get to the game. His fickle girlfriend just goes in with another man, while Lloyd fumes.
He eventually sneaks in by way of the players entrance. They think he is a new pitcher and he finds himself on the mound. His wind up is the funniest bit in the movie.
Ginger ends up being an amazing player. At one point a batter hits what looks like a home run. Ginger runs all the way into the outfield, climbs the wall, catches the ball and then changes the score board to read three outs.
In the ninth inning, Ginger comes to bat and hits a doozy. As he rounds the bases he sees his girlfriend in the stands with another man. Before he crosses the plate, he runs over to them and starts a fight. The umpire and players get involved, and before you know it Ginger has beaten everyone up and the girl finds herself turned on.
The charm of his glasses character was that he never thought of himself as exceptional, even though by the end of a film he always did something amazing. He was a normal guy who could rise above a problem when need be.
Here Lloyd's glasses guy comes across far more sure of himself than he later would. It still has some good moments, but it shows Lloyd had not yet found the right tone for him. This is also not the only time a Lloyd movie contained baseball. I wonder if he was a huge fan?
Reviewed on:
January 21st, 2011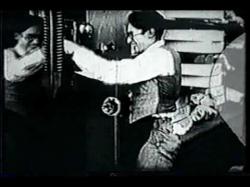 Harold Lloyd as a tailor in Over the Fence.
This sure is a cocky version of Lloyd's trademark character. I kept expecting him to wake up and find out it was all a dream as the entire movie plays like a fantasy sequence from one of his later pictures. I agree with Eric that his pitching wind up is the funniest part; the way he sticks his hip out and turns around is hilariously silly.
All of the Lonesome Luke movies had been one reelers like Over the Fence. This new Lloyd character proved so popular that he quickly advanced to two reelers and eventually worked his way up to feature length movies.

During his silent days Lloyd had 3 different leading ladies. The teenaged Bebe Daniels was his first. She appeared in more than 40 Lonesome Luke shorts as well as several later Lloyd movies like this one. Mildred Davis would become Lloyd's second regular leading lady. She must have been his favorite as he married her. Jobyna Ralston completed his trio of female costars beginning with 1924's Girl Shy and continuing through the end of the silent era.
Like Chaplin's Kid Auto Races at Venice and Keaton's The Butcher Boy, Over the Fence is a seminal moment in silent screen comedy.

Reviewed on:
May 11th, 2011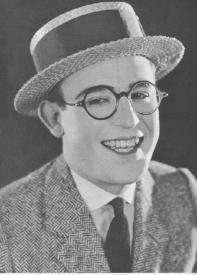 Harold Lloyd in his famous glasses.
Without a doubt, Lloyd's pitching windup is the highlight of this short, with his race to the outfield to catch the ball, a close second. Although all of the little moments at the ballfield are quite good. Baseball really was the national pastime in those days, so it's hardly surprising so many silent films reference it.
I think the real secret to Lloyd is that his Glasses character was so very relatable. Where so many silent film characters come across as larger than life or even grotesque, with fake moustaches and too much makeup (like the "villain" in this film), Lloyd looked like a real person. Like someone you could see on the street. I mean, how many other actors went there whole career wearing glasses? Groucho Marks, George Burns and Woody Allen are some others who have, but there numbers are very few and Lloyd was the first.
This short, while very brief, is rather historical simply by being the film that introduced this iconic character to the world.
Photos © Copyright Rolin Films (1917)
Related Review