Movie Review
The Out of Towners
When they take you for an out-of-towner, they really take you.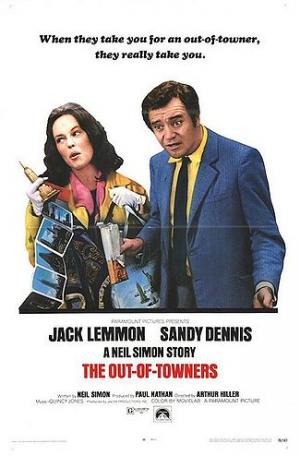 US Release Date: 05-28-1970
Directed by: Arthur Hiller
Starring
▸
▾
Jack Lemmon

,

as

George Kellerman
Sandy Dennis

,

as

Gwen Kellerman
Sandy Baron

,

as

TV Man
Billy Dee Williams

,

as

Lost & Found - Boston
Anne Meara

,

as

Woman in Police Station
Robert Nichols

,

as

Man in Airplane
Ann Prentiss

,

as

Airline Stewardess
Ron Carey

,

as

Cab Driver - Boston
Philip Bruns

,

as

Officer Meyers
Graham Jarvis

,

as

Murray
Carlos Montalbán

,

as

Cuban Diplomat
Robert King

,

as

Agent in Boston
Johnny Brown

,

as

Waiter - Train
Dolph Sweet

,

as

Police Sergeant
Thalmus Rasulala

,

as

Police Officer
Jon Korkes

,

as

Looter
Robert Walden

,

as

Looter
Richard Libertini

,

as

Baggage Man
Paul Dooley

,

as

Hotel Clerk - Day
Anthony Holland

as

Desk Clerk - Night
Reviewed on:
April 10th, 2016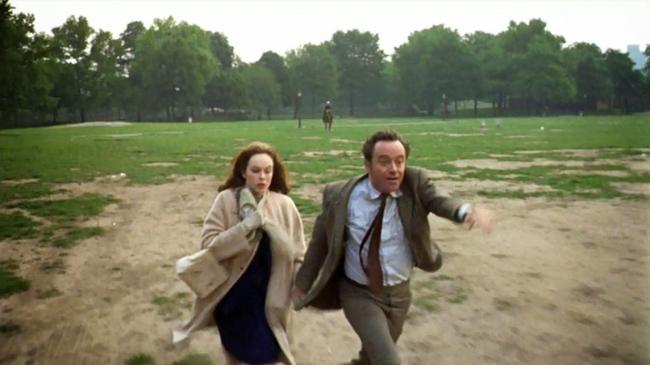 Sandy Dennis and Jack Lemmon in The Out of Towners.
The Out of Towners was originally written as a single act in Neil Simon's multi-story play, Plaza Suite. During rehearsal it was decided that the show was running long and that portion was removed. Later Simon expanded it into a full length script, opting to make it a screenplay rather than a play because of the potential for location shooting. The whole thing was based on an experience of Simon's when on a journey to Boston, a trip that should have taken 10 minutes, stretched into 3 hours when everything that could go wrong, did go wrong.
Jack Lemmon stars in the second of his four films written by Neil Simon (the others being The Odd Couple (1968), The Prisoner of Second Avenue (1975), and The Odd Couple II (1998)) as George Kellerman. George and his wife Gwen (Sandy Dennis) are flying from their home in Ohio to New York City where George is interviewing for a major promotion. He's an excitable character, but he has everything on this trip planned perfectly. Unfortunately, just when the plane is due to begin its descent into New York, George's plans start to unravel. After a long delay due to airline traffic, inclement weather forces their plane to land in Boston. A late night scramble leads to a train ride into NYC, where the couple discover that there's a transit/sanitation strike happening and there isn't a hotel room to be had in the entire city. Things only go from bad to worse after that.
One of the script's problems is that George isn't a very likable character. He makes every problem worse by yelling at and threatening to sue anyone who he sees as standing in his way. He carefully notes all of their names in his notebook. Many of the problems that they face would be solved if he just remained calm. It's really only Jack Lemmon's innate likability that makes the character tolerable. Because of him you can't help but empathize with him and root for him to succeed.

Sandy Dennis, sporting a voice that fluctuates between hilarious and annoying, is much more sympathetic. She goes along with everything her husband suggests and her naivety is sweetly endearing. Her banter and arguments with Lemmon make them a believable married couple. This is even more important when you consider that the two of them are in every scene.
The third main character in the film is the city of New York. Thousands of movies have been filmed in the city, but rarely has it played such a prominent character. By the late 1960s, when this movie was filmed, the city was well into the decline that would peak a decade later. This is a city light years away from the gentrified version of today. This New York City is dirty, garbage strewn, filled with industrial strife, graffiti, and crime. With so much of the film shot on location in the city, this movie isn't just a comedy, it's also a portal into the past.
Frantically paced, there's enough comedy here to keep the movie entertaining, helped enormously by its two leads. Although it's not perfect, it's far superior to the 1999 remake.

Photos © Copyright Paramount Pictures (1970)