Movie Review
Our Modern Maidens
US Release Date: 09-08-1929
Directed by: Jack Conway
Starring
▸
▾
Joan Crawford

,

as

Billie Brown
Rod La Rocque

,

as

Glenn Abbott
Douglas Fairbanks Jr.

,

as

Gil Jordan
Anita Page

,

as

Kentucky Strafford
Josephine Dunn

,

as

Ginger
Edward Nugent

,

as

Reg
Albert Gran

as

B. Bickering Brown


Reviewed on:
March 12th, 2008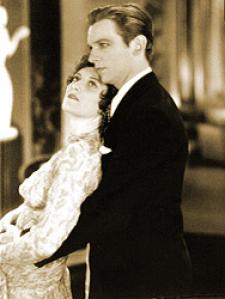 Joan Crawford and Douglas Fairbanks Jr
Silent films were an awakening for the modern woman of the jazz age. With silent movies, young ladies saw just how many different roads their lives could take and how much fun they could have on it. Silent movies like It with Clara Bow, Prodigal Daughters with Gloria Swanson and Our Dancing Daughters with Joan Crawford, showed and promoted women's independence from traditional expectations and how much fun parties and dating could be.
Our Modern Maidens finds Crawford as a rich girl named Billie. She races to parties with her friends and genuinely enjoys her wild youth. She is engaged to Gil, but keeps it a secret. Gil wants a diplomatic appointment so Billie puts the charm on the influential Glenn Abbott to help her fiancée get the job. What she does not count on is Glenn falling in love with her. Meanwhile, Gil falls for Billie's best friend Kentucky. After a party they playfully chase each other outside and have sex.
After Gil gets the appointment, he and Billie announce their engagement. Glenn is heart broken and leaves for Argentina and Billie discovers that she has feelings for him as well. The best line in the movie is when Billie regrets using Glenn and tells Kentucky, "I hope you never know how it feels to be ashamed."
On the day of their wedding, Billie learns that Gil got Kentucky pregnant the night they made love outside. The quartet find themselves in all kinds of emotional crisis, but Billie is a modern woman and she knows how to handle the situation. Being independent means not only being free to party but to also be able to face your responsibilities.
The movie is pure romantic melodrama. The fun of watching it is that it has three such great stars. No other silent film star had such a long acting career after the advent of talking films as Crawford. I never found her attractive but her large eyes work in silent films. Fairbanks shows he has all of the charm of his famous father. You also get to see La Rocque in his hey day. He is almost more famous for William Holden's line in Sunset Blvd, where he talks of the pool that Rod La Rocque and Vilma Banky (La Rocque's real life wife) swam in "...ten thousand midnights ago", than he is for his acting.
Reviewed on:
July 20th, 2012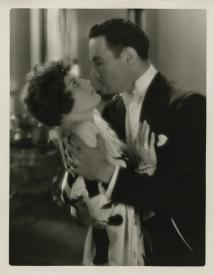 Joan Crawford and Rod La Rocque in Our Modern Maidens.
After the success of Our Dancing Daughters, MGM came up with this similarly titled movie (although other than starring Joan Crawford it has nothing to do with that picture). They used the publicity surrounding the wedding of Crawford and Fairbanks to promote it.
As Eric said no other silent star's reign as a leading lady lasted as long in talking pictures as Joan Crawford's. By the end of the silent era (this was her last silent movie) she was already getting billed above the title and would remain a star of the first magnitude until her final movie appearance in Trog in 1970.
Our Modern Maidens epitomizes the reckless Jazz Age. It hit theaters a little over a month before the Stock Market Crash of 1929 brought an abrupt end to the decade long party that was the Roaring Twenties. Sound and the Great Depression had arrived. But for the carefree moment, Joan Crawford was at the height of her flapper period. She looks a bit like Gloria Swanson here but behaves like Clara Bow.
Douglas Fairbanks Jr. has one scene where he does impressions of famous silent matinee idols. Although most modern audiences may not recognize them, in 1929 his impersonations of John Barrymore from Dr. Jekyll and Mr. Hyde, John Gilbert from The Big Parade, and – of course – his father as Robin Hood would've been instantly recognizable crowd-pleasers to audiences.
Although it's a silent picture there are some sound effects and a radio announcer's voice is heard a few times. The plot is fairly simple but the cast gives it their all. Crawford is vivaciousness personified while a pre-mustached Fairbanks is the ideal exuberant youth. Rod La Rocque is swarthy and dashing, and Anita Page exudes wide-eyed innocence.
Although essentially a drama there are some lighter moments. During a scene on a train a porter carrying a tray of drinks enters a car full of young people and announces, "Lunch is poured!" Keep in mind this was during prohibition. And although silent movies are not usually referred to as pre-code the morality on display here would never have gotten past censors just a few years later.
Our Modern Maidens is far from a great movie but it is a great time capsule of the tail end of a truly memorable era.
Reviewed on:
August 3rd, 2012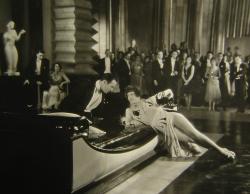 Rod La Rocque and Joan Crawford in Our Modern Maidens.
Crawford's Billie Brown is what F. Scott Fitzgerald would have called "a real Jazz Baby." Her bobbed hair, short skirts, carefree attitude and recklessness in love make her the quintessential flapper. Her fall from grace and the abrupt end to her hard partying lifestyle foreshadows the end of the decade.
As Patrick said, the plot is very similar in tone and style to those pre-code talkies that helped usher in the era of censorship in Hollywood. Crawford does a dance in a tiny little outfit that is basically a bikini top and skirt. And even more shocking for the times is the acknowledgement of sex and (gasp) pregnancy, even if the writers do cleverly never come out and use the word. Also, of a more a subtle nature is the inclusion of a gay character. Again, it's never explicitly stated, but Billie's male friend who shows no interest in women sexually, but is quite friendly with them and who at one point is referred to as "precious", is obviously meant to be gay. These things, and the ending where Kentucky and Gil get to live happily ever after together even after having premarital sex, would never be allowed after the Code went into effect.
Like my brothers, I don't think the movie as a whole is much more than so-so melodrama. However, the character of Billie Brown is a great one. Her relationship with Glenn reminded me of Scarlett's relationship with Rhett, only 10 years before that classic couple appeared on screen. When he has her alone in his cabin and seems prepared to rape her, he instead breaks away and behaves coldly toward her. His good-bye when he leaves her would be echoed in the final scene of Gone with the Wind. Although, to be sure, I am not saying that this movie is in anyway in the same league with that classic.
As Patrick said, it may not be the most entertaining movie, but it is an interesting time capsule.
Photos © Copyright Metro-Goldwyn-Mayer (MGM) (1929)