Movie Review
The Other Guys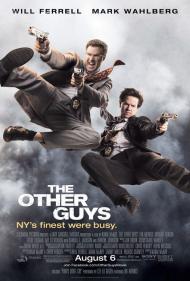 US Release Date: 08-06-2010
Directed by: Adam McKay
Starring
▸
▾
Will Ferrell

,

as

Allen Gamble
Mark Wahlberg

,

as

Terry Hoitz
Eva Mendes

,

as

Dr. Sheila Gamble
Michael Keaton

,

as

Captain Gene Mauch
Steve Coogan

,

as

David Ershon
Ray Stevenson

,

as

Roger Wesley
Samuel L. Jackson

,

as

P.K. Highsmith
Dwayne Johnson

,

as

Christopher Danson
Lindsay Sloane

,

as

Francine
Natalie Zea

,

as

Christinith
Derek Jeter

as

Himself

Reviewed on:
August 11th, 2010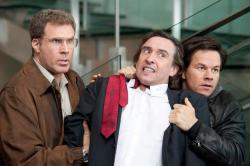 Will Ferrell, Steve Coogan and Mark Wahlberg in The Other Guys.
In my review of Cop Out (the year's other "comedy" cop movie), I said that I felt despite how bad that movie was, that there was probably life left in the buddy cop film and The Other Guys proved me right. It's silly and not all of the jokes work, but Ferrell and Wahlberg make a fairly good team and in a summer strangely devoid of comedies, it stands out.
Samuel L. Jackson and Dwayne "The Rock" Johnson play Highsmith and Danson, your stereotypical action movie NYC cops. You know the types. They perform impossible stunts and cause untold property damage while tracking down the bad guys in a badass car.
Ferrell and Wahlberg are the other guys. Ferrell plays Allen, a former accountant who is thrilled to do Highsmith and Danson's paperwork. Wahlberg is Terry, a good cop who earned a desk job and the nickname 'The Yankee Clipper' when he accidently shot Derek Jeter (who appears as himself in a cameo) before Game 7 of the World Series.
When something happens to Highsmith and Danson, Allen and Terry decide to step up and become the heroes of the city. An unfiled scaffolding permit leads them to a much bigger case involving robbery and fraud.
Since this is a Will Ferrell starring and Adam McKay directed movie and they're the guys who brought us Step Brothers, Talladega Night and Anchorman, you've probably got some idea of the type of humor to expect. Although this movie is far better than Step Brothers, it never reaches the heights of Anchorman.
Ferrell plays his usual clueless, but likable character. In one of the movie's more surreal moments we learn in flashback that he used to be a pimp in college. He's baffilingly married to to a hot wife, played by Eva Mendes. He drives a Prius and uses the Little River Band to get psyched up before a big moment.
Wahlberg does an okay job, but he's stuck in the thankless straight man role. He has a few okay moments, but mostly he's just stuck reacting to Ferrell's humor.
While it's not Ferrell's best work, The Other Guys does go a long way towards making up for Land of the Lost.

Reviewed on:
August 12th, 2010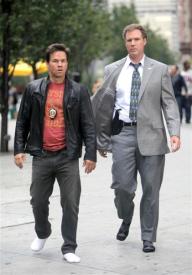 The Other Guys.
This is one of my favorite Will Ferrell characters because he tones down his obnoxious jerk persona that he let run wild in Talladega Nights, Anchorman, Step Brothers, Blades of Glory and Semi-Pro. This is a film where you can feel some sympathy for him, even as you are laughing at him.
What I did not like is all the conservative/capitalism bashing. The bad guy is as expected, a white male investment banker. A photo in the film shows him shaking hands with George W. Bush, so you just know this guy is up to no good. His gives a speech on how excess is good. How in the hell can the million dollar salaried folks in Hollywood ever mock capitalism?
The Other Guys has many laughs. My kids and I cracked up when Jackson yelled at Ferrell, " I will stick my hand up your ass and move your mouth like a puppet!" Wahlberg's reaction to Mendes is one of his best moments. The lion versus the tuna argument has to be experienced to be appreciated.
In fact, if it was not for the left wing politics, I would call this my favorite Ferrell film. How can I enjoy a movie that knocks me out of the fantasy of it, by lecturing on politics. Hollywood is the last place that should be complaining about capitalism, as they are the best example of it at work. Hollywood complaining about excess is laughable in itself.
Photos © Copyright Columbia Pictures (2010)
Related Review