Movie Review
OSS 117: Cairo, Nest of Spies
The Pride of French Intelligence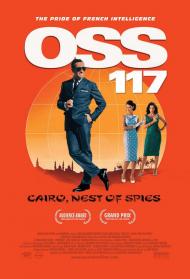 France Release Date: 04-19-2006
Directed by: Michel Hazanavicius
Starring
▸
▾
Jean Dujardin

,

as

Hubert Bonisseur de La Bath
Berenice Bejo

,

as

Larmina El Akmar Betouche
Aure Atika

,

as

La princesse Al Tarouk
Philippe Lefebvre

,

as

Jack Jefferson
Constantin Alexandrov

,

as

Setine
Said Amadis

,

as

Le ministre egyptien
Laurent Bateau

,

as

Gardenborough
Michael Hofland

,

as

Colonel Von Umsprung
Jean-François Halin

as

Rubecht


Reviewed on:
October 28th, 2010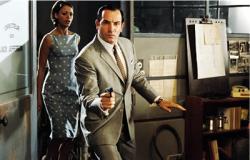 Berenice Bejo and Jean Dujardin are caught in a nest of spies.
I have seen many parodies of the spy genre, but none have come close to getting it right until I saw Jean Dujardin as OSS 117. Here finally is a misogynist, politically incorrect, culturally insensitive, arrogant idiot. It makes fun of it's masculinity and stereotypes. It is boorish, without being childishly absurd like Austin Powers.
Hubert Bonisseur de La Bath (OSS 117) is a French secret agent sent to Cairo to investigate the disappearance of another agent and friend, Jack. He meets beautiful women and misses some obvious clues. He fights bad guys and causes as many problems as he solves.
Jack's secretary is a beautiful Muslim. She guides him around while he casually insults her culture and language. He shows his stupidity many times. He says her people should be proud because they built the Suez Canal, but then she informs him it was built by foreigners. He insist it should still be a point of national pride as it has been around for thousands of years. She corrects him that it was built 85 years prior.
Whereas Hollywood is scared to death to make fun of Muslims, France is not. OSS 117 cannot sleep one night as a muezzin is doing the morning call to prayer atop a tower, through a loud speaker. He throws on his bathrobe and beats the guy up.
To fully appreciate Jean Dujardin as OSS 117, you must have seen the early Sean Connery James Bond films. He has some of Connery's mannerisms down pat. The scene where he enters, wearing a suit is classic Bond. He even wears his hair like Connery did then. My favorite imitation is when OSS 117 is chasing someone through Cairo. He stops at corners and does this pose that Connery used. Its a perfect piece of subtle mockery.
This is clearly a lampooning of early James Bond, but Jean Dujardin adds some of his own flair. In one scene OSS 117 sneaks into a terrorists meeting disguised in what looks like a bathrobe. You can clearly see his western tux beneath it, but no one seems to notice. When they all start chanting "Allah Akbar," OSS 117 finds himself getting caught up in it. Jean Dujardin is a comic singer. This comes into play when OSS 117 disguises himself as a musician and sings at a club. He again gets caught up in his own moment.
Jean Dujardin was nominated for a Cesar award for this role. It is the French equivalent to an Academy Award. The film was so successful it even spawned a sequel.
My brother Scott, is a bigger James Bond fan than I. I hope he reviews this movie as he will no doubt notice more comparisons and in jokes. For Bond fans I give this 4 stars. For all others it will not work quite as well, but you are missing out.
Reviewed on:
November 4th, 2010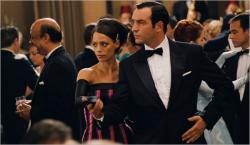 Jean Dujardin nails a young Sean Connery in OSS 117: Cairo, Nest of Spies.
Although this movie does capture the filming style, the art direction, stunt work and filming techniques of the 1960s Bond films, it doesn't directly parody any of them. I have no particular in-jokes to share after watching it, apart from the fact that the filmmakers and Dujardin obviously went to painstaking lengths to emulate Connery and the genre.
While I do think they did a fantastic job capturing the essence of the genre and really play-up the sexist, homophobic, machismo and rascism of the era for laughs, I didn't quite find it as funny as you seemed to Eric. I smiled and laughed a few times, but honestly I felt it would have worked better as a short sketch than as a full length movie. Once you get to know the character you can pretty much see how every joke is going to go for the rest of it.
Eric, you say the French aren't afraid to make fun of Muslims, but this movie never does that. It makes fun of the French and the Western World who don't understand the Muslim religion. The joke isn't a Muezzin getting punched. The joke is that OSS 117 doesn't understand what he is or why he's singing. It's not poking fun at the religion, but at the West's ignorance of it. You'll also notice that the villain doesn't turn out to be a Muslim, but a Westerner, and that one of the last jokes is, when someone mentions that Iran welcomes Westerners, "Westerners are appreciated everywhere, if we show goodwill."
Dujardin does have a cocky charm and he totally nails early Connery. His fighting style, his eyebrow work, and every little gesture is all vintage Bond.
Maybe it's because I am such a fan of James Bond that I didn't like this movie as much as you Eric. I'd rather watch a serious espionage film than a parody of one. There have been over 100 serious OSS 117 novels written, quite a few of them even predating Ian Fleming's Bond books. I'd rather see a serious adaptation of one of them than this spoof.
Photos © Copyright Gaumont (2006)