Movie Review
Oorlogsgeheimen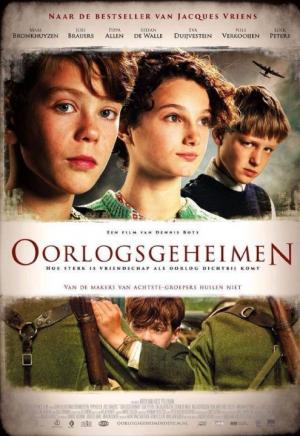 Netherlands Release Date: 07-03-2014
Directed by: Dennis Bots
Starring
▸
▾
Maas Bronkhuyzen

,

as

Tuur
Joes Brauers

,

as

Lambert
Pippa Allen

,

as

Maartje
Luc Feit

,

as

Horst Baumhaken
Juul Vrijdag

,

as

Mrs. Witteman
Ad van Kempen

,

as

Mr. Witteman
Loek Peters

,

as

Mr. Ramakers
Nils Verkooijen

,

as

Leo
Pien Westendorp

,

as

Katrien
Eva Duijvestein

,

as

Mrs. Ramakers
Annemarie Prins

,

as

Aunt Anna
Stefan de Walle

,

as

Mr. Nijskens
Margo Dames

,

as

Mevrouw Nijskens
Bas van Prooijen

,

as

Pieke
Helmert Woudenberg

,

as

Holtermans
Beau Schneider

,

as

Roeland
Faas Wijn

as

Sjeng

Reviewed on:
May 4th, 2016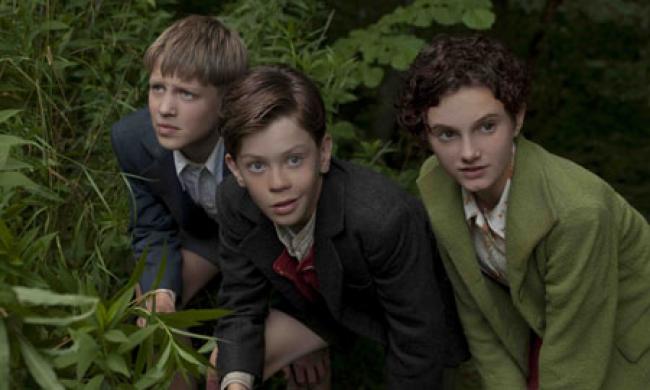 Joes Brauers, Maas Bronkhuyzen and Pippa Allen in Secrets of War
Oorlogsgeheimen or Secrets of War, is a brilliant, although very familiar, tale of growing up during World War II. Elements of this film have already been employed in such movies as Winter in Wartime where a Dutch boy deals with the German occupation, Hope and Glory where a boy deals with the shifting moods of his family during the war, and most of all Au Revoir Les Enfants where French boys in German occupied France learn a hard lesson. In all of these films we see the Second World War through the eyes of children who grow up a little faster than those of us who never experienced such things.
It is the summer of 1943 and best friends Tuur and Lambert enjoy playing in the woods near their small Dutch village, where a downed American plane acts like a a yard ornament and a vast cave is ever enticing them to explore its tunnels. On one such adventure in the cave, Tuur finds an American comic book and takes it home as a treasure. Their village is occupied by Germans and such an item could easily be considered highly suspicious as it implies contact with an American GI. As the summer moves along, the affects of war become more and more intrusive into their young lives. The boys soon learn that there are secrets going on right in front of them.

Things get even more difficult for the boys when Maartje, an orphaned girl with a secret as obvious as they come in these types of films, moves to their town. The three youths become inseparable but jealousy quickly rears its ugly head as the boys become annoyed whenever Maartje shows either one more attention than the other. Eventually she and the war itself forces the boys to takes sides that threaten to not only destroy their friendship but Tuur's entire family and the very world that both of them have known.

Secrets of War is great story telling. The way the three children deal with each other and their secrets and lies is intriguing to watch. The safety and lives of people around them are literally in their hands. Are these children mature enough to have such responsibilities on their shoulders? These kids act like kids but we see them grow as they come to understand their predicament and the danger some secrets can cause when exposed.

Whereas the films I mentioned in my first paragraph have some elements of adult situations, Secrets of War is a strictly family friendly film. There is no blood or sexual activity of any kind. The Nazis are always around as a threat and people do get taken away but the real graphic hardships of war are only a distant idea. This works as this story is about children. Each of the children have their own ending. Two of them are realistic while one seems right out of a Walt Disney film. I cannot give that away but you will know what I mean when you see it. Other than that, Secrets of War is a very worth while coming of age story.

Photos © Copyright Rinkel Film (2014)
Related Reviews