Movie Review
Only the Lonely
The Man, The Woman, The Mother.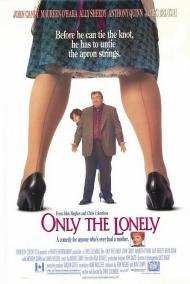 US Release Date: 05-24-1991
Directed by: Chris Columbus
Starring
▸
▾
John Candy

,

as

Danny Muldoon
Maureen O'Hara

,

as

Rose Muldoon
Ally Sheedy

,

as

Theresa Luna
Anthony Quinn

,

as

Nick Acropolis
James Belushi

,

as

Sal
Kevin Dunn

,

as

Patrick Muldoon
Macaulay Culkin

,

as

Billy Muldoon
Kieran Culkin

,

as

Patrick Muldoon, Jr.
Milo O'Shea

,

as

Doyle
Bert Remsen

,

as

Spats
Joe Greco

,

as

Joey Luna
Marvin J. McIntyre

,

as

Father Strapovic
Allen Hamilton

,

as

O'Neal
James Deuter

as

Waiter

Reviewed on:
April 1st, 2015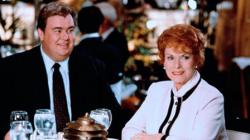 John Candy and Maureen O'Hara in Only the Lonely.
Only the Lonely bears more than a passing resemblance to Paddy Chayefsky's 1950's teleplay Marty (that would later be turned into the Oscar winning motion picture). It's the story of a lonely middle-aged blue collar man living with his mother, who falls in love with an equally lonely, introverted woman. Written and directed by Chris Columbus and produced by John Hughes, Only the Lonely has a nice blend of humor and romance, and features a memorable cast.
John Candy, in the most romantic role of his tragically short career, plays Danny Muldoon (the Ernest Borgnine character). Instead of a butcher in the Bronx, he's a cop in Chicago. Candy handles the romantic aspects of the role better than you might expect. In addition to being a comic genius he was also a decent dramatic actor. Most importantly he could draw empathy from an audience better than almost anyone else.
Ally Sheedy plays his love interest Theresa. Her occupation has been changed from schoolteacher to funeral home cosmetician. Theresa passes the time by making up the dead to look like famous movie stars. For guidance she uses a television showing a VHS tape paused on a closeup of the star from one of their movies next to where she is working. When Danny first comes to the funeral home she is making up a man to look like Clark Gable. She tells Danny that first she decides what famous star the dead person looks like. In another scene she is making up a man with a large nose to look like Jimmy Durante.
Maureen O'Hara came out of a twenty year retirement to play Danny's cantankerous and bigoted mother Rose Muldoon. She had retreated to the Virgin Islands after making Big Jake in 1971. It's really a shame she missed all those years in between. In her early seventies here, she's as feisty and beautiful as ever. Rose Muldoon is stubborn and she speaks her mind. She's about as politically correct as Archie Bunker. She has a love/hate relationship with the old Greek widow next door, played by Anthony Quinn. Maureen O'Hara is still with us at the age of 94, but this would turn out to be her final feature film appearance (she would, however, star in three made for television movies between 1995-2000).
Only the Lonely has some laugh-out-loud moments. When Danny leaves the funeral home after successfully asking Theresa out on a date, he bumps into some funeral attendees. In his excitement he speaks without thinking, "Yeah! Oh... sorry... but I just got lucky in there with a girl." Realizing he misspoke after seeing their shocked expressions, Danny tries to make it better, "Not in that way... she does everybody in there... not in that way. But she probably did that guy there... I gotta go." It's quintessential John Candy.
Another funny line is directed at Rose by her priest whom she goes to to complain about her son's girlfriend. At one point her priest tells her, "Rose, I know you realize it's the nineties, I'm just not sure you realize it's the nineteen-nineties."
The director includes a few whimsical flourishes in the form of Danny's imagination. Rose has made her son feel so guilty and responsible for her well-being over the years that he constantly worries about her, imagining things like her falling into an open manhole if he doesn't walk her some where. I'm not sure how much of her own stunts Maureen O'Hara did, but she certainly seems game. Anthony Quinn is underused but he and O'Hara had a nice chemistry together. They were older but he still possessed a masculine virility and she had lost none of her radiant femininity.
Only the Lonely is a sweet and tender romantic comedy from 1991. It may not have received the level of acclaim that greeted Marty in the 1950s but it's certainly worth a look. The cast also includes James Belushi and brothers Macaulay and Kieran Culkin.

Reviewed on:
April 5th, 2015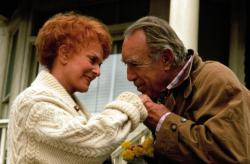 Maureen O'Hara and Anthony Quinn in Only the Lonely
Only the Lonely is indeed a nice romantic comedy but it is the insensitive and rude comments by Rose Muldoon that make for the film's better jokes. When she first sees Theresa across the room at the restaurant, she asks Danny, "Where are her breasts?" A few seconds later Rose meets Theresa and the subject of her small bosoms continue with Rose finally ending with, "You're built like a thirteen year old boy."
As Patrick wrote, Rose is politically incorrect, repeatedly using such slang as "Dago" in reference to Italians. When Nick offers Rose some flowers from his garden, she responds rudely. "Rose! Rose, I am trying again. Will you please accept these flowers?" Rose responds, "I don't want them. And I don't date Greeks." An undeterred Nick continues, "You know, you and I could make each other so happy. Greek men are great lovers." An unimpressed Rose spits back, "And Greek men never bathe."
I laughed hardest when a fed up Danny finally tells his mother off for "Just telling it like it is." "That's been your excuse for the last 67 years…for hurting people whenever the hell you feel like it!" Although the conversation begins and ends dramatically, it contains my favorite comedic line. He yells one example of her rudeness to her, "And I guess you didn't hurt Cousin Jerry when you called his German wife a Nazi who probably slept with Hitler." An unapologetic Rose stands by her claim, "Well, there's no proof that she didn't."
Only the Lonely is about what it means to be alone and what some people will do to avoid it. A scared Rose tells a story about a woman who would find any line to stand in just to have someone to talk to. Look at the two old "bachelors" who seem inseparable and how they celebrate the passing of another old friend.
Rose does not want to be alone and clings to her one son who has not married and moved away. She is scared to move forward in her life and in the process is holding Danny back as well. As a parent I have never understood how one could willfully hurt their child by controlling them through guilt and manipulation to serve their own selfish needs. Patrick mentioned Marty while I thought of the Danish film Teddy Bear (2012), where an overbearing mother is far too close to her body building son.
I can sadly vouch for the facts that selfish women like Rose Muldoon exist in real life. They are petty, vindictive and fail to encourage their children as they are worried it may give them the confidence to find their own way. I consider such actions as adult child abuse. Does not such action contradict everything that it means to be a good parent? Any mother who thinks of their own needs before that of her own child is quite simply evil. I feel better getting that off my chest.
Photos © Copyright Twentieth Century Fox Film Corporation (1991)