Movie Review
One Way Passage
Romance...reaching the Heights of Heaven!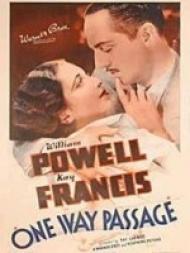 US Release Date: 10-22-1932
Directed by: Tay Garnett
Starring
▸
▾
William Powell

,

as

Dan
Kay Francis

,

as

Joan
Aline MacMahon

,

as

Betty
Frank McHugh

,

as

Skippy
Warren Hymer

,

as

Steve
Frederick Burton

,

as

The Doctor
Roscoe Karns

as

S.S.Maloa Bartender

Reviewed on:
July 30th, 2010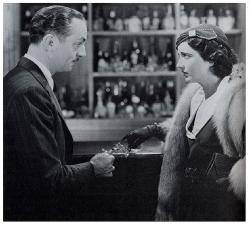 Kay Francis and William Powell.
One Way Passage is a dramatic love story with an unusual ending. It is also the quintessential shipboard romance. Set in December,1932 it tells the story of a dying woman and a condemned man who meet in a bar in Hong Kong and then fall in love aboard the cruise ship they both take to San Francisco. Each has a secret. She keeps the fact that she is dying and on her way to a sanitarium from him and he likewise keeps the fact that he is actually the prisoner of a police detective and on his way to the gallows in San Quentin for murder.
William Powell and Kay Francis were a movie team at Warner's before Powell moved to MGM and hooked up with Myrna Loy. Of the four movies Powell and Francis made together this is by far the most celebrated. They make a lovely and sophisticated couple. Francis may have lacked the comedic spark that Powell would later share with Loy but she certainly displayed more sexual chemistry.
Although not ranked among most movie classics today, One Way Passage was certainly well regarded in the past. Its score became famous and was reused in other Warner Bros. pictures. It won the Oscar for Best Original Screenplay and was remade in 1941 as 'Til We Meet Again starring George Brent and Merle Oberon. By all accounts this original version is superior to the remake, although I have yet to see the later version to decide for myself. Carol Burnet even did a spoof of this movie on her classic television variety show.
The drama gets pretty heavy and the dialogue is full of old-fashioned sweet talk. But this is one hell of a concise story. It runs just 69 minutes but packs in more plot and emotion than many of today's movies which often run 2 hours plus. It also features good supporting work and comic relief from Frank McHugh as a drunken pick-pocket, Aline MacMahon as a con-woman posing as a Countess and Warren Hymer as the tough detective.
One Way Passage is a classic 3 hankie weeper. If you have even a hint of romance in your soul you will be touched by this timeless love story. Before the lovers part they promise to meet on New Year's Eve at a nightclub, Agua Caliente in Mexico. The bittersweet final scene will tug at your heart strings and bring, perhaps, a wistful smile to your lips.

Reviewed on:
August 2nd, 2010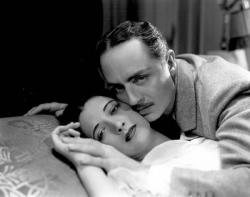 Kay Francis and William Powell in One Way Passage
The period from the advent of talkies in the late 1920s until the enforcement of the Hays Code in 1934 produced some of the greatest movies in Hollywood history. One Way Passage was released during that period and while I too have never seen the remake, I'm guessing that because of the censorship in the 1940s certain portions of the story were altered (and not for the better) when it was remade.
At just over an hour this movie is closer to a short story than a novel and yet it contains everything it needs to. It packs drama, romance, action, comedy and tragedy into a small but well wrapped package.
William Powell has to be one of the most elegant and sophisticated actors to ever appear on screen. It's as if he just stepped out of an F. Scott Fitzgerald novel. You can easily see him sipping cocktails at one of Gatsby's parties. Like a lot of classic movie stars, he didn't have the greatest range, basically playing the same character in every movie I've seen him in, but he played that part to the hilt and with style and grace.
Kay Francis (who I have to confess I'd never even heard of until this movie) is a good match for Powell and you could see her right there with him at Gatsby's. You don't get a lot of background on either of their characters, but you know everything you need to. While it's true that Francis and Powell don't have the comic chemistry that he would later share with Myrna Loy, that's more a result of the script then through some fault of theirs.
With such a pair of doomed leads, this movie could have been overly heavy, but Frank McHugh as Skippy provides some nicely timed comic relief. Skippy is a thief and a scoundrel who is always up to some scheme or another. Both times he boards the ship it's just one leap ahead of the law. One of my favorite moments with him is when he tells a bartender. "Quick, give me a drink. The fight's about to start." After he says this a few times and been given several drinks, the bartender finally asks, "Say, what fight are you talking about?" To which Skippy replies, "The fight between you and me. See, I don't have any money to pay for these drinks."
Aline MacMahon is also quite good as the con woman Betty who does her best to help the doomed lovers because of a debt she owes to Dan. She's a criminal with a heart of gold who seduces and sleeps with (and I'll bet that doesn't happen in the 1941 version) the Police Officer that's guarding Dan in order to distract and disarm him.
I can't say that I needed three hankies, but I definitely felt a tug or two at the cleverly done final scene. I for one have no problem labeling this one a classic.

Reviewed on:
December 30th, 2010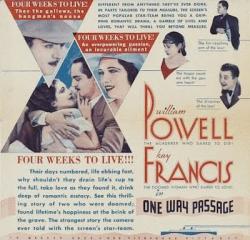 How films are meant to be made.
Although I had seen several of his movies, I had never before paid attention to the name Tay Garnett. He is great at directing the interactions of characters on screen. As my brothers pointed out, this is a short movie and not a single frame is wasted. These half a dozen people move about each other in a well choreographed dance, with half of them not knowing who their partner actually is.
Although the main story is of Dan and Joan, I liked the love story of Betty and Steve. Like Dan and Joan, Betty and Steve have undisclosed information. Just as we never realistically think Dan and Joan are going to live happily-ever-after together, the same can be said of Betty and Steve. He is a dedicated cop and she a con artist. The conclusion to both romances is satisfying. Betty and Steve have the possibility for a life together, even though it seems very Hollywoodized.
Dan and Joan are doomed from the get go, but there is still a bright side to their story. Their one way passage aboard the ship was the last for both of them. Instead of them each spending the last three weeks of their lives in misery, they got to fall in love. Bittersweet in deed Patrick. It is bitter for Dan as he goes to the gallows with even more to lose, now that he has fallen in love. For Joan it is sweet as she got to spend her last weeks on this earth in love.
I really liked Warren Hymer as Steve. He had a classic tough guy, 1930's mug. Although he graduated from Yale, his face got him cast mostly as a thug, soldier or policeman. He was famous for his drinking and temper. Both attributed to his career ending decision to piss on Harry Cohn's desk after the head of Columbia Pictures ordered him off the lot for showing up to work drunk. Hymer only had small roles after that and died in 1948 at the age of 42, having not made a film in two years
Photos © Copyright Warner Bros. (1932)