Movie Review
The One That Got Away
HE WAS DARING, DEFIANT AND DETERMINED TO ESCAPE.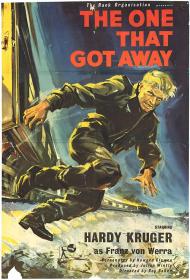 Sweden Release Date: 12-02-1957
Directed by: Roy Ward Baker
Starring
▸
▾
Hardy Kruger

,

as

Franz Von Werra
Colin Gordon

,

as

Army Interrogator
Michael Goodliffe

,

as

R.A.F. Interrogator
Terence Alexander

,

as

R.A.F. Intelligence Officer
Jack Gwillim

,

as

Commandant, Grizedale
Andrew Faulds

,

as

Lieutenant - Grizedale
Julian Somers

,

as

Booking Clerk
Alec McCowen

,

as

Duty Officer, Hucknall
George Mikell

,

as

German Prisoner
Richard Marner

,

as

German Prisoner
Norman Rossington

,

as

Sergeant Swanick
Frank Williams

as

Station Porter


Reviewed on:
April 2nd, 2011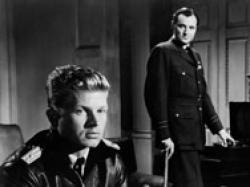 Hardy Kruger in The One That Got away.
The One That Got Away tells the true story of German fighter pilot, Franz Von Werra. Actually, it just covers about a year in his life. While on a run over England in 1940, Werra's fighter plane is shot down. He is immediately surrounded by Englishmen who arrest him and take him to the nearest military base.
Werra comes across as very cocky and arrogant, while the British are too polite to be believed. They take Werra to a mansion converted to a prison, with prisoners having the inconvenience of having to share a room. The British are very subtle. They read a list of prisoner's names for Werra, who speaks English, asking whom he would like to room with. The idea is that he will want to be with someone he knows and thus the British will discover what division he is with.
At one point, Werra is taken to a nice room with a British Officer who says to Werra, "Let me compliment you on your English by the way, it's very much better than my German." The defensive Werra responds, "If you think to get anywhere with flattery, Captain, you waste your time." "Get anywhere? How do you mean?" "Is this not an interrogation?" "My dear fellow! A chat and smoke by the fire?" Not exactly water boarding.
The British are too nice for their own good. Once a day the German prisoners are given exercise by walking around the country roads with guards. During a rest period by a wall, Werra slips over it and makes a run for freedom. He is gone for days before being captured. He is then moved to a more traditional looking prison camp, with barracks and barbed wire fences. Werra makes like The Great Escape and tunnels out with some other Germans. He attempts to steal a British plane by pretending to be a Dutch pilot authorized to use the plane.
Tired of his escape attempts, the British send Werra, and other German prisoners, to Canada. While on the train to the prison camp, Werra opens a window and escapes out it. He has to make his way through the snow and cold. His knowledge of the English language is his best asset as he is able to hitch rides with a bullshit story about being a merchant marine looking for work on land. The final scene is Werra making it across the St. Lawrence River into upstate New York. There he is found by a policeman. The end. The movie includes a title card that tells what happened to Werra.
The events in the movie are true, with only some slight variations. The movie depicts two escape attempts in England when he actually had three. The United States was a neutral country at the time, so a German soldier would not have been treated as an enemy. He was put in touch with the German embassy while plans to extradite him to England were in the works. With the help of the German Consulate, Werra escaped across the Mexican border, and eventually made his way to South America, and then back to Europe, where he returned to Germany a hero. One year later, the plane he was flying went down in the north sea. His body was never found.
Franz Von Werra had a very interesting life. As a child he was part of a royal family that involved custody issues and affairs. He became a decorated pilot and was a minor celebrity as he was featured in a German magazine before being captured. He owned a pet tiger cub. He had a reputation with the ladies.
With such a great character for the lead, The One That got Away really dropped the ball. The only personality traits we see in Werra are his cockiness and tenacity to escape. No doubt, the British film makers understood that the subject matter could make a great movie, but maybe they did not want the audience to sympathize so much with the Nazi lead. The war had ended just 12 years earlier.
Hardy Kruger has nice onscreen presence and he is in nearly every scene. He plays up Werra's charm well. The only thing we learn of Werra personally, is that he carries a picture of a woman with him that he looks at several times. Kruger was himself a member of the Hitler Youth. He would later claim to never having liked or agreed with them. True or not, it would always haunt him as he was often cast to play Nazis.
Reviewed on:
July 9th, 2014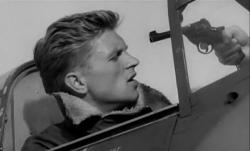 Hardy Kruger in The One That Got Away.
I credit the British sense of fair play for this movie. Von Werra was a German, and therefore the enemy, but such was his tenacity that you can't help but admire him, as obviously the British did. Plus, he had three other things going for him. One, he was an officer, and the treatment he receives in this movie is comfortable and respectable, while being a far cry from the treatment he would have received as just an enlisted man. Two, he was a pilot and since the first dog fights in World War I, pilots have been treated differently, particularly fighter pilots who were highly romanticized, especially during the Battle of Britain. And lastly Von Werra was captured, escaped, and died before the war got ugly and the full atrocities of the Nazis were as yet unknown. The scriptwriters however, are careful to downplay Von Werra's Nazism. Following his initial interview, a British officer states that he doesn't think Von Werra really believes that Germany will win the war. The British attitude towards the German pilot is best summed up by the begrudging smile and chuckle of the former British pilot who made a bet with Von Werra that he wouldn't escape.
The film's biggest weakness is one that Eric mentioned. Von Werra isn't given enough characterization. He is one of the most determined characters ever put in a movie, but his motivation never seems commensurate with the trouble he goes through to escape. During his different attempts at freedom, he risks life and limb, battles the elements, including rain, snow, and frozen rivers. His final escape from Canada to the United States is accomplished purely through the strongest force of willpower. And yet nothing we've really learned about him tells us why he is so desperate to get back to his home country. We are told that he is a glory hound, willing to lie to his own superiors to get a promotion, and there's the hint of the woman in the photograph, but no single adequate motivation is ever provided for why he is so desperate to get away at all costs.
I agree that Hardy is good in the lead role. He definitely has charm, which is important because he has to carry the movie and keep us invested in the outcome of a Nazi. I kept thinking that if he'd been young enough 25 years later, he would have been perfect for The Needle in the film version of Ken Follett's Eye of the Needle. I was surprised to discover that at 86 years of age, he is in fact still alive at the time of this writing. His career peaked in the 1960s, but IMDb lists his most recent credit as 2011 in a TV movie.
It's a pity the film was shot in black-and-white as there are several scenes that would have looked quite good in color, particularly those shot in the North of England around the Lake District, which is the site of Von Werra's first escape attempt. This was a wild and uninhabited portion of the United Kingdom not shown much in films. In black and white it merely comes across as damp and dismal.
There are some entertaining and tense portions--such as Von Werra's attempt to talk his way aboard an experimental fighter plane--, but it could have used a tighter edit. As is, it ends up being more interesting and something of a curiosity than a genuinely exciting film.
Reviewed on:
July 25th, 2014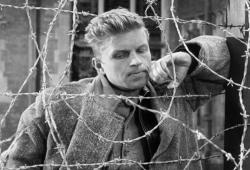 Hardy Kruger in The One That Got Away.
The true story of the only German prisoner of war captured in England during WWII to escape and eventually make his way back to Germany to rejoin the fighting, seems like an odd choice for a British film in 1957. Especially when you consider the fact that Franz Von Werra's exploits don't exactly paint a sterling portrait of British competence and efficacy. Plus the story is set up in a way that it seems to want the audience to root for the escaping Nazi. I'll wager that if, instead of going down in that plane, Von Werra had gone on to become a celebrated German pilot who killed many Allied soldiers this movie would never have gotten made.
My brothers complained that Von Werra wasn't given enough back story or motivation, but compared to the interchangeable British officers and generic civilians he encounters, Von Werra has quite a distinct personality. I don't think he needed a stronger motivation for his indefatigable behavior. His tenacity derived from his huge ego. One reason it is easy to identify with and root for him is because he clearly isn't trying so desperately to escape in order to get back to the fighting. No, this is a contest of wills, it's all about proving his ability to outsmart his captors.
Hardy Kruger was superbly cast in the lead role. He looks the part of the perfect Aryan soldier with his blond locks and well proportioned baby face. A fresh face and a friendly smile can go a long way. He comes across as a nonthreatening individual and he uses this quality to fool the too trusting Brits throughout the picture. Kruger carries the movie and does a wonderful job. Although Von Werra is arrogant he is also quick on his feet and doesn't panic easily. He is the smartest most confident character in the film. He goes through so much for his freedom that -Nazi or not- I was definitely pulling for him to get away. There are several close calls and the story remains quite taut right up till the end.
Perhaps the Brits were being benevolent and attempting to bury the hatchet, so to speak. Giving Von Werra his due and so openly acknowledging the fact that they were outwitted by a German soldier could be seen as a way of putting the war in the past and getting on with the future. At any rate The One That Got Away is a fascinating film. It tells an exciting edge of your seat story but with a detached attitude. Oddly enough there is never a sense of urgency on the part of the Brits in a movie where the protagonist is an enemy combatant determined to escape imprisonment. This movie belongs in the strange but true category.
Photos © Copyright The Rank Organisation (1957)