Movie Review
On the Town
Come on, everybody, let's go On the Town!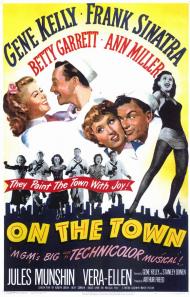 US Release Date: 12-08-1949
Directed by: Stanley Donen, Gene Kelly
Starring
▸
▾
Gene Kelly

,

as

Gabey
Frank Sinatra

,

as

Chip
Betty Garrett

,

as

Brunhilde Esterhazy
Ann Miller

,

as

Claire Huddesen
Jules Munshin

,

as

Ozzie
Vera-Ellen

,

as

Ivy Smith
Florence Bates

,

as

Madame Dilyovska
Alice Pearce

,

as

Lucy Shmeeler
Hans Conried

as

Francois - Head Waiter

Reviewed on:
December 8th, 2001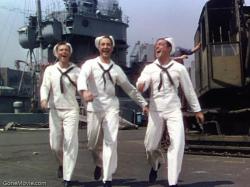 Frank Sinatra, Jules Munshin and Gene Kelly go On the Town.
On the Town is a glorious, old-fashioned MGM musical. This was Gene Kelly and Frank Sinatra's third movie together and the second time they played sailors. Besides the obvious fact that between them they possessed the greatest singing and dancing talents of their generation, they also had a natural camaraderie together. Jules Munshin, Ann Miller, Vera-Ellen and Betty Garrett costar in this screen adaptation of the popular Broadway musical.
Kelly, Sinatra and Munshin are Gabey, Chip and Ozzie, three sailors on 24-hour shore leave in The Big Apple. They leave the ship at 6:00am and during a montage of shots, while the guys are singing 'New York, New York', they visit Liberty Island, the Brooklyn Bridge, Wall Street, Chinatown, Washington Square Park, Rockefeller Center, and even manage to horseback ride and bike ride through Central Park. When the song ends Frank Sinatra says, 'Come on fella's, it's 9:30 and we haven't been anywhere yet.'
Later, Gene Kelly sees a poster of 'Miss Turnstile for the month of June' (Vera-Ellen) on the subway, he mistakenly assumes her to be a big star, and is instantly smitten with her after a brief chance encounter. He then drags Sinatra and Munsin all over the city in a quest to find her. Along the way they meet a hot-to-trot lady cab driver (Garrett) who lusts after the naïve Sinatra, and a beautiful anthropologist played by Ann Miller, at the Museum of Natural History.
They decide to split up in their search, agreeing to meet at the top of the Empire State Building at 8:30pm. As the clock ticks along Gabey finally locates Miss Turnstile and so the three young couples reunite at the top of the city's tallest point. They go on to have a truly memorable evening together; including my favorite song, the joyously infectious title number performed by all six leads, and being chased by the cops at Coney Island. The movie ends where it began. The three sailors return to the ship at dawn, as three new sailors head off for their day of adventure in the big city.
On the Town has all the necessary ingredients to be a great musical. Great songs with witty lyrics and catchy melodies, inventive, energetic dance numbers, talented performers playing sympathetic characters with funny dialogue in ridiculous situations.

Reviewed on:
December 8th, 2002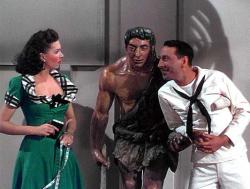 Ann Miller and Gene Kelly in On the Town.
I was in the U.S. Navy. I sort of dreamed about it in my childhood. The first inclination I ever had about joining the Navy was when I was young and happened to watch On the Town on television with my dad. You wouldn't think such a light weight movie could have such an influence on anyone, but the guys in this movie have such a great time that I wanted to be a part of it.
Gene, Frank, and Jules play stereotypes. Gene is the romantic leader. Frank is the virgin. Jules is the party boy. I met all three of these stereotypes in the navy, plus a whole lot more, but that's another story.
New York is one of the greatest cities to explore. Patrick wrote about how the guys supposedly do tons of stuff in a mere three hours. Believe me, it can't be done. We tried. Frank wants to see it all while the other two just want to get laid. Again, I am reminded of a navy story but it's not appropriate.
Anyway, they each get a girl and do a lot of sight seeing. When my family and I saw Rockefeller Center last year I pictured Gene, Frank and Jules dancing there. In that scene, you can see a bunch of onlookers staring at the stars as they are performing. Couldn't MGM keep the gawkers away when filming?
The movie is filmed partially on location. The location shots are some of the best scenes. It's just too bad that the whole movie wasn't filmed that way. It is so painfully obvious when they are on a soundstage that you wonder why they even bothered decorating the set.
The movie is fast paced and loaded with, what would now be considered quaint, sexual innuendo. Miller sings a song about a cave man who wore a bear skin. She thens gives Munson a sexy look and says 'I really like bare skin.' Of course there is Garrett's randy cab driver who spends a great deal of time begging Sinatra to do her. 'Come up to my place.' she repeats too many times to count.
The funniest character in the movie gets introduced when Sinatra finally makes it to her place. Garrett's room mate, Lucy Schmeeler, is a hideous beast with a cold. They shoo her out so they can be alone. Later she becomes Gene's blind date when Miss Turnstyles is a no show.
One interesting thing to note about this movie is that Betty Garrett and Alice Pearce would both be remembered for supporting roles on famous television shows. Garrett was 'Laverne and Shirley's' land lady. Pearce was Samantha's nosey neighbor on 'Bewitched'.
This musical is better than most, but it has some weak spots. The romance between Gene and Vera is all corn. The location shoot should have encompassed the entire movie. Still, the character's pursuit of fun is infectious, and hey, it changed my life.
Reviewed on:
December 13th, 2006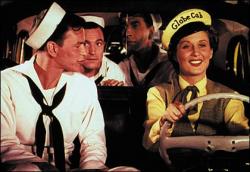 Frank Sinatra and Betty Garrett in On the Town.
Any musical that stars Frank Sinatra and Gene Kelly and is basically a love letter to New York City, gets my vote. Like Eric, I do wish they could have filmed more of the movie actually on location. The real scenes on the street are in such sharp contrast to the sets that it is jarring.
While there aren't too many memorable songs in the movie, apart from "New York, New York", there are a lot of laughs to be found. One of the best of the humorous numbers is when Frank's character wants to see the sites, but his guidebook is 40 years out-of-date, so Betty Garret keeps insisting that they go back to her place.
There are some great and funny lines in the movie as well. "I know a place right across the Brooklyn Bridge where they'll never find us!" "Where is it?" "Brooklyn!" and "He just wanted to see the sites, and boy did I show him plenty!"
As Eric said, Lucy, the hideous roommate, is one of the funniest characters. She steals most of the scenes in which she appears.
Although New York is a city that's constantly changing, I love that I can still visit Rockefeller Center or the Natural History Museum or the Brooklyn Bridge or Coney Island like they do in this movie, maybe not all in one day as these three do, but there's no denying it's as wonderful a town today as it was in 1949.
Photos © Copyright MGM (1949)
Related Reviews