Movie Review
On Golden Pond
Life renews on Golden pond.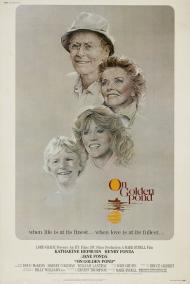 US Release Date: 12-04-1981
Directed by: Mark Rydell
Starring
▸
▾
Henry Fonda

,

as

Norman Thayer Jr.
Katharine Hepburn

,

as

Ethel Thayer
Jane Fonda

,

as

Chelsea Thayer Wayne
Doug McKeon

,

as

Billy Ray
Dabney Coleman

,

as

Bill Ray
William Lanteau

,

as

Charlie
Troy Garity

as

Young Boy on Jetty

Reviewed on:
December 4th, 2001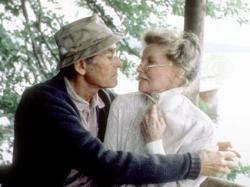 Henry Fonda and Katharine Hepburn in On Golden Pond.
The story of an elderly couple's 48th and perhaps final summer spent at their lakeside cottage in Maine. Starring Katharine Hepburn, Henry Fonda and Jane Fonda as mother, father and daughter. Among the themes that are touched upon in this classic film are love, death, growing old, family dysfunction and good old-fashioned generation gaps.
The movie begins with the return of Norman and Ethel Thayer to their summer cottage. He is as ornery and pessimistic, as she is ebullient and full of life. The famous scene where Norman loses his way while picking strawberries perfectly exemplifies the panic of old-age, where incredibly familiar things and places are forgotten. Henry Fonda deservedly won a posthumous Oscar for his equally heart-wrenching and humorous performance. The fact that his real life daughter Jane Fonda plays his movie daughter evokes an entirely real feel to this family drama. The great Katie Hepburn picked up her fourth best actress award and proved that great acting need not suffer with advanced age.
Daughter Chelsea Returns to Golden pond with her fiancé (Dabney Coleman) and his thirteen-year-old son (Doug McKeon) for the occasion of her death obsessed father's 80th birthday party. Then they are off to Europe leaving the boy with Chelsea's parents for the summer. Thus begins the relationship between Norman and the young boy, the son he never had. After a rough start they are soon inseparable friends on a quest to catch "Walter", the biggest fish in the lake.
A simple story, which features a deft script, beautifully filmed and brilliantly acted. On Golden Pond is a bittersweet farewell to two of the all-time greats in the industry, it is Henry Fonda's last role and Hepburn's last good one. Jane Fonda is amazing in her supporting role and proves that at forty something it is possible to look stunning in a bikini.
On a personal note, this movie was the last one I saw with both of my parents and as such represents a swan song to my childhood. Though there are some good chuckles, and even a little adventure, the heart of this movie is about coming to terms with loved ones before it is too late.
Reviewed on:
December 4th, 2002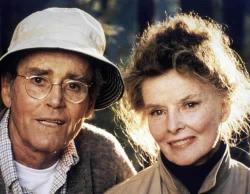 Henry Fonda and Katharine Hepburn in On Golden Pond.
On Golden Pond is a beautiful movie. It is filled with beautiful scenery, beautiful acting, and a beautiful, bittersweet story. It is a film that never fails to touch me.
Patrick did a good job summing up this movie, but he failed to mention a very important theme of this movie; fear. Fear of growing old, fear of intimacy, fear of needing people, fear of taking a chance, and of course, fear of dying. The triumph of this movie is that all of the characters face their fears and to a certain extent, overcome them.
Patrick mentioned that Henry Fonda deservedly earned an Academy Award for his role as Norman Thayer and I would like to second that motion. This is his movie and is really his story. The rest of the cast does a great job, but even the great Katharine Hepburn takes a back seat to Fonda in this film.
The back story of Jane and Henry Fonda and their history together as father and daughter only adds to the richness of their scenes together and the makes the final moments even more bittersweet.
A film of the sort that Hollywood supposedly doesn't make, On Golden Pond is truly golden.

Reviewed on:
December 4th, 2003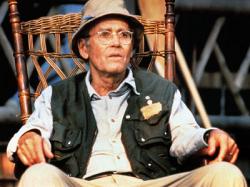 Henry Fonda in On Golden Pond.
This movie proves the point I tried to make in my The Wrath of Kahn review when I wrote that the original Star Trek actors could still be starring in the movie series. With a great script older actors are just as entertaining as younger ones. Especially when the older actors are Henry Fonda and Katharine Hepburn.
Everything my brothers wrote above is accurate. I will elaborate on a point that Patrick made when he wrote that Norman treats Billy like the son he never had. I think it goes deeper than that. Norman acts younger when he is around Billy. Sneaking off to go fishing. Foolishly going into a cove that is hard to maneuver in. Norman's sanity even comes into question when he calls Billy, "Chelsea". Its as if Billy gives Norman a brief trip back through time so to speak. He feels young with Billy. Not like when the local boys tease him about his senility. With Billy, he gets excited about catching a fish, playing a board game or discussing a book he's read several times in his life. Its not so much that Billy is the son he never had as much as it is a chance to be young again.
The cast is phenomenal! When Chelsea begs for her fathers love at the dock you wonder how much of that scene was the reason Jane Fonda wanted to do this movie with her father. Katharine Hepburn is great as usual. She has always had the most amazing presence on film. She has a way of touching the audience. I always loose a tear when she says "You're wanting to die aren't you Norman?" In the near death scene. And I am always impressed when she does the dive off the bow of the boat. (She did her own stunt) This is, however, Henry Fonda's movie. As Norman he is a man desperately wanting more life. The scene where he gets lost is so frustrating because it demonstrates how he is loosing the battle of time. Of course, he will die eventually, but his fight for another year is both funny; the scene where he plays mind games with Dabney Coleman, and sad; the "I came running back to your pretty face." scene.
One of the most truly touching movies I have ever watched. Touching because no matter what, we will all find ourselves one day wondering where our lives have gone and can't we just squeeze in a little more.
Photos © Copyright Universal Pictures (1981)
Related Reviews