Movie Review
On a Clear Day You Can See Forever
Barbra's back and this time she's psychic!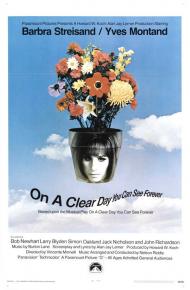 US Release Date: 06-17-1970
Directed by: Vincente Minnelli
Starring
▸
▾
Barbra Streisand

,

as

Daisy Gamble
Yves Montand

,

as

Dr. Marc Chabot
Bob Newhart

,

as

Dr. Mason Hume
Larry Blyden

,

as

Warren Pratt
Simon Oakland

,

as

Dr. Conrad Fuller
Jack Nicholson

,

as

Tad Pringle
John Richardson

,

as

Robert Tentrees
Irene Handl

,

as

Winnie Wainwhisle
Mabel Albertson

as

Mrs. Hatch

Reviewed on:
March 29th, 2005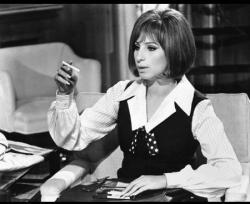 Barbra Streisand in On a Clear Day You Can See Forever.
On a Clear Day marks the end of the first phase of Barbra Streisand's movie career. This was her third musical in a row as well as her third collaboration with a legendary Hollywood director. She had already worked with William Wyler on Funny Girl and Gene Kelly on Hello Dolly! before being guided by the masterful hand and amazing eye for color that was Vincente Minnelli.
It is also worth noting that Daisy Gamble was the only time Barbra's 60's musical persona shows up in a movie. Whereas Fanny Brice and Dolly Levi (and even Melinda Tentrees) were all larger than life period characters, Daisy Gamble is a modern, stylish, (love those Scaasi creations) Jewish, New York girl who can really sing. In other words she's Barbra Streisand. Times were changing quickly however and after this movie Barbra would completely update her image, both in music and movies, with The Owl and the Pussycat and her Stony End album.
This is the story of wealthy college girl, and psychic, Daisy Gamble (she makes flowers grow faster and knows when the phone will ring among other things) who attends a lecture on hypnosis in order to quit smoking. She meets Dr. Marc Chabot (Yves Montand) and under hypnosis it is revealed that Daisy had many past lives. In particular an English woman who lived early in the 19th Century. "My name is Melinda!" Barbra not only does a decent upper-class British accent she also gets to do a funny cockney one.
The movie features several extravagant flashback scenes. We see how Melinda was raised in an orphanage, gets kicked out and eventually meets her lover Robert Tentrees. There is one fabulous sequence that was filmed at the Royal Pavilion at Brighton. Minnelli shows his exquisite eye for color and Cecil Beaton drapes Barbra in some truly over-the-top gowns, including one with a large turban.
Anyway to make a long story short, Dr. Chabot falls for Melinda but can't stand boring, unsophisticated Daisy. Daisy falls for the Dr. but then she hears a tape of herself under hypnosis and discovers her inner secret. At the movies' conclusion it is revealed that Daisy and the Dr. will meet, fall in love and get married in Virginia sometime in the 2030's.
The movie really sparkles when Barbra sings. 'What did I have that I don't have' and the title number are standouts. Barbra also gets to demonstrate her flair for comedy especially in the scene on her apartment rooftop where she tries to stop the Dr. from hypnotizing her. She's a hyperkinetic female Jerry Lewis.
The main flaw with Clear Day is in the fact that Streisand and Montand have no chemistry together. But then he is just about as dull a movie star as you can find. He had the same problem opposite Marilyn Monroe in Let's Make Love.
Jack Nicholson and Bob Newhart both have small but funny parts. But this is clearly a one woman showcase for Babs and she more than lives up to the occasion. A great performance in a flawed but entertaining musical.

Reviewed on:
March 27th, 2008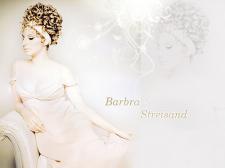 On a Clear Day You Can See Forever is without a doubt, Barbra Streisand's weakest musical.
On a Clear Day You Can See Forever is without a doubt, Barbra Streisand's weakest musical. If you are a devoted Streisand fan, like Patrick, you may like this movie just as a chance to see your favorite diva over act and blare out some songs. For everyone else, it is a complete and utter mess.
As Patrick wrote, Montand has no charm to speak of and adds nothing to the several songs he sings here. Thank God for a fast forward button. Perhaps he is better in his native France, but here he is more forgettable and bland than lunch at McDonalds.
The real problem is Minnelli. Patrick bragged about his eye for color. I was jarred by his awkward direction. One scene shows Streisand laughing at a restaurant with Montand from a distance. The camera moves in then jumps to a different take where she is talking to him. What was up with the first distant shot? Another scene has Montand on top of a building singing outside. All of the shots of Streisand on her roof are obviously on a sound stage. The outside shot of Montand seems to belong in a different movie altogether. The final scene is Streisand belting out the theme song, "On a clear day....." While she becomes superimposed over a cloudy sunset. The scene does not work on any number of levels.
The one and only thing I enjoyed in this movie is Streisand's breast. She has never been known for being attractive, but she wears a couple of outfits that seem more suitable for Jane Mansfield. Those babies threaten to fall out in one scene, but she carefully moves about the room so it does not happen.
Reviewed on:
March 1st, 2009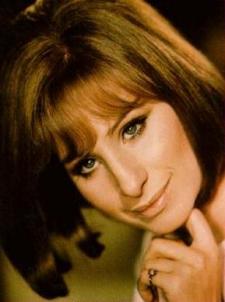 Barbra should have done more comedies.
We all have our blind spots towards certain movies because they feature favorite actors of ours and Patrick clearly you are giving this movie more than its due because of your adoration for Streisand. While I don't agree that it's quite as bad as Eric puts it, it's certainly not worthy of the praise you heap upon it either.
This could have been a good movie, but the problem is that it seems to take itself too seriously at times. It should have been played strictly for laughs and had about 30 minutes edited from it, starting with every scene Yves Montand is in without Barbra. And while it's interesting to see a young Jack Nicholson, they could have lost his part completely too. The flashback scenes could have been trimmed as well; especially any of those that feature Barbra doing a cockney accent with a trace of Brooklynese.
Of course the biggest thing they could have done to improve this move was to have cast someone else in Montand's part. Someone younger, who could sing and who could generate some chemistry with Barbra. This is around the time where Babs looked as good as she would ever look and clearly she could do better than this old and kind of creepy professor. Thanks to you Eric, I was paying particular attention to Streisand's breasts and it's easy to see what you were talking about.
Barbra does get to sing a couple of funny songs that I enjoy. "Go to Sleep", in which she duets with herself and "What did I have that I once had" are the two best comic songs. Some of the other songs though, while sung well, are too heavy for what should have been a silly romantic comedy. I have to admit that, because of growing up with you Patrick, I know every song in this movie and was able to sing along with every one of them, even the Montand ones.
A semi-enjoyable musical in parts, this is indeed one of Streisand's more flawed movies, but not one without some entertaining parts and what parts there are to enjoy are due entirely to her comic talents, which she should have used more often.
Photos © Copyright Paramount Pictures (1970)