Movie Review
The Old Maid
A woman with a secret.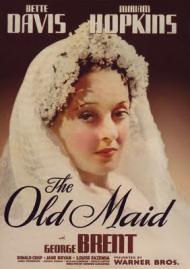 US Release Date: 09-02-1939
Directed by: Edmund Goulding
Starring
▸
▾
Bette Davis

,

as

Charlotte Lovell
Miriam Hopkins

,

as

Delia Lovell Ralston
George Brent

,

as

Lt. Clem Spender
Donald Crisp

,

as

Dr. Lanskell
Jane Bryan

,

as

Clementina
Louise Fazenda

,

as

Dora
James Stephenson

,

as

Jim Ralston
Jerome Cowan

,

as

Joseph Ralston
William Lundigan

,

as

Lanning Halsey
Cecilia Loftus

,

as

Grandmother Henrietta Lovell
Rand Brooks

,

as

Jim Ralston Jr.
Janet Shaw

,

as

Dee Ralston Ward
William Hopper

as

John Ward
Reviewed on:
June 22nd, 2006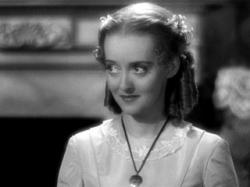 Bette Davis in The Old Maid.
The Old Maid is one of Bette Davis' greatest tear jerkers. It is set in Philadelphia during the Civil War and the years following. Davis commits the unforgivable sin of premarital sex and has an illegitimate child. For this breach of societal custom she must pay a very heavy price. Her daughter must never know her true identity and must grow up thinking that Davis is her old maid aunt and not her mother.
Miriam Hopkins costars as Davis' cousin. She raises Davis' child along with her own two children. She shares the knowledge of the child's real parentage. The family doctor (played by the stalwart Donald Crisp) is the only other person privy to this scandalous information. You see the child's father was Miriam Hopkins' first true love, but she grew impatient waiting for him to make his fortune and return to marry her, so she married another man. Davis stepped in to comfort him and got knocked up as thanks. Then the war happened and he got killed at Vicksburg.
At first Davis runs a home for war orphans. This way she can conceal the fact that one of the children is really hers. As Hopkins tells her later in the movie, "Twenty children to hide one." But she winds up moving in with her cousin and letting her raise her daughter. Davis becomes a bitter and strict old maid, being ridiculed and pitied by her own daughter. This is the stuff of high melodrama and Davis and Hopkins go toe to toe and line for line against each other.
1939 was the greatest year of the classic Hollywood studio system. Bette Davis made four movies that year and in each of them she played completely different characters. In Dark Victory she was a Long Island socialite dying of a brain tumor, in Juarez she played the French Empress Carlotta slowly going mad, and in The Private Lives of Elizabeth and Essex she brought England's Queen Elizabeth I to vivid life. The Old Maid was the biggest hit of the four.
Her portrayal is quite brilliant. She is brittle and harsh on the outside but very clearly hides her immense emotional pain behind this veneer. It takes great acting to evoke sympathy for such an unlikable personality but Davis pulls it off beautifully.
For fans of the great Bette Davis, or people that enjoy old black & white melodramas and a good cry, this movie is highly recommended.
Photos © Copyright Warner Bros. Pictures (1939)