Movie Review
Old Dogs
Sit. Stay. Play Dad.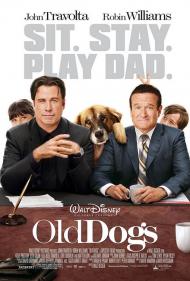 US Release Date: 11-25-2009
Directed by: Walt Becker
Starring
▸
▾
John Travolta

,

as

Charlie
Robin Williams

,

as

Dan
Kelly Preston

,

as

Vicki
Conner Rayburn

,

as

Zach
Ella Bleu Travolta

,

as

Emily
Lori Loughlin

,

as

Amanda
Seth Green

,

as

Ralph White
Bernie Mac

,

as

Jimmy Lunchbox
Matt Dillon

,

as

Barry
Justin Long

,

as

camper
Ann-Margret

,

as

Martha
Rita Wilson

,

as

Jenna
Amy Sedaris

,

as

Condo Woman
Luis Guzmán

,

as

Nick
Dax Shepard

as

baby safety guy

Reviewed on:
December 23rd, 2009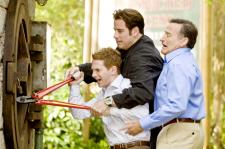 Green, Travolta and Williams.
Desperate was the first word to come to mind as I watched Old Dogs. It describes the two main characters. They are both well passed middle aged single men, who still try to impress girls like they were in highschool. It also describes the forced plot.
Williams and Travolta are longtime friends/business partners who are about to make the biggest deal of their careers. A former one night stand, Preston, shows up with twins she created with Williams, unknown to him. She is heading off to prison for trying to save a tree, or some such left wing environmental BS. After Williams puts the intended baby sitter in the hospital, he ends up taking care of the seven year olds for two weeks, with the help of Travolta.
Every scene plays out like a rushed sitcom. They take the kids camping, where they are assumed to be a gay couple. Williams gets stuck in a tanning machine. The kids mix up their medications, causing Travolta to go to a bereavement group with a serious case of the munchies. Williams plays golf without any depth perception. I kept waiting for a laugh track to cue me as to when I should start laughing.
To distract the audience from the mind numbingly stupid plot, Old Dogs is filled with pointless cameos. The only cast member to generate any laughs is Seth Green. He screams like a girl and sings for his life in a gorilla enclosure. An enclosure that two old fat guys can amazingly climb out of it while the gorilla could not?
The worst scene, on so many levels, is when Williams tries to "learn" how to play with his kids, as if anyone would need to learn how to do that. Travolta gets Bernie Mac (in his last film role) to hook Williams up in a suit that Travolta controls in the next room. The scene is as ridiculous as can be. It ends on a groan inducing note of Williams explaining to his daughter that he is not a superhero but will still protect her.
As a father I was a bit offended by the stereotype that men are just eternal frat boys, who have no clue how to do such basic things as play with children. The mom comes across as the caring one, but she is never held accountable for her child abuse. She willingly and knowingly kept a father and his children apart. As a result, their daughter has security issues. Preston should have to apologize to all parties, not the dad who never knew he was one.
Old Dogs may garnish a laugh or two from your kids. Parents in the mean time may be distracted by Travolta's face. How much botox has he had? The movie makes constant references to their age. Why not let it show. At least the overweight Williams is brave enough to show off his naked belly.
Photos © Copyright Walt Disney Pictures (2009)