Movie Review
The Oklahoma Kid
Keep your eyes on BOTH! JAMES CAGNEY SHOOTS IT OUT WITH HUMPHREY BOGART IN THE OKLAHOMA KID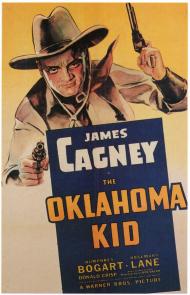 US Release Date: 03-11-1939
Directed by: Lloyd Bacon
Starring
▸
▾
James Cagney

,

as

The Oklahoma Kid/Jim Kincaid
Humphrey Bogart

,

as

Whip McCord
Rosemary Lane

,

as

Jane Hardwick
Donald Crisp

,

as

Judge Hardwick
Harvey Stephens

,

as

Ned Kincaid
Hugh Sothern

,

as

John Kincaid
Charles Middleton

,

as

Alec Martin
Edward Pawley

,

as

Doolin
Ward Bond

,

as

Wes Handley
Lew Harvey

as

Curley
Reviewed on:
September 29th, 2011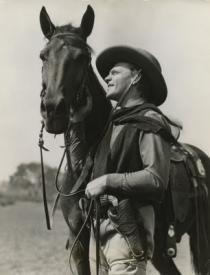 James Cagney in The Oklahoma Kid.
The year 1939 produced some of the greatest movies in Hollywood history. It also produced a few anomalies like The Oklahoma Kid; a Western by way of the Lower East Side. It stars James Cagney and Humphrey Bogart in the 2nd of their 3 movies together. These out-of-place New Yorkers bring an urban flavor to the Old West. Neither man bothers to alter his streetwise, rat-a-tat-tat style of speaking, and both men (Cagney especially) look odd in cowboy hats.
Somehow the picture isn't awful. The direction by Lloyd Bacon, the cinematography by the legendary James Wong Howe and the score by Max Steiner all contribute to a solid story. Cagney plays the titular gunslinger. He's the black sheep son of a respectable founder of Tulsa. Bogie plays the town villain dressed in black. The lovely Rosemary Lane plays the love interest, with the venerable Donald Crisp as her judge father.
Cagney made a living playing antiheros. The Oklahoma Kid is from a respectable family but chooses a life of crime. As he explains it, "Listen, I learned this about human nature when I was but so high, and that is: that the strong take away from the weak, and the smart take it away from the strong." Will the Oklahoma Kid earn redemption (and get the girl) by the final reel? What do you think? Along the way Cagney rides and shoots with enthusiasm and even strums a guitar while singing a lullaby in Spanish.
Bogart was on the brink of superstardom but hadn't yet aged into his craggy face or perfected his cynical/romantic persona. His best scene is when he incites a mob to commit a lynching. He plays the black-hearted bad guy with gusto. Speaking to Cagney's respectable father about the settling of Tulsa he quips, "You take care of their virtues, I'll take care of their vices."
James Cagney finished 1939 as Warner's 3rd most bankable star behind Bette Davis and Errol Flynn. This glossy big budget Western was created as a vehicle at his request. He had never yet appeared in the saddle and had a hankering to play a gunslinger. Although the movie is fast-paced and amusing it brings nothing new to the genre. Cagney is as miscast making like John Wayne as the Duke would be playing an inner city gangster.

Photos © Copyright Warner Bros. Pictures (1939)
Related Reviews