Movie Review
Oh, God!
Anybody who could turn Lot's wife into a pillar of salt, incinerate Sodom and Gomorrah and make it rain for forty days and forty nights has got to be a fun guy.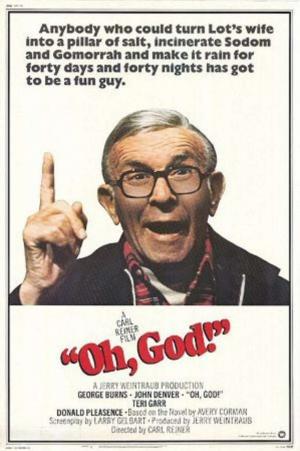 US Release Date: 10-07-1977
Directed by: Carl Reiner
Starring
▸
▾
John Denver

,

as

Jerry Landers
George Burns

,

as

God
Teri Garr

,

as

Bobbie Landers
Donald Pleasence

,

as

Doctor Harmon
Ralph Bellamy

,

as

Sam Raven
William Daniels

,

as

George Summers
Barnard Hughes

,

as

Judge Baker
Paul Sorvino

,

as

Reverend Willie Williams
Barry Sullivan

,

as

Bishop Reardon
Dinah Shore

,

as

Herself
Carl Reiner

,

as

Himself
Jeff Corey

,

as

Rabbi Silverstone
George Furth

,

as

Briggs
David Ogden Stiers

,

as

Mr. McCarthy, District Produce Manager
Titos Vandis

,

as

Greek Bishop Markos
Moosie Drier

,

as

Adam Landers
Rachel Longaker

,

as

Becky Landers
Jerry Dunphy

,

as

Himself
Connie Sawyer

as

Mrs Green

Reviewed on:
June 18th, 2016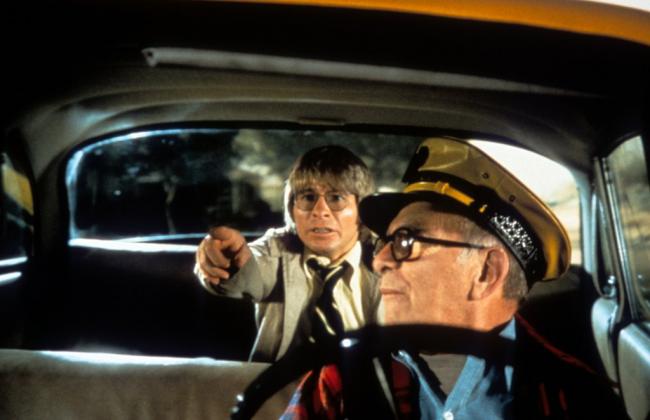 John Denver and George Burns in Oh, God!.
Oh, God! is a movie that on paper sounds like a disaster. A movie about God, played by George Burns, from Hollywood, directed by Carl Reiner? It had the potential to be either in really bad taste, or heavy handed and sanctimonious. Instead, it's a light hearted, but sincere take on God and faith and while it does poke fun at certain religious types, is ultimately respectful and optimistic. There are echos of Frank Capra in its innocent, every man protagonist, storyline.

The script was loosely adapted from the Avery Corman novel of the same name by M*A*S*H* writer/producer Larry Gelbart and directed by comedian Carl Reiner. Alongside Burns, fresh off his Oscar win for The Sunshine Boys, is singer/songwriter John Denver in his first (and nearly only) starring role in a feature film. A few famous faces show up in supporting parts, including a young Teri Garr, at her most sexiest as Denver's wife, Paul Sorvino as an in it for the money, evangelical preacher, while Donald Pleasance and David Ogden Stiers have near cameo appearances as another minister and a regional store manager respectively.
Denver plays Jerry Landers, an assistant manager at a local grocery store who one day gets a mysterious invitation to meet God. Although he thinks it's a joke, he goes along anyway, only to discover an office building with an extra floor, and an empty chair next to an intercom from which comes a voice informing him that it's God and he wants Jerry to spread a message for him. He wants him to tell the world that God is still around and that he's disappointed with the way the world is turning out, and that mankind has it within them to make the world a better place. Naturally, the world is skeptical of his message, and even Jerry's wife thinks he's going crazy.
Any movie that features God as a central character is going to bring up some big questions about the universe and mankind's place within it. Jerry asks a few of them, but the script never seriously tries to answer them. Its philosophy never gets too deep and is summed up by one speech by Burns, "I know how hard it is in these times to have faith. But maybe if you could have the faith to start with, maybe the times would change. You could change them. Think about it. Try. And try not to hurt each other. There's been enough of that. It really gets in the way. [...]. However hopeless, helpless, mixed up and scary it all gets, it can work. If you find it hard to believe in me, maybe it would help you to know that I believe in you." It also sidesteps the question of which religion is closest to the truth by having God say, "The divine truth is not in a building or a book or a story. Put down the heart is the temple where all truth resides."
But then, this is a comedy, not a drama. Its intent isn't to give you the answers to life, the universe, and everything, it's more interested in charming you, which it does easily. Denver isn't a great actor, but he makes up for his lack of acting ability with an enthusiastic earnestness. It's Burns who steals the show anyway. Although he doesn't exactly look or sound godlike, he somehow sells the idea that he is the Almighty. His aged appearance and benevolence is comforting and humorous at the same time. Burns would return to play God twice more in sequels, each time with diminishing returns and without the help of any of those involved in this first film.
Being made in 1977, which is the most 1970s year of any year in that decade, the fashions and the cars are very much of the period. Anyone who can remember that tacky decade won't be able to help feeling a sense of nostalgia while watching. This is a little movie, but it's heart is in the right place. It struck a chord with audiences and critics alike upon its release. It ended up being the 6th highest grossing film of 1977 and even briefly knocked the original Star Wars out of first place at the box office. It still manages to entertain, nearly 40 years later.


Reviewed on:
August 13th, 2016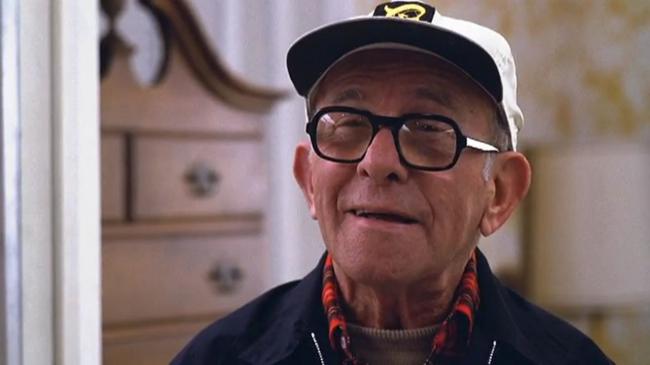 George Burns in Oh, God!
When God is asked which religion is the closest to the divine truth and he answers, "The divine truth is not in a building or a book or a story. Put down the heart is the temple where all truth resides." He is espousing the theological point of this film that God is not of or for any one organized religion. It is a repeated statement throughout the movie. At one point, Jerry tells God, "I don't even go to any church!" God smiles back, "Neither do I." When asked if Jesus is his son he says, "Yes." but then continues to say that so is Buddha, Mohamed etc... In fact, you could argue that this film is trying to say, however subtly, that organized religions are the real problem. Look at how the money grabbing minister is taken down.

As Scott wrote, it never gets too deep but I like how this God puts it all back on the humans seeking answers, When Jerry asks him how he can permit suffering in the world, God answers, "I don't permit the suffering. You do. Free will. All the choices are yours." Jerry, stuck in victim mode, argues, "Choices? What choices?" God answers, "You can love each other, cherish and nurture each other or you can kill each other." Religious dogma may be different based on the church you attend, but all require faith. The only time God gets a bit preachy is in the lines Scott quoted that start with, "I know how hard it is in these times to have faith..."

So according to God, as portrayed in this film, the secret to a happy world is to have faith in him and stop killing each other. Oh, and he is also a little miffed about all of the pollution."You're also turning the sky into mud. I look down, I can't believe the filth. Using the rivers for toilets, poisoning my fishes." The 1970s was the first real time in American history that pollution became a hot topic and the subject helps to date this movie. Another thing I found interesting about when this film came out was that in 1977, followers of Hare Krishna were all over the airports peddling their beliefs and annoying the crap out of people. Charles Manson, some six years earlier, was found guilty of leading his followers in multiple homicides. The following year, 909 members of the Peoples Temple, a religious organization, under the leadership of Jim Jones committed mass suicide. In the 1970s, many people were seeking guidance. I truly hope this little film impacted some people in a positive way.

Scott compared Oh, God! to the works of Frank Capra and I definitely see what he is talking about. In fact, I think this movie should have gone even further in that direction and had it all take place in a smaller, nondescript town. A man in the huge metropolis of Los Angeles claims to be talking to God and people take him seriously? No on in L A would have given a grocery store manager, claiming to speak to God a second thought. However, in a small town with much less news to report than in Hollywood, a story like this may get all kinds of notice. It could have also had God compare this small town to a seed that may grow and spread his word of faith and peace.
Either way, Oh, God! still has a wonderful little message of taking responsibility for ones actions and not to hide behind any one religion. John Denver convincingly plays Jerry like a wide open innocent but it is George Burns who really sells the story. This short, harmless looking, friendly old man with the charming smile, makes you feel comfortable as soon as you seem him. I wish he had more screen time.

Reviewed on:
August 17th, 2016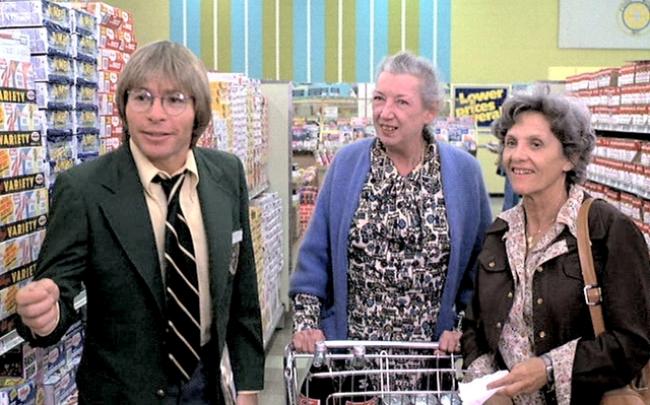 John Denver, with Connie Sawyer on the right, in Oh, God!
The nostalgia factor for me was through the roof watching Oh, God! for the first time since I was a kid. It remains a charmingly witty little movie with a positive spiritual central message, but for anyone who was a kid in the 1970s this one brings it all back. I was ten in 1977 and this is the world as I first knew it. It ranks with the original 1975 Bad News Bears and Meatballs (1979) among movies that most vividly conjure up my childhood. I agree completely with my brothers as far as George Burns goes. But as good as he is as the Almighty he does get help from John Denver, who turns out to be not a bad actor. He and Burns have great comic chemistry together. It's a shame Denver didn't return for the sequels (or perhaps he dodged a bullet. I haven't seen either of them since the 80s so I don't remember how awful they are). At any rate it isn't just Burns who makes this movie work. Teri Garr deserves a mention as well. She gets my favorite line, which I still remembered all these years later. When the media and assorted religious fanatics have gathered at their home, she tells her husband, "I went to take out the garbage today and two people blessed me! And one of them blessed the garbage!"
George Burns famously lived to the age of 100 but he's not the only one in the cast to achieve that milestone. You may never have heard the name Connie Sawyer but chances are pretty good that, whatever your age, you've seen her work. In a career spanning more than 60 years she's appeared in films with such legends as Frank Sinatra in Frank Capra's A Hole in the Head in 1959 and John Wayne in his Oscar winning role in True Grit a decade later. In 1979 she appeared in ...And Justice for All starring Al Pacino. She was still going strong 10 years after that as one of the elderly women interviewed for the documentary section of When Harry Met Sally. In 1994 she had a scene with Jim Carrey in Dumb and Dumber. In 1998 she took an elevator ride with George Clooney in Out of Sight. In this millennium she's worked with James Franco in Pineapple Express (2008) and Matt LeBlanc in her most recent big screen role in Lovesick (2014). She was 102 at the time. She turns 104 this November (2016) but in a recent interview claims she's still looking for work. Her impact on the small screen has been equally impressive. Here's just a partial list of her small screen credits. The Jackie Gleason Show (1954), The Andy Griffith Show (1968), Good Times (1974), The Mary Tyler Moore Show (1975), The Streets of San Francisco (1976), Kojak (1977), Starsky and Hutch (1978), The Rockford Files (1978), Hawaii Five-O (1979), Archie Bunker's Place (1979), Dynasty (1982), In the Heat of the Night (1990), Murder, She Wrote (1991), Home Improvement (1995), Seinfeld (1997), ER (1999), Will & Grace (2000), That '70s Show (2000), 8 Simple Rules (2003), How I Met Your Mother (2007), The Office (2009), 2 Broke Girls (2013) and Ray Donovan (2014). Now do you see why I said you've probably seen her work?
Okay so I got entirely sidetracked but you have to admit Connie Sawyer is one helluva fascinating person. Now back to the topic at hand, which was the motion picture Oh, God! All I can add is its theme is timeless, its script is intelligently written and -if you'll pardon the expression- George Burns charms your pants off as God. And on top of all that the trip back in time to 1977 is priceless.
Photos © Copyright Warner Bros. (1977)