Movie Review
Of Love and Shadows
Surrounded by danger, they'll risk everything for freedom!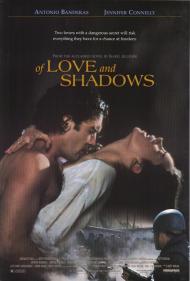 Germany Release Date: 10-06-1994
Directed by: Betty Kaplan
Starring
▸
▾
Antonio Banderas

,

as

Francisco
Jennifer Connelly

,

as

Irene
Stefania Sandrelli

,

as

Beatriz
Diego Wallraff

,

as

Jose
Camilo Gallardo

,

as

Gustavo
Patricio Contreras

,

as

Mario
Jorge Rivera Lopez

,

as

Prof. Leal
Angela Ragno

as

Hilda Leal
Reviewed on:
August 26th, 2010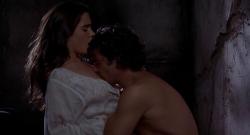 Jennifer Connelly and Antonio Banderas in Of Love and Shadows.
Of Love and Shadows is proof that the most important part of any movie is the script. It features a couple of talented, well known stars, high production values, a strong central story idea and was filmed entirely on location and yet because of some poor dialogue and a lack of tension and a just generally weak script it ends up being more boring than anything else. Given that the book it was based upon is well-regarded, I can only assume that something was lost in translation.
Connelly plays Irene, a wealthy fashion magazine editor in Chile. Banderas is Francisco, a former psychiatrist, now photographer, whom she hires. Francisco comes from a family of revolutionaries. He and his priest brother are working in secret to get the message out to the world about the atrocities being committed by the Chilean government. When Irene sees some of these atrocities first-hand she decides to help them. Irene and Francisco's work together brings them closer and eventually they fall in love. Their work also brings the attention of the government and the military onto them.
Both Connelly and Banderas do a good job in their roles. Connelly's accent takes some getting used to and it slips on occasion. As good as she is here and as much as I like her as an actress, I have to wonder why they didn't hire a Hispanic actress to play her part. Banderas, who I've always felt was under rated as an actor, does a good, if restrained, job as the revolutionary photographer.
The real problem is the pacing. There's very little tension until near the end and so the first half drags quite slowly. Several of the supporting parts are played quite amateurishly, perhaps due to the actors not speaking English natively. Very little background information is given about Chile or its government, just a brief voiceover narration by Irene at the beginning of the film sets up the story.
One scene in the movie that stands out as odd, is when Irene and Francisco go to visit a woman who is purported to be a saint. She appears more as though she's possessed and when the military show up while they are visiting her, the woman shows superhuman strength. While the events surrounding this woman affect the rest of the movie, no further explanation is offered as to why she was strong enough to lift a grown man off the ground and hurl him through the air in a manner that seems quite comical.
Originally released in Germany in 1994, it took over 2 years for it to find a limited release in the United States. After seeing it, it's not hard to understand why.
One odd thing of note is that I recently watched another Connelly film, Waking the Dead, in which she played an activist seeking to help the politically oppressed in Chile. Does she have a personal feeling towards the country in real life, or was it just a coincidence?
Photos © Copyright Miramax (1994)