Movie Review
Of Human Bondage
The Love That Lifted a Man to Paradise......and Hurled Him Back to Earth Again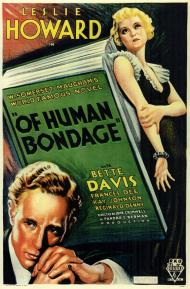 US Release Date: 07-20-1934
Directed by: John Cromwell
Starring
▸
▾
Leslie Howard

,

as

Philip Carey
Bette Davis

,

as

Mildred Rogers
Frances Dee

,

as

Sally Athelny
Kay Johnson

,

as

Norah
Reginald Denny

,

as

Harry Griffiths
Alan Hale

,

as

Emil Miller
Reginald Sheffield

,

as

Cyril Dunsford
Reginald Owen

as

Thorpe Athelny

Reviewed on:
May 19th, 2010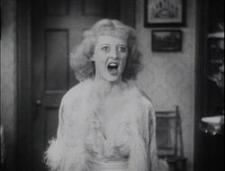 Bette Davis shocked audiences with her intensity as Mildred Rogers.
Based on W. Somerset Maugham's most famous novel, Of Human Bondage tells the story of a young man with a physical affliction (he has a club foot) and his obsession with a woman. When the movie begins Englishman Philip Carey is in Paris trying his hand as an artist. After realizing he has no true talent he returns to England and begins medical school. One day he accompanies a fellow student to a restaurant and there he lays eyes on waitress Mildred Rogers. Their strange and intense relationship thus begins.
She is downright rude to him but he falls immediately in love and lust with her. She is from the lower classes and her earthiness attracts him. She flirts openly with other men and even at one point tells him that because of his affliction she can never be physically attracted to him. None of this deters his love for her. Even when she runs off with another man (Alan Hale with a thick German accent), gets pregnant by this married cad and then turns to Philip for help; he takes her in and helps her financially.
Their on again off again relationship (which is never actually consummated) culminates in a violent argument in which Bette Davis shocked movie audiences with the primal energy of her acting. Nearly 20 years before Brando in Streetcar, Davis brought an animal magnetism to the screen that a reviewer from Life magazine at the time called "probably the greatest performance ever recorded on the screen by a U.S. actress."
One scene in particular where Mildred screams at Philip in her thick cockney accent, "You cad, you dirty swine! I never cared for you, not once! I was always makin' a fool of ya! Ya bored me stiff; I hated ya! It made me SICK when I had to let ya kiss me. I only did it because ya begged me, ya hounded me and drove me crazy! And after ya kissed me, I always used to wipe my mouth! WIPE MY MOUTH!"
Director John Cromwell made good use of the close-up through out the movie, having his actors look directly into the camera when speaking to each other. Audiences were so aghast when Davis failed to get nominated for the Academy Award that they started the first write in campaign. She would end up getting the 3rd most votes that year and would win the following year for Dangerous, which was considered by many to be her consolation prize for the previous year's slight.
You just know this tawdry mean little bitch is not heading for a happy ending. Unfortunately Mildred is not the star of the movie, Philip is. Whether or not he gets a happy ending I won't say. Leslie Howard was a fine actor but whenever Mildred is not on the screen the movie becomes less riveting. The good news is that it runs a mere 83 minutes and, if for no other reason, it's worth watching for Bette Davis and her amazing performance. She proved herself to be something new and unexpectedly talented, and in the process she pushed out the limits of movie acting.

Reviewed on:
April 10th, 2012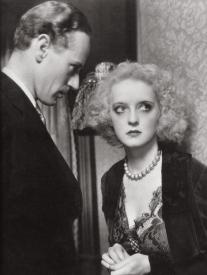 Leslie Howard and Bette Davis in Of Human Bondage
Bette Davis may have shocked audiences with Mildred's blunt words and abrasive attitude, but her acting is hardly perfect here. Her cockney accent is as often absent as it is present. Davis may have been known for her outbursts and strength of character but she was never noted for being beautiful. She is physically miscast here as a women who turns every man's head she comes into contact with.
Leslie Howard is meanwhile perfectly cast as Philip Carey, a rather dull dweeb. He lets Mildred treat him like a door mat. This could have been used as an audition for Howard to play Ashley Wilkes in Gone With the Wind. Both characters are spineless, whipped little men.
The title of the film refers to how we are sometimes emotionally bound to other people, but they may not be bound to us in return. Philip is bound to Mildred as Sally is bound to Philip. Sally explains, "You can't help just because someone loves you and you don't love back."
Of Human Bondage is mostly depressing drama with just a bit of humor. I enjoyed the politically incorrect scene when Sally's Dad tells Philip, as Sally serves them dinner, "I don't think women ought to sit down at the table with men." Philip asks why, and her father continues, "It ruins conversation. I'm sure it's very bad for them. It puts ideas in their heads. And women are never at ease with themselves when they have ideas."
Of Human Bondage makes the point that we cannot help who we find ourselves attracted to and how much we may suffer when that person does not reciprocate our feelings. However, the plot is rather simple and could have been told in twenty minutes. Other than the outstanding scene where Davis spits venom at Howard, (see Patrick's quote) this film has very little to offer.
Reviewed on:
April 11th, 2012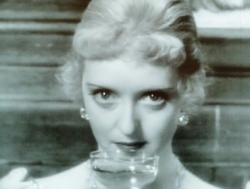 Bette Davis shows off her Bette Davis eyes in Of Human Bondage.
When a movie just an hour and 20 minutes long feels padded, you know it's not a good sign, but such is the case with this one. As Eric said, you could cram the whole soap opera plot into about 20 minutes, especially if you trimmed out the fantasy, all in Phillip's head, portions.
The biggest problem with the movie is we are never shown a good enough reason for Phillip's long lasting and deep love for Mildred. As Eric also pointed out, Davis wasn't the most physically attractive of women, but beyond that she never shows Phillips anything resembling kindness. It's a case of movie love where you just have to take the script's word for it that he loves her.
As both of my brothers pointed out, Leslie Howard wasn't particularly charismatic. His dullness is a big reason why the story drags so much. His sad sack character is depressing as hell and yet somehow he keeps getting women to fall in love with him. I did learn some interesting details about him while reading about this movie. He was killed in 1943 when his plane was shot down by the Luftwaffe. Legend has it that the Germans believed Winston Churchill was on board. He was also such good friends with Humphrey Bogart, whom he worked with on the stage and film version of The Petrified Forest, that Bogart would later name his daughter Leslie Howard Bogart. Howard's refined English gentlemen character and Bogie's rough and ready one, seems like an odd match.
Although I agree with Eric that Davis's accent is sketchy at best, she does deliver an electric performance. According to interviews, she practiced the accent by hiring an English maid and listening to how she spoke. Perhaps a smarter plan would have been to hire a vocal coach or to simply have made Mildred an American. In any case, she does a good job with the role. My problem with the character is that she has no redeeming features at all (yet another reason why it's hard to see why Phillip loved her) and therefore is impossible to care about except for wanting to see her get her comeuppance. Still, given that she's the only character in the film who produces any kind of emotional reaction, she's definitely the best thing this movie has going for it.
Davis delivers a star making performance, but she would appear in much more entertaining movies than this one in her long and illustrious career.
Photos © Copyright RKO Radio Pictures (1934)