Movie Review
The Odd Life of Timothy Green
He's a force of nature.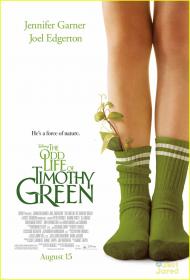 US Release Date: 08-15-2012
Directed by: Peter Hedges
Starring
▸
▾
Jennifer Garner

,

as

Cindy Green
Joel Edgerton

,

as

Jim Green
CJ Adams

,

as

Timothy Green
Odeya Rush

,

as

Joni Jerome
Shohreh Aghdashloo

,

as

Evette Onat
Rosemarie DeWitt

,

as

Brenda Best
David Morse

,

as

James Green, Sr.
M. Emmet Walsh

,

as

Uncle Bub
Lois Smith

,

as

Aunt Mel
Lin-Manuel Miranda

,

as

Reggie
Dianne Wiest

,

as

Ms. Bernice Crudstaff
Ron Livingston

,

as

Franklin Crudstaff
James Rebhorn

,

as

Joseph Crudstaff
Common

as

Coach Cal

Reviewed on:
September 19th, 2012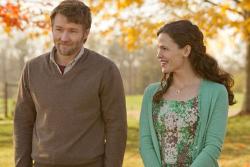 Joel Edgerton and Jennifer Garner in The Odd Life of Timothy Green
The Odd Life of Timothy Green is an ode to autumn. The first scene is of Jennifer Garner and Joel Edgerton walking past some dark orange colored tree foliage as they go to a clinic. Throughout the film the audience is treated to some spectacular fall colors that only nature can provide. As beautiful as that time of year can be, autumn also represents the end of summer.
Cindy and Jim Green live in a small American town, that has seen better days. Reflective of Obama's America, many businesses in town have recently closed up while its biggest source of tax revenue, a pencil factory that Jim works at, is threatening to down size or close. At the clinic, Cindy and Jim learn they cannot have children. In the throes of self pity for their situation, they drink some whine and jot down on note paper what qualities they would love to have in a child. Jim puts the notes in a wooden box and for some reason they bury it in Cindy's garden.
It magically rains only on their yard and the next day a dirty 10 year old boy with leaves growing on his ankles appears in their home, while there is a hole in the ground where they planted the box. Jim and Cindy are at first confused while Timothy is not, calling them Mom and Dad as if he had always been with them.
The story of Timothy is told in flashback by Cindy and Jim to a couple of people who work at an adoption agency. Although religion is never mentioned, Timothy seems to be a gift from God sent to teach Jim and Cindy how to be parents. Jim has father issues as he never felt his dad gave him the attention he wanted. Cindy has a married sister who has children who play sports and musical instruments. Both Jim and Cindy unintentionally use Timothy to impress their families.
Garner and Edgerton make a very likable couple. We know that any child that Jim and Cindy raise will become a very good person indeed. They are insecure about their parenting skills. My favorite lines in the film is when they take an unconcerned Timothy to school and Jim says to him, "Have a great day!" Cindy quietly says to Jim, "That's too much pressure..." so Jim quickly down grades to, "Have a day you have!"
Timothy gets picked on at school and is not at all athletic. None of this bothers Timothy in the least. He takes everything in stride, while Jim and Cindy want to see the bullies punished and the soccer coach put Timothy in the game. Jim desperately wants Timothy to do something on the soccer field to impress his cold, domineering father. Cindy meanwhile cannot stop bragging about Timothy to her sister every time her sister mentions something her kids are doing.
As the movie takes place in a very short amount of time, Timothy's leaves soon start to change color, of course foreshadowing the end. Timothy meanwhile, has made friends with a girl who has a large ugly birthmark. She discovers his leaves and the two form a bond based on each feeling like an outcast. Together they secretly work on a project.
The Odd Life of Timothy Green is as sweet and innocent as they come. Jim and Cindy are wonderful people who just needed to learn that our children are wonderful based on us encouraging their strengths and not on us pushing them to be something they are not. It is a nice enough lesson but so much is never explained.
Having a child crawl out of the garden is a magical idea but why did story writer Ahmet Zappa (son of Frank) and screenplay writer/director Peter Hedges not just make him a temporary foster child? The symbolism of the leaves is fine but the changing colors on tree leaves would have worked just as well. The project that Timothy and his girlfriend work on is likewise never explained.
Although flawed, The Odd Life of Timothy Green is a very family friendly film with a nice message of loving and accepting someone for who they are and not for who we want them to be.
Photos © Copyright Walt Disney Pictures (2012)