Movie Review
The Nutty Professor
Please do not reveal the middle of this picture! Jerry's a mousey chemistry prof who invents the greatest drink since Dracula discovered bloody marys.
US Release Date: 06-04-1963
Directed by: Jerry Lewis
Starring
▸
▾
Jerry Lewis

,

as

Professor Julius Kelp/Buddy Love
Stella Stevens

,

as

Ms. Stella Purdy
Del Moore

,

as

Dr. Mortimer S. Warfield
Kathleen Freeman

,

as

Ms. Millie Lemmon
Howard Morris

,

as

Mr. Elmer Kelp
Elvia Allman

,

as

Mrs. Edwina Kelp
Milton Frome

,

as

Dr. M. Sheppard Leevee
Norman Alden

,

as

Football Player / Student
Buddy Lester

,

as

Bartender
Marvin Kaplan

,

as

English Student
Henry Gibson

,

as

College Student
Seymour Cassel

as

Bored Man
Reviewed on:
January 14th, 2015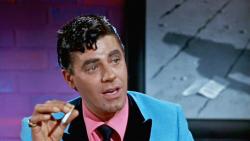 Jerry Lewis as Buddy Love in The Nutty Professor.
Jerry Lewis's surreal parody of Robert Louis Stevenson's classic novel Dr. Jekyll and Mr. Hyde has become his most celebrated and revered film. It was famously remade by Eddie Murphy in 1996 and has itself been spoofed in other formats, such as on the long running animated sitcom The Simpsons. More than half a century after its release it remains the iconic comic's most famous work. It was an idea that Lewis had long envisioned. In fact he wrote his first draft of the screenplay in 1952.
Lewis plays dual roles. First he's the maladroit, addle-brained, buck-toothed, socially inept professor Julius Kelp. He teaches science at a university where his experiments often lead to classroom catastrophes. After being bullied by one particularly large student, Kelp starts working out at a gym. One of the movie's best sight gags involves a barbell and some weights. Kelp manages to lift the weights but when he drops them to the floor he forgets to let go. His arms stretch all the way to the floor still holding on to the barbell. The punchline comes later that night. We see Kelp in bed but his hands are next to his feet and he lifts one hand to scratch his foot. It is quite cleverly shot.
In the movie's most visually interesting scene, Kelp invents a potion that brings out his alter-ego. An egotistical and rude, but ultra confident lounge singer named Buddy Love (Lewis has always denied the rumor that Love was based on Dean Martin). The transition is brilliantly staged. Lewis shoots the scene from above as Kelp writhes around on the floor, which is multicolored from the various spilled ingredients in the potion. At first he morphs into a long haired creature with blueish skin. The next shot is from Kelp's perspective as he crosses the street. We see the reaction on the faces of the people he passes. Finally Buddy Love makes his entrance in the Purple Pit, the local nightclub where all the hip students hang out.
Buddy gives the bartender detailed instructions on how to prepare his favorite cocktail, an Alaskan Polar Bear Heater. He then proceeds to wow the crowd and capture the attention of Miss Purdy (Stella Stevens) who herself has a bit of a split personality. By day she's a demure student in Professor Kelp's class but by night she's a sexy swinger who frequents the Purple Pit. Just as she and Buddy Love are getting better acquainted, the potion begins to wear off and Buddy beats a hasty retreat.
Although Jerry Lewis dominates the picture he had much help in the making of The Nutty Professor. In addition to Stella Stevens, the cast includes Del Moore, Kathleen Freeman and Buddy Lester. The score was by Walter Scharf and it makes frequent use of the jazz standard "Stella by Starlight". Les Brown and his Band of Renown play themselves in the senior prom scene at the end of the picture. The costumes were by the legendary Edith Head.
The Nutty Professor isn't a perfect comedy. As with all of Lewis's films some of the gags outlast their ability to generate laughs and the ending seems somewhat awkward and abrupt. Still this is the movie for which Jerry Lewis will always be most remembered. It was the biggest box office hit of his career and was even selected for preservation in the United States National Film Registry by the Library of Congress in 2004.
Photos © Copyright Paramount Pictures (1963)