Movie Review
The Number 23
The truth will find you.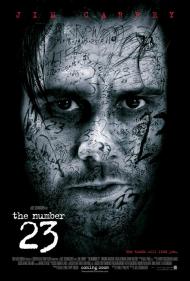 US Release Date: 02-23-2007
Directed by: Joel Schumacher
Starring
▸
▾
Jim Carrey

,

as

Walter Sparrow/Fingerling
Virginia Madsen

,

as

Agatha Sparrow/Fabrizia
Logan Lerman

,

as

Robin Sparrow
Danny Huston

,

as

Isaac French/Dr. Miles Phoenix
Lynn Collins

,

as

Suicide Blonde/Mrs. Dobkins/Young Fingerling's Mother
Rhona Mitra

,

as

Laura Tollins
Michelle Arthur

,

as

Sybil
Mark Pellegrino

,

as

Kyle Finch
Paul Butcher

as

Young Fingerling/Young Walter
Reviewed on:
February 26th, 2007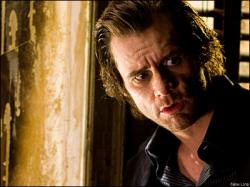 Jim Carrey in The Number 23.
The Number 23 isn't a very good movie, but it is a very enjoyable one. It's a little over the top, the plot is unbelievable, the actors (especially Carrey) ham it up, and some of the dialogue is questionable. And yet I was never bored and I really wanted to see how it was going to turn out in the end. There's definitely a lesson to be learned here by other movie-makers.
Carrey stars as Walter Sparrow, a dog catcher by profession, and a seemingly ordinary husband and father in his personal life. Everything changes for him though when his wife Agatha (Madsen) buys him the book The Number 23 for his birthday.
As Sparrow reads The Number 23, the book plays out on screen with the same actors from the main part of the story playing the characters in the book. Carrey is Fingerling, a Film Noir type detective involved in a relationship with a Femme Fatale played by Madsen. The case he is working on leads him to the Suicide Blonde, a woman convinced that the number 23 is haunting her. Scribbled on the walls of her apartment are numbers from her life, all of them somehow connected to 23. When Fingerling is unable to prevent her death, it seems that the curse of 23 attaches itself to him, as it seems to do with Walter in the real world.
Everywhere Walter looks he starts to see the number 23; either the actual number or patterns of numbers that add up to 23 or can be divided to equal 23, or can somehow be translated into the number 23. The more he looks into the number, the more paranoid he grows, becoming convinced that his wife is cheating on him and that somehow this book is connected to an old murder case.
The great thing about this movie is that no matter how outlandish it becomes, it never loses you. It keeps moving, carrying you with it, daring you to laugh at it, all the while making you curious to see just what it all means. And even though the ending is filled with coincidences both big and small and shouldn't be scrutinized too closely, it still seems satisfying.
Carrey has certainly grown as a performer since his career began. While he isn't likely to win any awards for this role, he's come a long way since his days on In Living Color. And even though he's a bit over the top sometimes, his acting style suits this movie down to the ground.
Flawed? Certainly, but I'll take a flawed but fun movie like this one, over a more artistic, but less entertaining one, any day of the week.
Photos © Copyright New Line Cinema (2007)