Movie Review
The Nugget
Being filthy rich is a dirty business.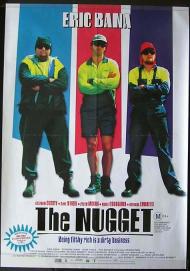 Australia Release Date: 10-17-2002
Directed by: Bill Bennett
Starring
▸
▾
Eric Bana

,

as

Lotto
Stephen Curry

,

as

Wookie
Dave O'Neil

,

as

Sue
Belinda Emmett

,

as

Cheryl
Peter Moon

,

as

Ratner
Vince Colosimo

,

as

Dimitri
Max Cullen

,

as

Wally
Karen Pang

,

as

Moon Choo
Sallyanne Ryan

,

as

Darlene
Alan Brough

as

Jurgen

Reviewed on:
July 9th, 2010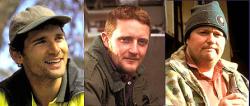 Lotto, Wookie and Sue.
After making Black Hawk Down, the movie that would turn him into a world wide movie star, Eric Bana returned to Australia, got together with a couple of friends and made a film like nothing he has made since. At this point in his career, Bana was known in Australia for his television sketch comedy work. Curry and O'Neil worked with him on his short lived show and they play his mates quite naturally here.
Three ordinary mates, who go by nicknames Lotto, Wookie and Sue, work together on a road construction crew. They are all married blokes, who love a drink a beer and a weekend on some property they bought together years before to "prospect" and get away from their wives. On one such weekend they find a huge nugget of gold and their lives become chaotic.
They sneak it home and hide it from prying eyes. These guys are not the brightest bulbs as they take pictures of the nugget and have the photos developed at a store. Word gets out on their find, and the press descends on them.. Their friendships gets strained as one couple tries to claim the nugget for themselves. Someone steals the nugget, and the three friends must try to get it back as they have all quit their jobs and are up to their necks in debt.
The best thing about this movie are the three likable guys. Lotto is unlucky, but wants to make good by his wife and friends. Wookie is a conspiracy nut, believing in whatever the tabloids write. Sue is lazy, and married to a mail order bride who turns out to be very helpful.
The best moments in the movie are when the three of them are interacting. At one point Lotto wins some money on a scratch off ticket, but then loses it down a drain. The three friends tear up a street trying to find that ticket. These actors work so well together that some scenes seem adlibbed. One of the best is when they are trying to figure out how much the nugget is worth and the waitress confuses them even more.
The plot however, gets away from them far too often. The guy who steals the nugget, and his sidekick Jurgen, is worth a laugh but not enough for the amount of screen time they get. Dimitri, a small time gangster should have also had his time reduced. The biggest waste of celluloid is the narration. It really does not add anything. The joy of this film is watching the three "loser" friends, realize that because they have wives and friends that love them, they are anything but.
Eric Bana would go on to play action heroes and kings, but none of those roles fit him as well as this. The Nugget was never released in theaters in The Unites States and not until Funny People would he again play a part even close to this. In real life he has been quoted about how much he is a family man and not a movie star. His role here is likely the closest to who he is in real life. He should make more comedies.
Photos © Copyright Australian Film Finance Corporation (AFFC) (2002)