Movie Review
Nowhere in Africa
One family's tale of a homeland lost... and a homeland found.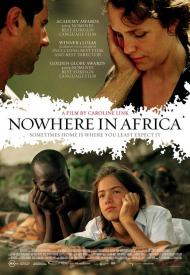 US Release Date: 11-10-2002
Directed by: Caroline Link
Starring
▸
▾
Juliane Kohler

,

as

Jettel Redlich
Merab Ninidze

,

as

Walter Redlich
Sidede Onyulo

,

as

Owuor
Matthias Habich

,

as

Walter Suskind
Lea Kurka

,

as

Regina Redlich (younger)
Karoline Eckertz

as

Regina Redlich - Older

Reviewed on:
October 23rd, 2008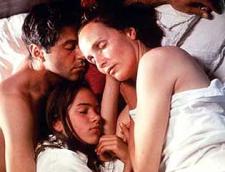 Winner of Best Foreign Language Academy Award in 2002, Nowhere in Africa is one of those rare movies that grab you by the heart. The lead characters are painfully real. Their relationship is sometimes frustrating and sometimes beautiful, but always true to life.
In the late 1930's, a German, Jewish lawyer, smart enough to see the growing dangers from the Nazi regime, moves his wife and daughter to Africa, where he has recently taken a job running someone else's ranch. The wife, Jettel, arrives with her fine dishes and a brand new evening gown. This upsets her husband, Walter, but he understands that he has just moved his wife down several steps on the class ladder. She refuses to see her new residence as home, and shouts at an African servant, "If you want to talk to me, learn to speak German." Their daughter, Regina, adapts well enough. She learns to speak to the natives. She befriends their African cook and eventually makes somewhat of a boyfriend out of a local kid.
The movie covers about ten years of their life in Africa. Although they moved out of Europe, the effects of the war reach them. Walter is interned at a camp for expatriate Germans. Jettel and Regina are sent to one for women. They are eventually allowed to go, but they move to a different ranch. Walter joins the British army and their marriage seems about over.
With so much time to herself, Jettel learns to except her new life and even to enjoy it. Early in the movie, Jettel was selfish and stupid. She acted irrational to their situation and acted out against her husband by denying him any intimacy. Never in a movie have I ever wanted a couple to get laid so badly.
Over the course of the movie, Walter becomes more self centered and closed off to Jettel. He puts his wants above his families. Jettel and Walter's relationship seems doomed as neither seems to be in the same place, emotionally, at the same time. One character has this great line, "One person always loves more. That's what makes it so difficult. And the one who loves more is vulnerable."
At over two hours long, there could have been a bit of trimming. The servant Qwuor is around to represent loyalty and Regina shows just how easy adapting can be, once you open yourself up to new things. Although both characters add to the movie, we could have seen less of them as Walter and Jettel learn that a home is where your family is and not an actual location.
Photos © Copyright Columbia TriStar (2002)