Movie Review
Nowhere Boy
As a boy all John Lennon needed was love.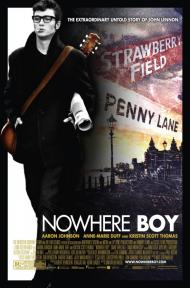 United Kingdom Release Date: 12-25-2009
Directed by: Sam Taylor-Wood
Starring
▸
▾
Aaron Taylor-Johnson

,

as

John Lennon
Kristin Scott Thomas

,

as

Mimi Smith
Anne-Marie Duff

,

as

Julia Lennon
David Threlfall

,

as

Uncle George
Josh Bolt

,

as

Pete Shotton
Ophelia Lovibond

,

as

Marie Kennedy
Thomas Sangster

,

as

Paul McCartney
Sam Bell

,

as

George Harrison
Colin Tierney

as

Alfie Lennon
Reviewed on:
September 10th, 2010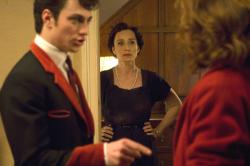 Aaron Johnson and Kristin Scott Thomas in Nowhere Boy.
If John Lennon were still alive he would be turning 70 on October 9th, 2010 (Nowhere Boy has its US release on October 8th). It's difficult to imagine certain celebrities who died before their time as older people. Can you imagine Marilyn Monroe as a 70 year old woman? Or James Dean as a wrinkled old man? Somehow though, I have no trouble at all picturing Lennon as an old man; a relic of the hippy movement still shouldering on, only now he'd probably be having a bed-in about global warming or writing protest songs about Bush and still being as cheekily out there as he ever was.
This impending birthday of his seems to have sparked a renewed interest in his life, as within the past year there have been two biopics made about him. There was the BBC's poorly received Lennon Naked starring former Doctor Who Christopher Eccleston as Lennon, and also this one, Nowhere Boy, about Lennon's formative years starring Aaron Johnson of Kick-Ass fame.
The movie begins with the death of a teenage Lennon's uncle. His Aunt Mimi and Uncle George raised him, giving him very little knowledge of his real parents. His uncle's death gives him the impetus to seek out his mother, whom a friend of his discovers has been living within walking distance of John's house.
As John gets to know his mother, following a reunion that borders very heavily on the inappropriate, we learn about his past. His mother is clearly suffering from some kind of mental disorder. She's a manic depressive or suffering from bipolar disorder. Her free-spirited, high-strung manner is in marked contrast to her sister, Mimi, who is the epitome of the stiff upper lipped middle-class Englishwoman. As the movie unfolds, you see how the personalities of these two women shaped John.
Johnson does a decent enough job in the lead role, but physically he bears no resemblance whatsoever to Lennon, which is offputting. His Scouse accent, which the Beatles made famous around the world, slips occasionally (although all of the actors tend to underplay the accent). While it's not necessarily important for a performer to do a spot-on impersonation of the person they're playing, the physical differences between Johnson and Lennon do affect the way he is viewed. Johnson is too good looking and too muscular compared to Lennon, who was thin and nerdy looking even when he was trying to look cool. He may have been intellectually intimidating, but it's hard to see him being as physical as he's portrayed here.
Kristin Scott Thomas is great as the repressed Aunt Mimi. When her husband dies and John tries to hug her as he cries, she gently pushes him off and tells him that we only cry when we're alone in our room. She's my early favorite for the Best Supporting Actress Oscar. Although, I also wouldn't be surprised to see Anne-Marie Duff's name come awards time.
Lennon's father is only shown briefly in a flashback. His parents separated when he was young, the circumstances of which play a big part of the story, and John didn't see his father again until he was famous. The absence of his father obviously affected John, but his uncle, who is shown as being close to John in the opening scene, whom presumably had an influence on him, isn't really fleshed out. What role did he have in John's upbringing? Did he instill in him his sense of humor? We're shown how the women in John's life made him who he is, but the men are given short shrift.
Although Paul McCartney and George Harrison do show up in small parts, this really isn't a movie about The Beatles. It's the coming of age story of a Beatle, but even the name "The Beatles" is cleverly omitted. There are songs in the movie, although I wouldn't consider this a musical and none of them are Beatles' songs.
I enjoyed how this movie focused on just a short portion of Lennon's life. Biopics that try to cover a musician's entire life tend to all playout the same with the rise and fall, the drug use, the womanizing, etc. By just covering his formative years, we don't learn the details of his career, but we do learn the kind of man he will become and probably who he still would have been deep down, even if he'd lived to be 70.
Photos © Copyright Film4 (2009)