Movie Review
Notorious C.H.O.
It's all Cho.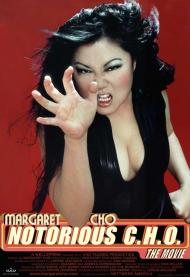 US Release Date: 06-28-2002
Directed by: Lorene Machado
Starring
▸
▾
Reviewed on:
June 30th, 2002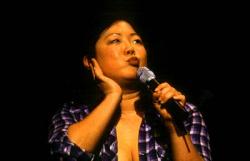 Margaret Cho in Notorious C.H.O.
Standup comic Margaret Cho is back with another concert movie. She does her famous impersonation of her mother and her usual self-deprecatingly deadpan humor, but for the most part, this time around, she revels in raunchy, and as the title suggests, notorious material.
The movie opens with a short animated segment dealing humorously with race relations between blacks and Koreans, then segues into shots of her fans arriving to see her one woman show. Cho, a self professed fag-hag, has the gay audience support to prove it and her material, particularly near the end of the show, gets quite political. This in no way detracts from the hilarity of the proceedings. The mix of intelligence and razor sharp wit with the no-holds-barred, nothing sacred topics prove potent.
On the lack of Asian role models on television when she was growing up, Cho says, "The best I could hope for was to one day be an extra on M*A*S*H." On gay marriage she says, "Any government that would deny a gay man the right to bridal registry is truly fascist."
Most of the rest of the jokes are sexually explicit to the point of being obscene. But when she mentions a freaky connection between Trekkies, Leather Clubs and the Renaissance Fair you can't help but laugh. This woman knows funny. And at the same time she adds moments of poignancy aimed at boosting self-esteem in those who are discriminated against because they don't look, worship or love like the majority.
The show is not flawless, there are a few moments that drag and once in a while she milks a joke dry. Still I roared with laughter many times.
Photos © Copyright Wellspring Media (2002)