Movie Review
Nothing Sacred
See the big fight! LOMBARD vs MARCH. Selznick International's sensational Technicolor comedy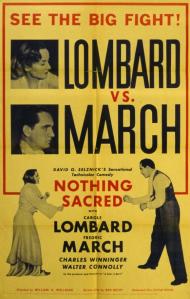 US Release Date: 11-25-1937
Directed by: William A. Wellman
Starring
▸
▾
Carole Lombard

,

as

Hazel Flagg
Fredric March

,

as

Wally Cook
Charles Winninger

,

as

Dr. Enoch Downer
Walter Connolly

,

as

Oliver Stone
Sig Ruman

,

as

Dr. Emil Eggelhoffer
Frank Fay

,

as

Master of Ceremonies
Troy Brown Jr.

,

as

Ernest Walker
Max 'Slapsie Maxie' Rosenbloom

,

as

Max
Margaret Hamilton

,

as

Drugstore lady
Hattie McDaniel

as

Mrs. Walker


Reviewed on:
March 20th, 2004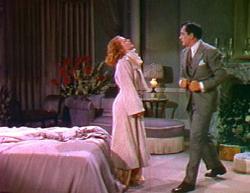 Carole Lombard and Fredric March in Nothing Sacred.
Nothing Sacred is a great romantic comedy, and quite socially significant. Even though it was made before World War II, it rings familiar to recent discoveries of reporters falsifying and making up stories. I guess the lesson is that lying is hardly a modern concept.
Fredric March stars as Wally Cook, a reporter for a fictionalized New York news paper. When his most recent story is discovered to be fake, he is reduced to writing obituaries. He attempts to get back on the publishers good side by pushing a story about a girl, Hazel Flagg, dying of radiation poisoning.
He goes to Vermont to meet and ask her, Carole Lombard, to come to New York. Everyone in the small town is suspicious of reporters and speaks as little as possible to him. The Doctor who treated Hazel eventually opens up to him. 'I'll tell you briefly what I think of newspapermen. The hand of God reaching into the mire couldn't elevate them to the depth of degradation, not by a million miles.'
He then meets Hazel, who has just learned from the Doctor that she is in fact not dying. Wanting to go to New York, she keeps the secret of her good health from Wally. They then go to the Big Apple where Hazel becomes the talk of the down due to Wally's articles about her.
Wally takes Hazel on the town where everyone thinks of her as a brave hero for facing her doom so well. In one scene people gush over her so much that she cries out of guilt, which only makes the people more sympathetic to her. In one nightclub the emcee is presenting scantily clad women of history on stage. He introduces the woman who put her finger in the dike. He then says, 'Show them the finger.' to which the girl then puts up her middle finger to the audience.
Of course Wally and Hazel fall in love. Hazel, so wracked with guilt and feeling cornered, decides to kill herself by throwing herself in the river to fake her death. Wally interprets her suicide note and effort as being the desperate measures of a dying girl. After saving her from the attempt he asks her to marry him. Soon thereafter Wally's publisher discovers the truth about Hazel. This leads to the famous scene of March and Lombard arguing in her room.
The great Carole Lombard was as beautiful as she was funny. She could play an innocent child one scene and an aggressive woman of the world the next. If only she had had better costars, her films might have been better remembered. March does a decent enough job but does nothing to stand out.
One of the most fun things about being a movie buff and watching old movies is picking out recognizable faces in small roles. Margaret Hamilton, (the Wicked Witch of the West) has a few lines as an unfriendly storekeeper. Hattie McDaniel (Mammy) does an uncredited cameo. It is her one line that sets the entire plot in motion.
The eternally relevant Nothing Sacred is about truth, the media and falling in love.
Reviewed on:
January 29th, 2005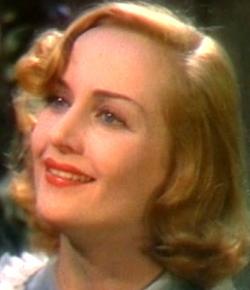 Carole Lombard in Nothing Sacred.
Although Technicolor movies had been around before 1937 in that year they started to become more common. In addition to Nothing Sacred Disney's Snow white and the Seven Dwarfs and the original version of A Star is Born (also directed by Wellman who had earlier helmed such classics as Wings and Public Enemy) are two examples of Technicolor productions from that year. Nothing Sacred is one of the few screwball comedies of the 30's to be given this honor.
Besides the love story and hilarious antics in this movie it is notable for some rather spectacular aerial shots of New York City. Later there is a scene with Wally and Hazel in a boat on the East River with a great shot of the Brooklyn Bridge. This movie provides a rare glimpse at what the city looked like - in color - in the 1930's.
I agree with Eric that Carole Lombard is delicious in this role. She was the undisputed queen of the screwball comedy. I have to disagree with his assessment of Fredric March though. I thought this two time Best Actor Oscar winner was perfect in the role. He comes across as very modern and he makes a great straight man for his leading lady.
Walter Connolly, that ubiquitous screwball comedy character actor, plays Wally's boss Oliver Stone (I wonder if the famous director was named after this character). His list of credits includes such classics as It Happened One Night and Libeled Lady.
Eric mentioned a few famous cameos. I'd like to add a few names to the list. Monty Woolley has a few brief moments of screen time as one of the foreign doctors sent to give a second opinion on Hazel Flagg's medical condition. Gossip guru Hedda Hopper shows up in the very last scene on the boat where she unwittingly defends Hazel Flagg's reputation to Hazel Flagg.
Finally, it's worth mentioning that the screenplay was written by the brilliant Ben Hecht.
Reviewed on:
June 15th, 2010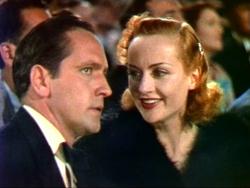 Fredric March and Carole Lombard in Nothing Sacred.
I agree with you Patrick. I think Frederic March is quite good in the part. He gets a few funny lines, "He's sort of a cross between a Ferris wheel and a werewolf. But with a lovable streak if you care to blast for it." and his reply to, "My chivalry? Aren't you just a trifle confused, Mr. Cook? You hit her!" of "That's entirely different! I love her!" I think he makes a great match for Lombard.
One thing that was unintentionally funny to me was every time someone said the name of the editor; Oliver Stone, as in "Before I finish with that female Dracula, she'll know one thing: that Oliver Stone is worse than radium poisoning four ways from the jack!" Thanks to the director, those lines are given an added element of humor.
Beyond a doubt though, this is Lombard's movie. She's the perfect screwball comedy leading lady and she shines here. She shares a chemistry with March that makes them a believable couple. The famous fight scene at the end of the movie is a highlight in a movie of highlights.
The shots of New York City are pretty impressive. Color shots of the city at that time are pretty rare. The number of docks that ring Manhattan in those shots are amazing. Today they're virtually all gone. Even though nearly all of the movie is filmed on a set, because of those establishing shots the movie feels as though it was shot on location.
I can't point out any cameos that Eric or Patrick didn't point out, but one thing that stood out to me was David O. Selznick's Producing credit. Not only does it blare in front of you at the beginning of the credits, but "Produced by David O. Selznick" appears as the final credit after the director's credit instead of the more traditional position before it. Selznick and Thalberg were two of the most famous and successful producers of the 1930s, the difference was the size of their egos. Thalberg almost never took a credit, but on movies like this Selznick's ego and name is all over the place. His name practically makes a cameo of its own.
Photos © Copyright Selznick International Pictures (1937)