Movie Review
Not Suitable for Children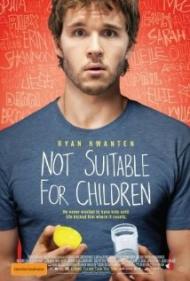 Australia Release Date: 07-12-2012
Directed by: Peter Templeman
Starring
▸
▾
Ryan Kwanten

,

as

Jonah
Sarah Snook

,

as

Stevie
Ryan Corr

,

as

Gus
Bojana Novakovic

,

as

Ava
Susan Prior

,

as

Marcie
Lewis Fitz-Gerald

,

as

Dr. McKenzie
Kathryn Beck

as

Becky Kincaid

Reviewed on:
May 13th, 2013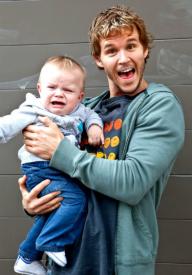 Ryan Kwanten in Not Suitable for Children
One of the things I find interesting in watching foreign films is that every country seems to have its own sense of humor. Although I have only seen a handful of Australian comedies, I have, so far, found them to be pleasantly funny with lots of heart. Like one of my favorites, The Nugget (2002), Not Suitable for Children places some very likable people into some slightly comedic stressful situations.
Ryan Kwanten stars as Jonah, a party boy who owns a home that he shares with his two best friends, Gus and Stevie. Jonah and Gus are slackers who seem to make a living by throwing parties at their home and charging admittance. Stevie, who is a girl by the way, is the only one with a professional career. Life seems like one big fun get-together for the three until a girl at one of their parties, Becky, discovers a lump on one of Jonah's testicals.
Jonah learns that he has testicular cancer and that after having a testical removed and starting chemo therapy, will become infertile. When Jonah tells his friends that he has to have a testical removed. Stevie seems concerned while stoner Gus simply asks, "Your ball...do you get to see it afterwards?" Jonah also decides to tell Ava, a girl whom has recently broke up with him and whom he still pines for.
Wanting to one day become a father, Jonah tries to freeze his sperm but is told that his boys did not survive the process. He now suddenly becomes obsessed with becoming a father. He stares at his brother-in-law holding his sister's baby. He makes some mothers nervous when he stops by a playground and intently watches their children playing. With his window for fatherhood closing quickly, Jonah starts a quest to find himself a woman who is willing to get pregnant with his child.
He begins with Ava, who rejects him. He decides to ask Becky, who Stevie points out used to sleep with Gus. Jonah rationalizes it by saying, "She slept with Gus more back then but she liked me better." His search takes him through his past girlfriends, whom he discovers never thought much of him. He meets new girls and considers a lesbian couple. Finally Stevie agrees to have a child with him and then Ava comes back into his life.
Jonah is a boy. He dresses sloppy. He drinks and does drugs. At the beginning of the film Jonah is by no means fit to be a father, but through the process of his search, we start to see him grow up. As played by a youthful looking 36 year old Kwanten, Jonah is a likable loser. I wanted him to be happy, even though I did not fully support his motives.
Not Suitable for Children quickly becomes a highly predictable romantic dramedy, with the question of who will Jonah end up with. It is not a hard guess as to who it will be, but it remains an entertaining watch none-the-less. We have often seen women concerned with their biological clocks while here it is a man. This is a very pleasant film, told mostly from a unique male perspective made all the better by a mature ending.
Photos © Copyright Wild Eddie (2012)