Movie Review
Not Another Happy Ending
Sometimes Love Needs a Re-Write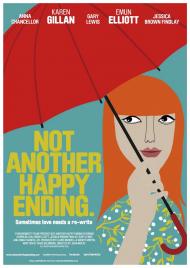 United Kingdom Release Date: 10-11-2013
Directed by: John McKay
Starring
▸
▾
Karen Gillan

,

as

Jane Lockhart
Stanley Weber

,

as

Tom Duval
Iain De Caestecker

,

as

Roddy
Amy Manson

,

as

Darsie
Kate Dickie

,

as

Anne Lefevre
Freya Mavor

,

as

Nicola Ball
John Bett

,

as

Mr. McLeish
Louise Goodall

,

as

Dr. Klinsch
Gary Lewis

,

as

Benny Lockhart
Henry Ian Cusick

as

Willie
Reviewed on:
July 23rd, 2014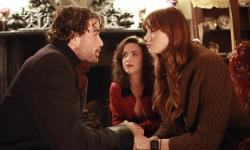 Stanley Weber, Amy Manson and Karen Gillan in Not Another Happy Ending.
This minor little romantic-comedy fails in the romance department and fares only mildly better in the comedy area, managing to be cute at times, but never actually very funny. It's only redeeming features are the presence of Karen Gillan (Doctor Who's Amy Pond) and some nice shots of Glasgow where the film is set. Apart from those two things, it's strictly by the numbers with writing on par with a bad sitcom.
Gillan plays Jane Lockhart, a young writer living in Glasgow whose debut novel is a huge hit. She has a tempestuous relationship with Tom, her publisher/editor, especially when he changes the title of her novel without telling her. However, her reaction to this title change is blown out of proportion and she goes from obviously falling in love with him, to disliking him enough that she wants to change publishers and have nothing much to do with him. This contrivance feels forced into the story to provide an obstacle for these two to fall in love, even though it's obvious that's where the story will end up from their first scene together.
Even more contrived than their engineered breakup is the premise that Jane develops writer's block, which Tom thinks is because she's too happy now. Her first book detailed her dark relationship with her father and the death of her mother, but now with her newfound success and the reconciliation with her father that it helped bring about, she's found peace. Tom thus decides to try to make her unhappy again without her knowledge, which, although allegedly played for laughs, is really a pretty shitty thing to do, but we're meant to think it's cute and forgivable by the end.
The only plus to Jane's writer's block is that a friend suggests she try writing in the nude to see if it gives her a sense of freedom. This results in the scene that should at least get the male fans of Gillan's time in the TARDIS to watch this movie when she does a brief nude scene. Although, as cute as Gillan is, it's not enough to make this movie worth watching, particularly when if that's all you're looking for, a brief Google search will allow you to see just that moment anyway.
Another aspect of Jane's writer's block is that she starts imagining Darsie, her lead character, as a presence that only she can see. Amy Manson, who plays Darsie, shows promise as a feisty character, but is vastly underused. It's a pity because she and Gillan share a much stronger comic chemistry than Gillan and Weber ever do. Although not entirely an original concept, it's as close as this movie comes to originality and I wish the script had played it up more.
With the popularity of the revived Doctor Who series, several of its cast members have flirted with stardom in America, but none have yet achieved it.. Gillan is attractive and talented enough that she still has a shot at it, but she'll need stronger material than this before it will happen.
Photos © Copyright Synchronicity Films (2013)