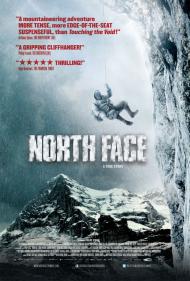 US Release Date: 06-11-2009
Directed by: Philipp Stolzl
Starring
▸
▾
Benno Furmann

,

as

Toni Kurz
Florian Lukas

,

as

Andreas Hinterstoisser
Johanna Wokalek

,

as

Luise Fellner
Georg Friedrich

,

as

Edi Rainer
Simon Schwarz

,

as

Willy Angerer
Ulrich Tukur

,

as

Henry Arau
Erwin Steinhauer

,

as

Emil Landauer
Branko Samarovski

as

Albert von Allmen

Reviewed on:
June 21st, 2010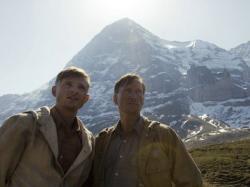 Florian Lukas and Benno Furmann.
North Face (Nordwand from Germany) is based on a true story. As such, the suspense and tension is all the more genuine. After losing two German climbers on the most dangerous rock face in the Alps, the Eiger, it becomes off limits. Set in 1936, the same year Germany hosted the Olympics, Nazi propaganda urges German climbers to be the first to conquer it any way in a show of Aryan supremacy.
Tony and Andreas are two German soldiers who spend all of their off time mountain climbing, even though it occasionally gets them into trouble for being late to the base. After some debate, they decide to attempt to ascend the North Face. Three other teams, from different countries also arrive, and a contest is born.
Before it can begin the media descends on the hotel at the base of the mountain. Among the news folk is Luise Fellner, who is a junior photographer for a Berlin newspaper. She knows Toni and Andreas from when they were children in Bavaria. She clearly has some feelings for Toni.
As they begin their ascent, the movie becomes a very tense, exciting adventure. These guys risk their lives, and you feel as if you are right there with them. Philipp Stölzl does a great job of putting you on that cliff with those men. It looks as if they are actually on that mountain. The actors must have trained quite a bit for this film.
What starts as a contest of vanity becomes a desperate determination to live. I was rooting for these guys harder than I had for any film character since the father in The Bicycle Thief. I will not give away the ending, but just remember this is based on true events. With all of the snow and wind, North Face is a great watch for a hot summer evening. Just don't eat your fingers after biting through so many of your nails.
Photos © Copyright Dor Film-West Produktionsgesellschaft GmbH (2009)