Movie Review
Norbit
Have you ever made a really big mistake?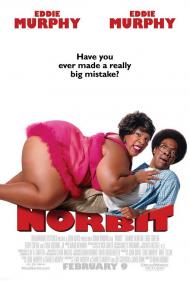 US Release Date: 02-09-2007
Directed by: Brian Robbins
Starring
▸
▾
Eddie Murphy

,

as

Norbit/Rasputia/Mr. Wong
Thandie Newton

,

as

Kate Thomas
Terry Crews

,

as

Big Jack Latimore
Clifton Powell

,

as

Earl Latimore
Mighty Rasta

,

as

Blue Latimore
Cuba Gooding Jr.

,

as

Deion Hughes
Eddie Griffin

,

as

Pope Sweet Jesus
Katt Williams

,

as

Lord Have Mercy
Marlon Wayans

as

Buster

Reviewed on:
June 21st, 2007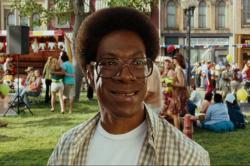 Eddie Murphy in Norbit.
Norbit was produced and written by Murphy, as well as several other people. It finds Murphy in familiar comedic territory. Like in The Nutty Professor, Murphy plays several of the main characters. It also tries to combine some of his raunchier work with his more recent family films. It proves to be the movie's downfall.
Norbit is a nerd, bordering on retarded, who is married to a mad cow named Rasputia. She is abusive, rude and crude to him. One day, Kate, a girlfriend from his childhood, shows back up and Norbit finds himself in love with her. Since Rasputia is already having an affair, it excuses Norbit sneaking out to see Kate. But they are not having sex, she is teaching him to ride a bike. Like I wrote, he is bordering on retarded.
The movie tries to create a sweet little romance for you to root for. Norbit and Kate married each other when they were children, but now he is married to a demon and she is engaged to a swindler. Their relationship is completely G-rated. However, there is a scene where Norbit catches his wife having sex. Half of the time you are watching a pleasant enough family film and half of the time you are watching a more mature movie.
The best moments are the more adult scenes. Buster trying to convince Norbit that he was not having sex with Rasputia (even though he is standing in her bedroom naked, with an erection) is Wayan's best moment. The pimps are also good for a few laughs. When they object at the wedding, the Preacher says, "But you can't object yet." and Pope Sweet Jesus says, "Well I am objeculatin prematurely!"
Something in this movie will make you laugh, but it should have decided earlier on if it wanted to be an adult movie or a family film. The swearing makes the milder scenes seem irrelavent and the family friendly parts make the crude scenes seem even cruder, but not funnier. Norbit needed a more even tone.
Photos © Copyright DreamWorks (2007)