Movie Review
Nine
This Holiday Season Be Italian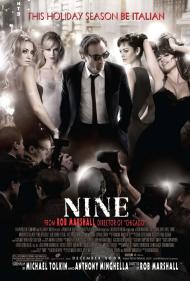 US Release Date: 12-25-2009
Directed by: Rob Marshall
Starring
▸
▾
Daniel Day-Lewis

,

as

Guido Contini
Marion Cotillard

,

as

Luisa Contini
Penelope Cruz

,

as

Carla
Nicole Kidman

,

as

Claudia
Judi Dench

,

as

Lilli
Kate Hudson

,

as

Stephanie
Sophia Loren

,

as

Mamma
Stacy Ferguson

as

Saraghina

Reviewed on:
December 19th, 2009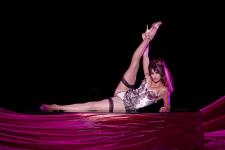 The sexy number by Penelope Cruz is worth the price of admission alone.
Nine is director Rob Marshall's latest musical, following on his success of 2002's Best Picture winner Chicago. Although I generally enjoyed Nine, I don't foresee it achieving its predecessor's popularity or success. Despite containing some humorous moments, it's much more serious than Chicago and more importantly perhaps, doesn't contain nearly as many catchy or memorable songs. Being based on Fellini's 8 1/2 it also has to contend with scrutiny by fans of Fellini and that's a scrutiny I don't think will result in favorable comparisons.
Daniel Day Lewis stars as the Fellini like Italian-director Guido Contini. Guido is about to embark on his next film project, but he is burned out and hasn't written a word of the script. As he's constantly reminded by nearly everyone he talks to, his last few films have been flops and everyone liked his early work best. Over the course of the movie, as Guido struggles to find an idea to put on film, we are introduced to all of the women who have been important in his life, mostly through the medium of song as all of them are given at least one number to perform.
As in Chicago the musical numbers all take place inside one or another of the character's heads. Nobody breaks into song in the surreal manner common to your standard classic Hollywood or Broadway musical. Instead, as an example, when Guido is at a press conference near the beginning of the film, his mind wanders off and he envisions himself singing a song on the set of his movie, surrounded by the women in his life. The songs serve as inner-monologues for each of the characters and provide insight into each of them.
It has never ceased to amaze me how for decades now Hollywood has placed star status over singing ability when it comes to casting musicals. Very few of the stars of this movie are singers. Fergie is the only one who actually does it for a living. Marion Cotillard has perhaps the purest singing voice and her song, "My Husband Makes Movies" is the most touching with her character being the most sympathetic. Daniel Day-Lewis and the rest (with the marked exception of Judi Dench who should never, ever sing) all acquit themselves adequately, but unspectacularly. Penelope Cruz uses her sex appeal to distract from her lack of singing ability (and very successfully I might add). Most disappointing to me was Nicole Kidman's rendition of the movie's most famous song, "Unusual Way". Both Barbra Streisand and Linda Eder have recorded far superior versions of the song (particularly Eder, whose version has made the song one of my favorite, recent Broadway tunes).
The choreography and the sets during the musical numbers are all well done, but do bear a resemblance to the musical numbers from Chicago. I'm no Fellini fan, but it would seem that since these numbers exist solely inside the character's minds they might have tried to more closely emulate his directorial style or used more of his imagery.
With all the songs, beautiful women and talented Day-Lewis in the lead the pacing never lags at least and my interest was kept throughout. It is easily a movie that I could see myself watching again.
Since so many critics are enamored of Fellini, I wonder how they will respond to this take on the Maestro's work (so far according to RottenTomatoes.com, not that well). Being a lesser known musical without any truly famous songs, I will also be interested to see how audiences respond as well.

Reviewed on:
October 14th, 2010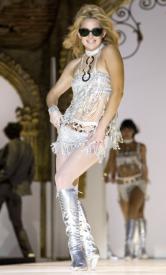 Kate Hudson is walking those boots!
Daniel Day Lewis is an extremely talented actor. He immerses himself in every role he plays, becoming that character. In Nine he is a struggling director trying to find his passion for another movie. He sings, uses an accent, has some of the funniest moments as well as the most dramatic, but who cares. This is a "PG" rated burlesque show. The only thing you will remember about it is the many beautiful women.
The movie opens and closes with sexy show girls prancing around the stage. In between, you have beautiful women performing, and distracting you from the meager plot. Scott liked Cruz's number, and hers is the most blatantly sexy. My favorite was Kate Hudson's. Her go-go dance in her Nancy Sinatra's, is one of the liveliest performances. It recreates a moment in pop history as seen through modern choreography.
Nicole Kidman plays a gorgeous sex symbol by way of Virna Lisi. Stacy Ferguson looks good in the sand performing for little boys. Even Sophia Loren and Judi Dench squeeze their, past their sell by date, bosom into some cleavage revealing outfits. The real female lead though, is Marion Cotilard. Not only can she sing, but she ends up having one of the hottest performances.
I do not remember any of the songs or lyrics from this movie, but some of the images will stay with me for quite a while.
Reviewed on:
December 31st, 2010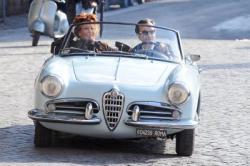 Sophia Loren and Daniel Day-Lewis drive through the streets of Rome.
Nine is stylishly filmed. Its setting and fashion sense are certainly Fellini-esque. Day-Lewis driving around Rome in his sporty convertible and cool sunglasses evokes Marcello Mastroianni in La Dolce Vita while Nicole Kidman seems to be channeling Anita Ekberg.
The actors, without exception, give it their all. It's just too bad they all take themselves so seriously. Kate Hudson seems to be the only person having any fun. I agree with Eric that her "Cinama Italiano" number is the most enjoyable. Besides her giggle and comedic gifts she clearly inherited her mom's dance moves as well.
Sophia Loren proves that she is the all-time ageless sex goddess of cinema. She exudes Old World exotic glamour even as she approached her 75th birthday while shooting her scenes. Penelope Cruz has always reminded me of her generation's Sophia Loren, so it is interesting to see them in the same movie. On an unrelated note, I feel the same way about Lindsay Lohan in relation to Ann-Margret.
I agree with Scott wholeheartedly about nonsinging actors making musicals. Please stop the madness. They should be casting the best acting/singing talent for the part. Not some bored star that wants a musical on their résumé. Simply not ruining the song is not an acceptable bar to set. I am over the modern music video editing style that Marshall first used in Chicago and continues using here to distract, apparently, from his casts lack of singing and dancing abilities. Just film the performance and stay out of the audiences way.
The real problem though - as Eric pointed out - is the plot, which is pretty fucking meager indeed. Confining the songs within the characters heads makes them come across more like a revue than a cohesive musical story. The lyrics are just random thoughts, memories and images that - taken as a whole - do not add up to a plot.
Someone somewhere needs to come along and show the world how to make musicals again.

Photos © Copyright The Weinstein Company (2009)
Related Review