Movie Review
Night at the Museum
This Christmas, it won't be a silent night.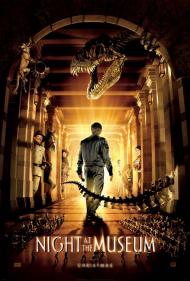 US Release Date: 12-20-2006
Directed by: Shawn Levy
Starring
▸
▾
Ben Stiller

,

as

Larry Daley
Robin Williams

,

as

Theodore Roosevelt
Carla Gugino

,

as

Rebecca
Dick Van Dyke

,

as

Cecil
Mickey Rooney

,

as

Gus
Bill Cobbs

,

as

Reginald
Patrick Gallagher

,

as

Attila the Hun
Paul Rudd

,

as

Don
Anne Meara

,

as

Debbie
Rami Malek

,

as

Ahkmenrah
Owen Wilson

as

Jedediah


Reviewed on:
December 26th, 2006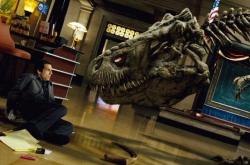 Ben Stiller in Night at the Museum.
There is a scene near the end of Night at the Museum where chaos is ensue. Animals and mannequins from around the world and throughout history are running amuck and making a hideous mess, but no one is actually accomplishing anything. The screen is full of lots of action and characters in motion but nothing of interest is going on. Everyone is just moving round for the sake of moving around. This scene explains the entire movie.
Stiller plays a single father who gets a job as a night watchman at a museum. At night everything comes to life. The monkey steals his keys and Attila the Hun chases him around a bit. Teddy Roosevelt gives him worthless speeches about being a leader. His son is disappointed in him, until he gets to visit the Museum.
The plot, what there is of one, is about three retiring guards who rob the museum on Stiller's watch. They steal many things including an Egyptian tablet that is responsible for bringing everything to life. It is up to Stiller and the mannequins to stop them. Oooooh, the tension!
My favorite character in the entire movie is Mickey Rooney's tough guy guard. He constantly taunts Stiller and tries to fight him. He is over 80 years old but he brings the most life to this movie. Stiller and Williams, who have been so good in so many movies, initiate very few laughs.
From dinosaur bones to Christopher Columbus, this movie throws a lot at you but nothing sticks. Cavemen play with a fire extinguisher. A statue from Easter island calls Stiller "Dum Dum" and asks for "Gum, gum." Roman miniatures battle with cowboy miniatures. A Pharaoh comes to life. So much is happening while so little actually happens.
As a last note: It is completely clear that whoever wrote this movie has never worked an overnight shift. Stiller's character is never, ever shown going to bed, let alone acting tired!
Reviewed on:
June 7th, 2007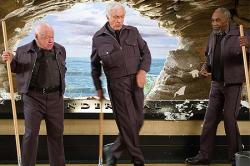 Mickey Rooney, Dick Van Dyke and Bill Cobbs in Night at the Museum.
I quite enjoyed Night at the Museum. Any movie that has a romance between Teddy Roosevelt and Sacagawea is OK in my book. And the scene where Ben Stiller makes Attila the Hun cry made me crack up. It was great seeing Dick Van Dyke and Mickey Rooney getting one last hurrah in a big budget Hollywood movie.
Eric, lighten up, this is a clever feel-good family movie. It made a kazillion dollars at the box office and obviously connected with millions of people. Admittedly it's not a classic, still your review seems a bit harsh.
Sure the plot is simple but then is the plot to The Wizard of Oz or Willie Wonka complicated? That's not the point. The special effects are good, the idea is interesting and story has heart. isn't that enough?
Reviewed on:
July 6th, 2007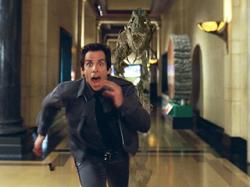 Ben Stiller in Night at the Museum.
I'm with Patrick on this one. Sheesh Eric, lighten up a little. You complain about lots happening on the screen without it accomplishing anything. Well I found it entertaining enough. Sure, nothing of any great significance is going on, but I found that to be quite refreshing. When it comes to Hollywood, I'll take mindless entertainment over their attempts to hammer home a message any day.
I thought there were a number of funny scenes. I mean, c'mon, if you can't laugh at Ben Stiller in a slapping match with a little monkey, there has to be something wrong with you.
The one thing we all seem to agree upon is that it's good to see Mickey Rooney on the screen again. How many other people can put on their resume that they made movies with Judy Garland and Ben Stiller? It's such a strange sight seeing him in a modern movie. I mean this is a guy who's been making movies since 1926! Check out his credits on imdb.com. He's got 304 of them, for god's sake!
Ok, so this isn't any great work of art, but for a lighthearted, feel-good movie, this one delivers.
Photos © Copyright 20th Century Fox (2006)
Related Reviews