Movie Review
Niagara
A raging torrent of emotion that even nature can't control!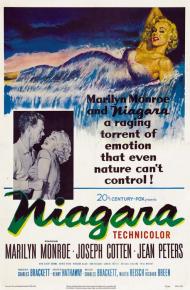 US Release Date: 01-21-1953
Directed by: Henry Hathaway
Starring
▸
▾
Marilyn Monroe

,

as

Rose Loomis
Joseph Cotten

,

as

George Loomis
Jean Peters

,

as

Polly Cutler
Max Showalter

,

as

Ray Cutler
Denis O'Dea

,

as

Inspector Starkey
Richard Allan

,

as

Patrick
Don Wilson

,

as

Mr. Kettering
Lurene Tuttle

as

Mrs. Kettering


Reviewed on:
July 26th, 2004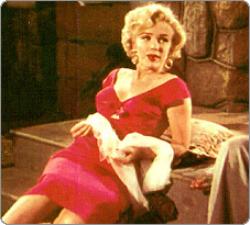 Marilyn Monroe in Niagara.
Niagara is Marilyn Monroe's best film where she strays from her ditzy blonde routine. Here she is an unfaithful wife who wants to bump off her husband. Her character is manipulative and conniving. This is one blonde who gentlemen do not prefer.
A married couple, Ray and Polly, come to Niagara Falls for business and a belated honeymoon. In the cabin next door, are a moody gentleman and his too sexy to be true wife, Rose Loomis (Monroe). Monroe makes a memorable entrance in a tight dress. Ray asks Polly: "Why don't you ever get a dress like that?" Polly answers, "Listen. For a dress like that, you've got to start laying plans when you're about thirteen."
From the start, Polly suspects something is going on next door. Rose acts a bit to wanton to be married. She sings a song called "Kiss" in a way that suggests she is thinking of someone other than her husband. Later, Polly confirms her suspicions when she sees Rose in a passionate embrace with another man. "Didn't that Mrs. Loomis say she was going shopping?" Polly asks Ray. "Yeah. Why?" He replies. "Well," Polly explains, "she sure got herself an armful of groceries."
Rose denies her husband sex to get him moody, but then gives it to him when she wants him to do something. This is Monroe's most sexual role. Her lying under the sheets, in the afterglow of sex, is one of Monroe's sexiest scenes.
Niagara is film noir in color. There are murders and tense moments. There are mistaken identities and a dramatic ending. Monroe would make few dramas of note. This however, is a real gem!
Reviewed on:
January 3rd, 2012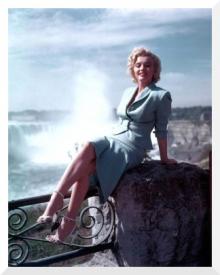 Two American landmarks on display in Niagara.
Niagara is beautifully shot in Technicolor and features many breathtaking views of the world famous falls. The location is definitely an important character in the story. Eric called it film noir in color and I quite agree. It also reminded me of an Alfred Hitchcock movie with its iconic American landmark setting, suspenseful plot twists and Monroe as his blond goddess. The taut script was co-written by the great Charles Brackett, longtime Billy Wilder collaborator on such famous screenplays as Sunset Boulevard, The Lost Weekend, Midnight and many other classic movies.
Marilyn's sexual luminosity is at full wattage as Rose Loomis, a femme-fatale with a penchant for blood-red lipstick. We first discover her lying in bed under the sheets wearing nothing but said lipstick. This is one of her least sympathetic roles and yet I still found myself rooting for her. She conveys Rose's selfishness and desperation in a performance that is quite good. She was so much more than just the world's greatest walking symbol of sex.
The underrated Joseph Cotton is equally good as her older husband, alternately being driven nearly out of his mind with jealousy and then reeled back in by sexual favors from his hot-to-trot wife. He is the more sympathetic character but like his wife he has inner demons that lead him to do bad things.
Here's a typical exchange between them. George: "You smell like a dime store. I know what that means." Rose: "Sure. I'm meeting somebody, just anybody handy, as long as he's a man! How 'bout the ticket seller himself? I could grab him on the way out, or one of the kids with the phonograph. Anybody suits me. Take your pick." This is not a happy couple.
Jean Peters (future wife of Howard Hughes) and Max Showalter (best remembered for playing Grandpa Fred in Sixteen Candles) play Polly and Ray Cutler, the honeymooning couple that fatefully crosses paths with Mr. and Mrs. Loomis. It is Polly that plays the more pivotal role in the sinister proceedings.
The pacing is swift like the falls themselves. Once the main twist is revealed the story gets quite tense and stays that way right up to the well-shot climax on the very edge of the massive waterfall. I agree with you Eric, Niagara will sweep you off the edge of your seat.

Reviewed on:
January 4th, 2012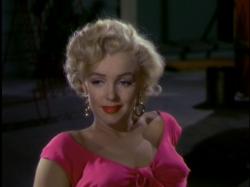 Marilyn Monroe smolders in Niagara
So much has been written this past year about Pippa Middleton's ass. Anyone who thinks that is a nice behind should go back and watch this movie to see what a really nice bottom looks like. Monroe shimmies around in the tightest of dresses like Jello on springs (to quote another Monroe film). She has never looked sexier than she does in this movie and that's saying something. When she wiggles out of her cabin in that pink dress she is so hot your television set may start smoking.
Unfortunately, the rest of the movie can't match her heat. The scenery around the falls is interesting, but at times it feels like a promotional film from the Niagara Falls Chamber of Commerce.They are a great backdrop, but the director relies too much on them to compensate for the paper thin plot.
Even with the meager plot, there is still one point that is raised but then subsequently ignored. Polly sees Rose passionately kissing her lover down by the falls. She even comments on it to her husband. Then later that night she has a conversation with George and says nothing about what she saw. So maybe she was just being discreet. Later however, when George goes missing, Polly continues to keep quiet on the subject, despite it being a clear motive for why he might have disappeared. She has several conversations with police inspector Starkey where she still says nothing about it. In fact, she never mentions it again. So what was the point of her even seeing it?
Speaking of plot holes, why doesn't Starkey ask the Cutlers to identify the body of George? Rose passes out before she can positively identify him and in an amusing sign of the time, is rushed to the hospital where she is sedated, presumably because she is just a delicate female in the same way that Polly's sighting of George is treated as a woman's hysteria. Why doesn't Starkey then ask Ray to come in and take a look at the body?
Despite the weak noir plot this movie is still worth watching just to see Monroe smolder with a heat that even the mighty falls can not quench. Not only does she look amazing, but as both Eric and Patrick mentioned, she does a good job as the femme fatale who will have sex with her husband immediately before going out to arrange for her lover to kill him. She's the reason to watch this movie and the reason why it's still remembered.
Photos © Copyright 20th Century Fox (1953)