Movie Review
Never Let Me Go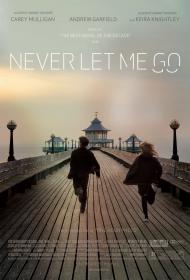 US Release Date: 09-15-2010
Directed by: Mark Romanek
Starring
▸
▾
Carey Mulligan

,

as

Kathy
Andrew Garfield

,

as

Tommy
Keira Knightley

,

as

Ruth
Izzy Meikle-Small

,

as

Young Kathy
Charlie Rowe

,

as

Young Tommy
Ella Purnell

,

as

Young Ruth
Charlotte Rampling

,

as

Miss Emily
Sally Hawkins

as

Miss Lucy

Reviewed on:
February 3rd, 2011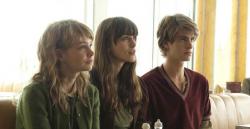 Carey Mulligan, Keira Knightley and Andrew Garfield in Never Let Me Go.
Never Let Me Go is a slow paced, three act science fiction drama. It presents a world with its own rules without giving many details into them. It is depressing yet thought provoking, and may have you reevaluating your life.
In an alternate universe medical procedures have been developed that extend human life. In 1968, at an English boarding school we meet some young friends, Kathy and best friend Ruth. Kathy is in love with Tommy but is too shy to express herself. Ruth, not so much. They seem like ordinary kids, except there is no reference to any of them having a family. A new teacher shows up at the school and is intrigued by how the children so easily behave and believe what they are told.
She eventually tells a class of students, "None of you will go to America. None of you will work in supermarkets. None of you will do anything, except live the life that has already been set out for you. You will become adults, but only briefly. Before you are old, before you are even middle aged, you will start to donate your vital organs. And sometime around your third or fourth donation, your short life will be completed."
The scary part is that the children are not startled by this news. They simply look pensive. The teacher continues, "You have to know who you are, and what you are. It's the only way to lead decent lives." Her time at the school is cut short.
The kids know their lot in life but nothing of the outside world. One of their classes is role playing what to do in a coffee shop. They do not watch television, but have a sex education class. They learn the biology of reproduction but as the place is run by old women they never learn the expression of love.
When they become of age they are moved to a halfway house with other donators, called the cottages. There they watch television and mimic the actors unconsciously. Ruth and Tommy are now a couple and have sex, but Kathy still yearns for him. Another couple at the cottages talk about a program they heard of where couples in love can get a deferral from donating. This second act provides the film's funniest scene as the three socially awkward friends go to a town for the very first time.
The third act is the most dramatic and moving. The three friends meet up again years later and finally all reveal their true feelings and motives. A visit to their former headmistress is the films climactic high. Although they are emotionally stunted, we see ourselves in them. We have all struggled with feelings we did not want to deal with.
The cast was over looked in major acting awards, yet did great work. Garfield is amazing in the scene where he shows his art work and learns the truth. You can see Tommy's mind suddenly has too much to deal with.
The movie fails in the editing. It is based on a novel and no doubt much was left out. The why and way the teacher talks to the students about their fate seems to come out of nowhere.
What is most unique is that the donators never question their place in life. They do not attempt any grand escape plan or rebellion. They accept their lot in life. As if the metaphor was not clear enough, Kathy has this last line of dialogue. "What I'm not sure about, is if our lives have been so different from the lives of the people we save. We all complete. Maybe none of us really understand what we've lived through, or feel we've had enough time."
Photos © Copyright Twentieth Century Fox Film Corporation (2010)