Movie Review
Neighbors
The battle for the street begins.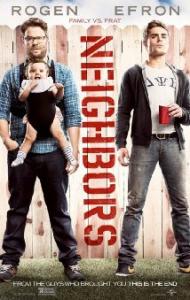 US Release Date: 05-09-2014
Directed by: Nicholas Stoller
Starring
▸
▾
Seth Rogen

,

as

Mac Radner
Rose Byrne

,

as

Kelly Radner
Zac Efron

,

as

Teddy Sanders
Dave Franco

,

as

Pete
Ike Barinholtz

,

as

Jimmy
Carla Gallo

,

as

Paula
Halston Sage

,

as

Brooke
Christopher Mintz-Plasse

,

as

Scoonie
Jerrod Carmichael

,

as

Garf
Craig Roberts

,

as

Assjuice
Jason Mantzoukas

,

as

Doctor Theodorakis
Lisa Kudrow

,

as

Dean Carol Gladstone
Andy Samberg

,

as

Toga #1
Akiva Schaffer

,

as

Toga #2
Jorma Taccone

,

as

Toga #3
Adam DeVine

,

as

Beer Pong Guy #1
Blake Anderson

,

as

Beer Pong Guy #2
Anders Holm

,

as

Beer Pong Guy #3
Kyle Newacheck

,

as

Beer Pong Guy #4
Jake Johnson

as

Sebastian Cremmington


Reviewed on:
May 14th, 2014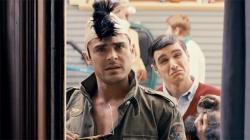 Zac Efron and Dave Franco go De Niro in Neighbors
By the previews, Neighbors looks like a predictable comedy. We know before the movie begins that Seth Rogen comes with drug jokes and Zac Efron will go without a shirt as often as possible. I cannot blame either actor. If I looked like Efron I would never wear a shirt and if I looked like Rogen I would always be high.
Rogen plays Mac Radner, whose wife, Kelly, has recently given birth to an adorable baby girl, Emma. They love their new home in a nice quiet neighborhood, which they just went into debt over. The film opens with them thinking a gay couple is going to move in next door. Apparently any random gay couple is considered an ideal neighbor. Instead, a fraternity moves in and the Radner's peace and tranquility disappears. This starts a feud that could have easily been settled by the police but what kind of story would we have had then.
As my 18 year old son and I left the theater, he summed up the film's humor in one sentence, "There were a lot of dick jokes." One frat member likes to show off that he can have instant erections whenever he wants. The frat members all make casts of their penises to mold dildos. Of course one member is notoriously hung. The only dick joke I truly laughed at was when a frat member tries to piss off a pledge by telling him that a guy put his dick in his mouth when he was asleep. Thinking he has the upper hand, the pledge responds, without thinking, that he was actually awake when he did it.
Not to be completely left out, there is a breast joke that will stay with you long after you leave the theater. It involves Kelly needing to expel her breast milk. Although it is played for laughs, the scene demonstrates the film's greatest strength.
For a movie with such juvenile humor, I did not expect it to have much character growth, but it does. When the fraternity first moves in, Mac and Kelly are struggling to find their adult voices. They are not sure how to deal with their rowdy neighbors. Their first visit has them actually making friends with the frat boys, getting high and drunk with them. However, Emma, their jobs and a hangover remind them that such a lifestyle is not where their life currently is.
College seniors Teddy (Efron) and Pete (Franco) are the fraternity President and VP. They are determined to throw a legendary party that will somehow make them famous. All of the members seem on board and act like party boy stereotypes until Teddy comes across Pete at a job fair. Pete is planning for his future while Teddy is still living in the moment. Later they have a slightly dramatic conversation where Pete tells Teddy that although he enjoyed being in a fraternity, he understands that it is all bullshit. Teddy, whose self-respect is based on his frat status, sternly disagrees.
Neighbors will sell tickets based on the comedy, and I did enjoy much of it. Franco's De Niro impersonation is more hilarious than his skinny pants. I was however, more taken with the characters coming to grips with their own development. Life is a long train ride. You can either get on board or get left at the station, waiting for the next one to come along. Either way, the trains keep running so you may as well laugh as much as you can between stops.
Reviewed on:
May 25th, 2014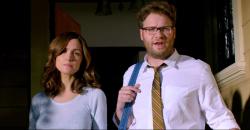 Rose Byrne and Seth Rogen in Neighbors.
Sure, this movie has a little heart, but if it were a patient and a doctor saw its heart was that small, he would probably start pulling the sheet over its head. Still, I understand why Eric focused so much on that aspect, since its one of the film's few redeeming features.
Apparently the writers looked down one day at their penises and decided that they were the funniest things ever invented. Then they started writing a script around them. Perhaps realizing that a movie starring dicks would be difficult to get made, they then added some human characters so that instead of showing the dicks, they could just have all of the characters talk about the dicks instead. The result is, as Eric pointed out, a script where every other joke revolves around someone's penis. The writers seem to assume that the audience will be just as fascinated by the male member as they are.
The feud between the two houses is instigated by a call to the police by Mac (Rogen) and Kelly (Byrne). For some reason the police officer seems angrier with them for calling than he does with the Frat boys. Mac and Kelly never call the police again and neither do any of the other neighbors. I know, I know, like Eric said, if there was logic to the story then there would be no movie. Another smaller thing that defies logic is the way that Zac Efron is so ripped while supposedly being a drug doing, constantly drinking slacker, when clearly you don't get that physique without plenty of discipline and time in a gym. As Mac describes him, "He looks like he was designed by gay scientists in a lab."
With so much of the frat boy jokes revolving around their dicks, the film's "better" moments take place at Mac and Kelly's house. The breast milk scene is worth a few laughs as is watching these two come to grips with the fact that they're not kids anymore. Rogen plays himself as he does in every movie and I've never been a big fan. Byrne, while clearly being out of Rogen's league in the looks department, proves that Bridesmaids was no fluke and she can seriously do comedy. There's also some humor provided by their divorced best friends and Lisa Kudrow as the Dean.
The film might be trying to make the point that Eric writes about in his last paragraph, but it's more concerned with cheap laughs and penis jokes.
Reviewed on:
September 12th, 2014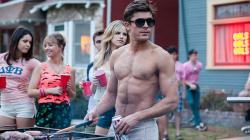 Zac Efron in Neighbors.
The penis jokes were the best thing about this horrible movie. Not because they were particularly funny but just because I like it when straight guys talk about their male member. And the sight of Zac Efron shirtless isn't a bad way to spend a few minutes (see photo). But I don't think I laughed out loud once during the entire movie. Actually that's not completely true. I did chuckle a little when they did their competing Batman imitations, with Efron doing Christian Bale while Rogen does Michael Keaton.
Wow Eric, I'm surprised you didn't go off on what terrible, irresponsible parents Rogen and Byrne played. They leave their infant daughter asleep in her crib while they party all night with the frat boys next door.
As Scott pointed out, the script is preposterous. This wouldn't matter if the jokes were actually funny, but they aren't. And these characters are so broadly written that whatever personal growth they experience lacks any real emotional impact. Quite frankly I was bored to tears and couldn't wait for these Neighbors to leave my house.
Photos © Copyright Good Universe (2014)
Related Reviews