Movie Review
Neighbors 2: Sorority Rising
New neighbors.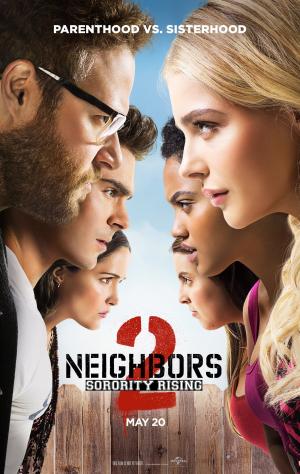 US Release Date: 05-20-2016
Directed by: Nicholas Stoller
Starring
▸
▾
Seth Rogen

,

as

Mac Radner
Zac Efron

,

as

Teddy Sanders
Rose Byrne

,

as

Kelly Radner
Chloë Grace Moretz

,

as

Shelby
Ike Barinholtz

,

as

Jimmy
Kiersey Clemons

,

as

Beth
Dave Franco

,

as

Pete
Jerrod Carmichael

,

as

Garf
Christopher Mintz-Plasse

,

as

Scoonie
Beanie Feldstein

,

as

Nora
Clara Mamet

,

as

Maranda
Awkwafina

,

as

Christine
Selena Gomez

,

as

Phi Lamda President
Lisa Kudrow

,

as

Dean Carol Gladstone
Kelsey Grammer

as

Shelby's Dad

Reviewed on:
May 22nd, 2016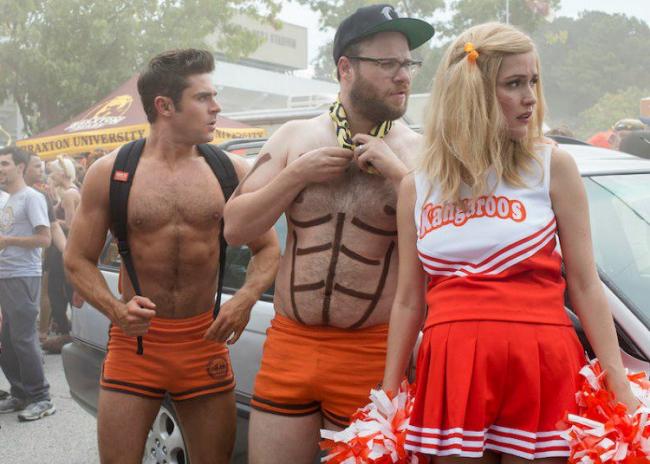 Zac Efron, Seth Rogen and Rose Byrne in Neighbors 2: Sorority Rising
Neighbors 2: Sorority Rising is much like the first in that the jokes are all aimed at the most idiotic in the audience. A baby plays with a dildo like it is a doll and her parents let her do it through out the entire film. A woman due to give birth the next day goes to a party where she gets drunk off her ass, stumbles outside to tell her friends she thinks she might be in labor. We are then shown the fetus's foot sticking out of the woman. It is an understatement to write that this movie is intended for the immature crowd.
Having gotten rid of the Fraternity house next door, that harassed them in the first film. Mac and Kelly have now been able to sell their home and are planning to move to a new, larger one in a new neighborhood. Their home will stay in escrow for 30 days, giving the new buyers a month to back out of the deal. The house next door, meanwhile, gets rented by some girls starting a sorority so they can party without boys expecting sex from them. Mac and Kelly ask politely for the girls to wait 30 days before having any gatherings in their home but the girls refuse. Like the Beastie Boys wrote, "You have to fight for your right to party!" Even if it means selfishly pissing off innocent bystanders. Or is that the point?

Meanwhile Teddy is still hanging out with his more successful college graduate friends. His best mate Pete is suddenly gay and getting married to a dude. Teddy is supportive but feels left out. He returns to the site of his old frat house where he meets the freshmen girls starting their sorority. He answers the call that no one makes and becomes their advisor on how to start and run a sorority. Before long, the girls turn on him and vote him out, causing him to join the neighbors in trying to get the sorority shut down.

I really did not care how any of this was going to turn out. Mac and Kelly are horrible parents. Their house is filled with bongs and drug paraphernalia. I cared even less that the girls start their sorority, even though great care is taken to explain why they want it so badly. The girls are tired of going to fraternity parties where everything seems about exploiting women and getting them into bed. DUH! No one goes to a frat party for good conversation. The girls decide to start their own sorority so they can throw sausage free parties. It is trying to make some feminist statement but it would have made more sense if they had just made all of these girls lesbians.

The only one on screen to generate any interest, in the least, is the intellectually challenged Teddy. Here is a guy who peaked in college and is now lost in the real world. Things got tough for him at work when Abercrombie and Fitch got rid of the shirtless salesmen. All of his friends are moving on with lives while he wants to go backwards. It is only when a bunch of freshman girls call him old that he even starts to see that he cannot. There is a tiny flicker of a heartfelt moment when Teddy asks Mac if they are genuine friends.

I cannot even write that you should leave your brain at the door before watching Neighbors 2: Sorority Rising, because even that would not improve this movie. Although this film is rated R and intended for adults, I cannot imagine how stoned or stupid an adult would have to be to find this movie enjoyable.

Photos © Copyright Good Universe (2016)
Related Review