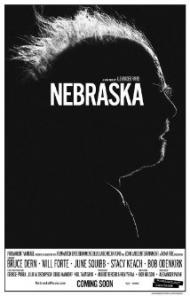 US Release Date: 11-15-2013
Directed by: Alexander Payne
Starring
▸
▾
Bruce Dern

,

as

Woody Grant
Will Forte

,

as

David Grant
June Squibb

,

as

Kate Grant
Bob Odenkirk

,

as

Ross Grant
Stacy Keach

,

as

Ed Pegram
Mary Louise Wilson

,

as

Aunt Martha
Rance Howard

,

as

Uncle Ray
Tim Driscoll

,

as

Bart
Devin Ratray

,

as

Cole
Angela McEwan

,

as

Peg Nagy
Gelndora Stitt

,

as

Aunt Betty
Elizabeth Moore

,

as

Aunt Flo
Kevin Kunkel

,

as

Cousin Randy
Dennis McCoig

,

as

Uncle Verne
Ronald Vosta

as

Uncle Albert

Reviewed on:
November 17th, 2013
Will Forte and Bruce Dern in Nebraska.
From the opening use of the classic mid-20th Century Paramount logo, to the retro B&W cinematography, it's clear from the start that Alexander Payne's latest film is an homage to the past. At its center is the story of a father and son who go on one last journey together. Although ostensibly they are road-tripping from Billings, Montana to Lincoln, Nebraska to collect a million dollar cash prize it is really about an old man's final visit to his hometown. He comes face to face with all the ghosts of his past, he sees family members for what is almost assuredly the final time, and (thanks to his son) he has one last moment of glory that may bring a tear of joy to your eye.
Lest I give the wrong idea, let me assure you that Nebraska provides plenty of laughs along the way on that panoramic black and white highway. Very few filmmakers match Payne's ability to find humor in the most normal situations and mundane circumstances. He embodies the small town American heartland with a truthfulness that is never mean-spirited even when he gently pokes fun at its inhabitants.
Bruce Dern is wonderful as the cantankerous Woody Grant. He's in failing health of both body and mind due in part to decades of heavy drinking. He gets confused easily and is a man of very few words. It is getting increasingly difficult to get his attention or to make him focus in on something. As the story begins Woody takes off walking for Nebraska with what he believes is a real winning lottery ticket in his pocket. After Woody refuses to give up the idea of his quest, his younger son agrees to drive him to Lincoln. A spur of the moment family reunion is then planned by Woody's wife to take place in their home town, which is also in Nebraska.
As we meet the people in Woody's past we begin to see a pattern emerge. Woody seems to owe everyone money. Although his wife loyally offers the other side of the argument, saying that Woody was too trusting and kindhearted, and that he was often doing free favors for others. June Squibb is downright hilarious as Woody's sharp tongued wife Kate. She is forever making derogatory remarks about all the people they once knew. Her scene at the cemetery is one of the funniest moments I've seen in a movie for quite a while.
Will Forte proves himself far more than just a nimble comic actor as David Grant, the youngest son. He handles the more dramatic moments like a pro. The chemistry he shares with Bruce Dern creates an absolutely believable father son dynamic. In fact all the actors playing their entire immediate family look and act like they really spent their lives together. Another hilarious scene occurs when Woody, Kate, David and older brother Ross (Bob Odenkirk) steal an old air compressor from a farmhouse. You have to see the movie, I won't give away more than that.
These comic interludes are interspersed with melancholy moments. In one scene of hauntingly evocative nostalgia the four Grants visit the now abandoned old farmhouse where Woody grew up. They traipse through the disintegrating rooms while visions of childhood memories -both happy and painful- flicker across Woody's face. It is perhaps Dern's best scene in the entire movie. We certainly feel as if we understand Woody Grant better after watching it.
With Nebraska, Alexander Payne continues to be one of our greatest contemporary filmmakers. It's both an elegy to, and a celebration of, Family.
Reviewed on:
November 18th, 2013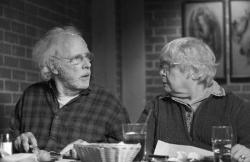 Bruce Dern and June Squibb in Nebraska.
Nebraska is a character study and biography of one man as seen through the eyes of his adult son. Bruce Dern stars and seems almost certain to receive an Oscar nomination for his subdued, but nuanced performance as Woody Grant. He spends most of the film befuddled from old age, years of drink and, as we learn, regret. He is the star and all events in the film are caused or rotated around him, and yet he has very few lines of dialogue. We learn what we learn about him from the mouths of others and their reactions to him. By the end of the movie, both we and his son David have learned what makes Woody tick.
As Patrick wrote, the film is not only heartfelt, but also quite humorous. This is director Alexander Payne's 4th film to be set in his home state of Nebraska and although he didn't write the script, it is no doubt in part due to his experience there that the characters come across as funny without seeming mean spirited in the way that Hollywood often does when filming in the middle of the country. June Squibb is a scene-stealer as Woody's wife and provides much of the humor. However, she provides the laughs at the expense of character development and while by the end we know Woody fully, his wife Kate is less fully formed. We only know her as she is now, where with Woody we now know how he got to who he is now.
Will Forte, again echoing Patrick, is quite good as Woody's son who's looking to find a way to connect with his father and perhaps find some kind of meaning in his own life. Dern and Forte make a very believable father/son combination and it's in their relationship that the movie finds its emotional climax. And if that climax is perhaps a touch oversentimental, it's easy to forgive because of everything that came before it.
The decision to film in black & white was Payne's, who said he wanted an "iconic, archetypal look" and went against Paramount's wishes. It's a bold choice in these let's convert everything into 3-D on the biggest screen we can times. It's an artistic flourish that gives the film a sad and timeless look.
After a summer of far too many loud, but ultimately empty superhero films, Nebraska is a blessed relief. It's a small film about real people told with humor and talent.

Reviewed on:
February 26th, 2014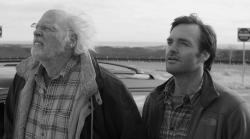 Bruce Dern and Will Forte in Nebraska
Woody Grant is in a very sad place in his life. His mind and heart are very much in the world of the living while everyone around him has written him off as having one foot in the grave. He over hears his own wife tell their son that she wants to put him in a home. One of his sons agrees with her while his other son, David, is more sympathetic.
Nebraska is occupied by very real, however frustrating, characters. Woody has a past of drinking and judging by his sons, was never in the running for father of the year. His wife is a shrew who belittles and insults him constantly. However, she comes through when the extended family comes begging for money they claim they are owed and she responds, "You can just go fuck yourselves!"
As my brother's wrote, this is a trip down memory lane for Woody as well as a journey of discovery for his sons. While on their road trip, David becomes a bit shocked to discover that his parents did not plan for him or his brother. Woody explains that they were just the product of repetitive screwing.
David, sensing that Woody was never really in love with his mother, asks why he did not just marry someone else. Woody bluntly responds, "I'd just end up with someone else who'd give me shit all the time." This dramedy blends emotions like a master chef mixes cooking ingredients.
I was truly moved by the relationship between Woody and David. Whereas everyone around Woody wants him to act in a certain way or give them money, it is only David who truly wants his father to be happy. He goes along with his father thinking he won a million dollars.
On this trip, David learns details of his father's life and consequently comes to truly understand him better than he ever has. On the surface, Woody seems like little more than a grumpy old man but he does have some good qualities that are often hard to see. David is the kind of son we all want our children to be when we get old. His gift to his father at the end of the film is heartbreakingly beautiful. Bravo!
Photos © Copyright Paramount Vantage (2013)