Movie Review
National Velvet
The Story of a Girl and Her Horse.
US Release Date: 12-14-1944
Directed by: Clarence Brown
Starring
▸
▾
Elizabeth Taylor

,

as

Velvet Brown
Mickey Rooney

,

as

Mi Taylor
Donald Crisp

,

as

Mr. Brown
Anne Revere

,

as

Mrs. Brown
Angela Lansbury

,

as

Edwina Brown
Arthur Treacher

,

as

Race Patron
Reginald Owen

as

Farmer Ede

Reviewed on:
December 14th, 2001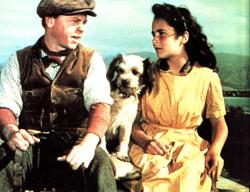 Mickey Rooney and Elizabeth Taylor in National Velvet.
Shot in vivid Technicolor and directed by the legendary Clarence Brown, National Velvet remains one of the most beloved children's movies ever made. This is the role that made twelve-year-old Elizabeth Taylor a star. She gives a heartfelt performance as young Velvet Brown who wins the beautiful and high-spirited horse The Pie in a local lottery contest. After meeting wandering opportunist Mi Taylor (Mickey Rooney) she becomes obsessed with entering The Pie in the Grand National, England's most prestigious horse race. Of course she (famously) winds up riding The Pie in the race herself, disguised as a boy.
Elizabeth Taylor exudes a girlish innocence mixed with iron-willed determination and a deep passion for her beautiful steed. Her blazing intensity (not to mention those amazing violet eyes) coupled with an early feminist theme makes this rather ordinary story memorable.
Donald Crisp and Anne Revere play Velvet's parents and Angela Lansbury is her older sister Edwina. But make no mistake this is Elizabeth Taylor's movie from start to finish. Her radiant smile and infectious enthusiasm will have you cheering along as this saga of a girl and her horse unfolds. Mickey Rooney gives one of his best performances as well.
National Velvet is heartwarming family fare like they don't make anymore. Parents of young girls are forewarned: this movie has been known to cause insatiable yearnings for a pet horse.

Reviewed on:
June 20th, 2016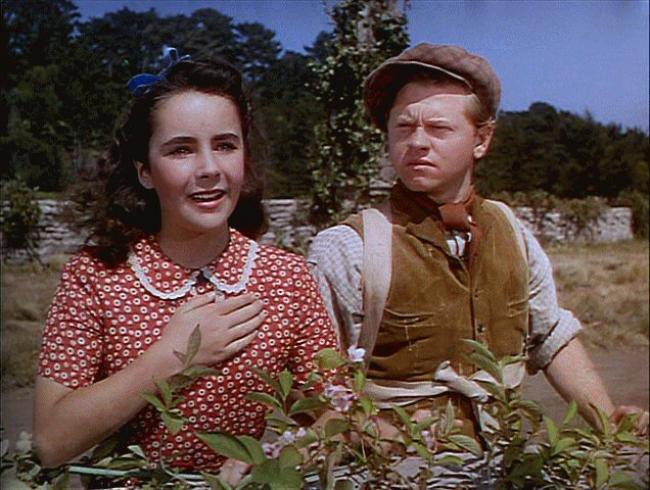 Elizabeth Taylor and Mickey Rooney in National Velvet
Patrick described Elizabeth Taylor's performance as a girl acting excited over her horse as, "infectious enthusiasm" while I would call it childish hysteria. She really looses all control over her desire for this horse, going on and on about it to no end. At one point she even faints and is put into her bed with a cloth on her head as the excitement of it all has become too much for her. Granted, this has more to do with the script and direction than Taylor's actual performance.
What I enjoyed about Taylor as Velvet Brown was that she did all of her own horse riding, minus the jumping scenes where an obvious double was used. She seems very natural getting on and off The Pie. I have never read up on her life story but I imagine she must have been riding for some time before production ever began. Had I watched this movie before seeing Reflections in a Golden Eye (1967), I would have made a note about how we get to see Taylor ride a horse again, so many years after winning the Grand National.
In fact, I kept thinking about Elizabeth Taylor throughout this film. Taylor is not the only child star to grow up and win an Oscar, Jodi Foster comes to mind, but she may have been the first. One line in particular seemed to almost give a prophetic hint at her future storied life of numerous marriages, affairs, children, travel, fame, diamonds, wealth and so much more. It is when she anxiously explains to Mickey Rooney, "I want it all quickly, cause I don't want God to stop and think and wonder if I'm getting more than my share."

Speaking of Rooney, the part is perfect for him. Being of diminutive size, he is easily believable as a former jockey. Rooney was never considered a truly great actor, more a trooper and likable screen personality, especially in the early parts of his career. Even though his character is a tad shady early on, we know that Mickey would prove to be honorable. He easily makes friends with Velvet but it is the earning of Mr. Brown's respect that is his story arc.

And there lies the themes of the film, trust and encouragement. These people trust a young man they have only known for a short time to take their daughter across country. Mrs. Brown's backstory of swimming the English Channel gives her some depth and the proper level of understanding to allow her daughter to reach for greatness that seems like a long shot.

The Brown family and the village they live in seem like a place that no longer exists, if it ever did. It is one of those places where every knows everyone and likes each other no matter what. A place where a butcher can own a nice home, support his wife and four children and afford to employ a stable hand. The bridge you must cross to get to their home is a nice romantic touch. Add in the beauty of a horse running across the California countryside, standing in for England, and you have a fairy tale that could only come out of the old Hollywood studio system.

Photos © Copyright MGM (1944)
Related Review