Movie Review
Nate & Margaret
When your best friend is your only friend.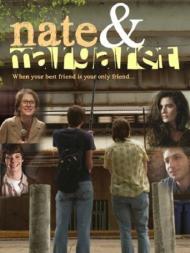 US Release Date: 06-03-2012
Directed by: Nathan Adloff
Starring
▸
▾
Natalie West

,

as

Margaret
Tyler Ross

,

as

Nate
Conor McCahill

,

as

James
Gaby Hoffmann

,

as

Darla
Charles Solomon Jr.

,

as

Gregory Maddock
Cliff Chamberlain

,

as

Jeffrey Tomlinson
Danny Rhodes

,

as

Matthew
Allison Latta

,

as

Rebecca
Sadieh Rifai

,

as

Danielle
Shawn Ryan

as

Joey

Reviewed on:
January 24th, 2013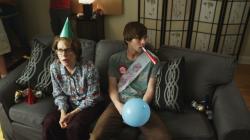 Natalie West and Tyler Ross in Nate & Margaret.
Nate & Margaret is a little independent feature from first time director/writer Nathan Adloff. It premiered at San Diego FilmOut last June before going into limited release. Given the title and the fact that it centers around an unlikely friendship between a young man and a much older woman, comparisons to Harold & Maude are inevitable. Sadly this movie is not in the same league with that cult classic but the truth is, beyond what I mentioned above, the two movies have very little in common.
Nate is a 19-year-old film student living in Chicago (presumably based on the director). His best friend is a 52-year-old aspiring stand-up comic who lives in the same building. The movie begins in the middle of their story. We don't see how they met or how this rather unusual friendship developed but it's clear these two lonely souls are simpatico.
When Nate gets his first boyfriend it leads to a crisis in his friendship with Margaret. James (the boyfriend) doesn't get why Nate wants to hang out with an old lady. When Margaret invites them both over for dinner, James is rude to her. This leads to a dramatic confrontation between these formerly steadfast friends. Will they patch things up before the end credits roll?
Tyler Ross (who bears a passing resemblance to Zac Efron) proves himself a capable young actor as Nate. He's optimistic but shy. He films Margaret's stand-up routines for her and offers his opinion on her jokes. At the beginning of the movie he has yet to experience romance and dating, while Margaret is bitter about being alone.
Margaret is played by Natalie West, whom many people will remember from the Roseanne sitcom. She played Crystal, Roseanne's mousy coworker and friend. Although she is now in her fifties she is recognizable still, especially her voice with its Midwestern cadence. On the surface Margaret is pitiful but underneath she's made of steal. She grew up watching her father abuse her mother. Domestic violence jokes make up most of her routines.
Nate & Margaret isn't bad for a novice filmmaker, although it's not as funny as it should be, particularly Margaret's comedy routines. Nathan Adloff demonstrates talent he just needs a bit more experience to fully cultivate it. Perhaps he should stick to directing and leave the writing to others. It does deserve praise for its nonchalant approach to gay characters and situations.

Reviewed on:
June 1st, 2013
Nathan Adloff directing Tyler Ross and Natalie West in Nate & Margaret
Nate & Margaret tells the story of two diverse people who each experience important moments in their lives at the same time. As Patrick wrote, Nate gets his first boyfriend, and public handjob, while Margaret gets her first real stand up gig, which Nate misses as he is spending time with his boyfriend. As so often happens in relationships, Nate and Margaret start to grow apart.
Nate's boyfriend, at first, thinks that Margaret is Nate's mother. I very much saw this film the same way. As a father of sons spreading their wings, I understood their relationship to some degree. Margaret has invested time in and has taken care of Nate. He in return is her biggest supporter. When things become stressful, he lashes out at her like a spoiled child not able to see past his own needs. They love each other but they each have to learn to get along without the other to become the people they need to be. Margaret and Nate are in so many ways mother and son.
Most of Margaret's jokes do fall flat, but her routine gets a bit better as she starts to make her stand up more personal. My favorite line of hers is, "I am a fifty two year old spinster with a mug addiction." It's not Joan Rivers, but it works well here.
The film never gets under Nate's skin. We learn very little about him. Where are his actual parents? Why Margaret? Nathan Adloff should have taken the advice Nate gives Margaret when he suggests she use more from her personal experiences when doing stand up. Still, Nate & Margaret has some genuine heart. We see Nate and Margaret moving on with life but they each still want the kind of comfort and approval that only a family member can provide.
Photos © Copyright Breaking Glass Pictures (2012)