Movie Review
Nashville
Wild. Wonderful. Sinful. Laughing. Explosive.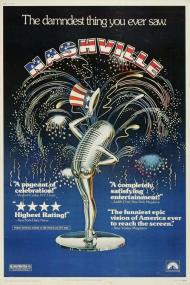 US Release Date: 09-21-1975
Directed by: Robert Altman
Starring
▸
▾
David Arkin

,

as

Norman
Barbara Baxley

,

as

Lady Pearl
Ned Beatty

,

as

Delbert Reese
Karen Black

,

as

Connie White
Ronee Blakley

,

as

Barbara Jean
Timothy Brown

,

as

Tommy Brown
Keith Carradine

,

as

Tom Frank
Geraldine Chaplin

,

as

Opal
Robert DoQui

,

as

Wade
Shelley Duvall

,

as

L. A. Joan
Allen Garfield

,

as

Barnett
Henry Gibson

,

as

Haven Hamilton
Scott Glenn

,

as

Pfc. Glenn Kelly
Jeff Goldblum

,

as

Tricycle Man
Barbara Harris

,

as

Albuquerque
Michael Murphy

,

as

John Triplette
Cristina Raines

,

as

Mary
Bert Remsen

,

as

Star
Lily Tomlin

,

as

Linnea Reese
Keenan Wynn

,

as

Mr. Green
Merle Kilgore

,

as

Trout
Carol McGinnis

,

as

Jewel
Richard Baskin

,

as

Frog
Elliott Gould

,

as

Himself
Julie Christie

as

Herself
Reviewed on:
June 6th, 2013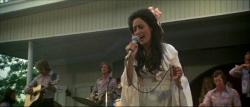 Ronee Blakley performs as Barbara Jean in Nashville.
Nashville is a classic movie from Hollywood's Silver Age and is often cited as Robert Altman's masterpiece. With it he perfected his trademark style of incorporating many different characters and story lines together. This movie has 24 main characters, whose lives interact over a five day period revolving around the country music scene in Nashville, Tennessee. The events all lead up to an outdoor political rally/concert where the climax occurs.
As a musical Nashville is original and unique. Robert Altman had each of his stars not only perform their songs live (rather than using the normal system of prerecording the tracks and having the performers lip sync for the cameras) but he also asked each of them to write their own original song. This resulted in the Oscar and Golden Globe winning Best Song "I'm Easy" written and sung by Keith Carradine. Cast members Henry Gibson, Karen Black, Lily Tomlin, and Ronee Blakley all wrote and performed original compositions for this movie. The director himself even co-wrote one song.
Altman seamlessly connects his various story lines as his characters mingle in recording studios, bars, churches, and an opening traffic jam scene. He incorporates human tragedy and comedy with a musical style that celebrates America. He uses themes of corruption and violence (themes that remain all too relevant today) against a patriotic backdrop as the United States prepares to celebrate its bicentennial.
The huge cast is filled with Altman regulars. The director allowed his actors much freedom in their dialogue and this gives the movie a sense of realism and spontaneity that remains palpable nearly 40 years later. In a movie filled with authentic performances Lily Tomlin and Geraldine Chaplin are the standouts. Tomlin plays a married gospel singer, and the mother of two deaf children, who's having an affair. Chaplin is a British radio reporter in town to make a documentary. She provides much of the comic relief with her wacky personality and overly dramatic reportage.
Here's a small sample as she wanders around an automobile junkyard... "I'm wandering in a graveyard. The dead here have no crosses, nor tombstones, nor wreaths to sing of their past glory, but lie in rotting, decaying, rusty heaps, their innards ripped out by greedy, vulturous hands. Their vast, vacant skeletons... sadly sighing to the sky. The rust on their bodies... is the color of dried blood. Dried blood. I'm reminded of... of an elephant's secret burial ground."
Nashville is a wonderful time-capsule of mid-1970's America. This is the world as I first remember seeing it with bell-bottoms, long hair, and big cars. The cast is too numerous to mention them all but two of the most visually iconic characters are played by Jeff Goldblum and Shelly Duvall. Goldblum plays Tricycle Man. He rides his long, low-slung, three-wheel motorcycle everywhere. He never utters so much as a word but serves as a human link between various scene changes. He is visible in the background throughout much of the movie. Shelly Duvall plays a scantily dressed groupie in town from Los Angeles and calling herself L.A. Joan. She's supposed to be in town visiting her aunt but spends all her time chasing after musicians.
Like he did previously with war movies, westerns, and film noir in MASH, McCabe & Mrs. Miller, and The Long Goodbye respectively, Altman turns musicals on their ear with Nashville. The result is this wondrous mishmash of diverse characters and music all converging in America's heartland for an eventful five day period. Nashville was selected for preservation in the United States National Film Registry. It was chosen as the 59th greatest American film during AFI's 100 Years... 100 Movies (10th Anniversary Edition) in 2007 and the song "I'm Easy" was ranked 81 on their 2004 list of the 100 greatest songs from movies. Anyone who's never seen Nashville should watch it to see just why it has earned such glowing accolades over the years. It is a classic American film.
Photos © Copyright ABC EntertainmentAmerican Broadcasting Company (ABC)Paramount Pictures (1975)
Related Review