Movie Review
Nanny McPhee
You'll Learn To Love Her. Warts And All.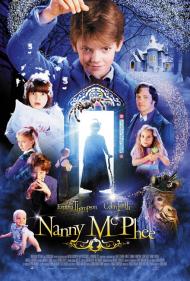 US Release Date: 01-27-2006
Directed by: Kirk Jones
Starring
▸
▾
Emma Thompson

,

as

Nanny McPhee
Colin Firth

,

as

Cedric Brown
Kelly Macdonald

,

as

Evangeline
Celia Imrie

,

as

Selma Quickly
Derek Jacobi

,

as

Mr. Wheen
Patrick Barlow

,

as

Mr. Jowls
Imelda Staunton

,

as

Mrs. Blatherwick
Thomas Brodie-Sangster

,

as

Simon Brown
Angela Lansbury

,

as

Great Aunt Adelaide
Adam Godley

,

as

Vicar
Phyllida Law

as

Mrs. Partridge (voice)

Reviewed on:
January 28th, 2006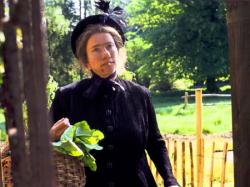 Emma Thompson in Nanny McPhee.
Nanny McPhee clearly demonstrates several cultural differences between Britain and America. In so many American movies, unruly children are rewarded for their unruly behavior whereas in British films, like this one, the children learn the value of discipline. On the flip side to that, this movie also clearly demonstrates the stronger role that class plays in Britain than it does here in the United States.
The movie centers on a widower, Cedric Brown (Firth), and his children who seem to be living in Victorian England (although a time period is never specifically given and there does seem to be electric lights). Since the death of their mother, the children have run wild, driving a total of 17 nannies from their home. Their father, who has only been able to support them with the financial assistance of his dead wife's aunt is ineffectual at raising them and is far more concerned with finding a new wife since that same aunt has decreed that either he remarry within a month or be cut off from her money.
When the local nanny agency refuses to hire him anymore nannies a mysterious and quite hideous looking woman appears at the Brown's doorstep, proclaiming herself to be Nanny McPhee (Emma Thompson), the children's new nanny. Through magic and the simple virtues of paying attention to them and not taking any guff off of them, Nanny McPhee quickly brings the children under control. However, it will take more than her magic to stop Cedric from marrying the hideous Selma Quickly and to make him instead notice Evangeline, the scullery maid, who is right under his nose and is obviously the perfect candidate for new wife and mother to the children.
Thompson also wrote the screenplay and it is thanks to her writing that the movie is as good as it is. Each of the children is given an established and distinct personality despite the limited amount of screen time given to each of them. And although some of the humor is quite silly and I'm afraid to say does include a food fight near the film's climax, this movie is after all, intended for the whole family and the younger children in the audience I saw this with seemed to enjoy the moments of slapstick.
Surprisingly and despite the title and the fact that she wrote it, Thompson limits her own time on screen. Her magical and mysterious nanny figure is never fully explained or rationalized, which leaves her an intriguing character and made me want to know more about her. Her time with the family is limited by her explanation that, "So long as you need me, but do not want me, I will stay. But when you want me, but no longer need me, I must go." And every time the children learn something from her, her appearance changes for the better. So at the beginning of the film, she is covered in warts and hair, but by film's end, she is transformed into the Emma Thompson we are all familiar with.
It's impossible to watch Nanny McPhee without drawing comparisons to that other British nanny, Mary Poppins, and while Nanny McPhee will never be considered a classic at the same level as that one, it is a light-hearted and enjoyable little film.

Reviewed on:
January 22nd, 2014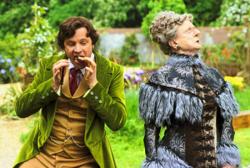 Colin Firth and Angela Lansbury in Nanny McPhee
Scott found it impossible not to watch Nanny McPhee without drawing comparisons to Mary Poppins, while I was reminded of another Julie Andrews film, The Sound of Music. In that classic musical the children pride themselves on getting rid of nanny after nanny, just as they do here. Nanny McPhee will not live up to either film but it does have some light-hearted family charm.
Nanny McPhee does indeed correct the children's poor behavior through magic but not so much by the simple virtues of paying attention to them and not taking any of their guff. When she tells Cedric that the children will be staying in bed all day, he tells her to give them whatever they want such as ice cream and wait on them hand and foot, just as their mother did. Then there is the scene where Nanny McPhee talks to the cook, who is going to make them sweets, into making them broth.
Thus, Nanny McPhee brings the children under control through magic, by not giving in to their every whim and appropriate reciprocity. The children state they want to stay in bed and so she grants them their wish. It also allows Nanny McPhee the opportunity to teach them their second lesson, getting up on time.
The neon color scheme and the silly scene with the near blind aunt mistaking the animals for children, clearly mark this as a whimsical family fairy tale. The scenes with Cedric and his hideously betrothed borders on the adult. He tries to stop the children from playing pranks on her while she sees his efforts as sexual advances. It is a slightly awkward clash of motivations. Later, the children try to apologize to her, who responds, "It was all too clear what he wanted and marriage had nothing to do with it. No wonder there's so many of you."
The ending is never in doubt but the fun of this film is in the journey. We see the children start to behave. We see that the oldest boy Simon, is becoming a young man. Nanny McPhee helps these children and their father, until they no longer need her around but want her around.
Reviewed on:
March 17th, 2015
A pig, Colin Firth and Angela Lansbury in Nanny McPhee.
Nanny McPhee was based on the Nurse Matilda books written by British author Christianna Brand. She wrote the three books in the series from 1964 to 1974. Emma Thompson has stated that, just like the book series, the Nanny McPhee movies will be a trilogy. By the time Emma Thompson started adapting the screenplay for this first movie the books had long been out of print. In fact, Thompson got the idea to adapt them when she was dusting her bookcase and came upon her old childhood copies. The title character's name was changed to avoid any confusion with the Roald Dahl, Matilda character that had been featured in a movie in 1996.
I wholeheartedly agree with my brothers. This is a whimsical and enchanting, family friendly movie with a memorable central character. The supporting cast is quite funny. Derek Jacobi and Patrick Barlow are worth a few chuckles as the very fey Mr. Wheen and Mr. Jowls respectively, making acerbic, often sartorial, comments about the other characters. Imelda Staunton is quite funny as the cook, and the buxom but homely Celia Imrie is a stitch as the gold digging Selma Quickly.
But by far the most welcome supporting role is played by the legendary Dame Angela Lansbury as the vile, and extremely near-sighted, Great Aunt Adelaide. Not counting voice work and television roles this was her first feature film since The Company of Wolves in 1984. Since Nanny McPhee Lansbury has made just one other feature film, when she appeared with Jim Carrey in 2011's Mr. Popper's Penguins. She continues to act regularly on the stage but her presence in movies has become a rare precious commodity. She is a welcome presence in Nanny McPhee just as she is in any movie. She provides a few harmless chuckles in her big scene that Eric mentioned where she mistakes the children for farm animals (see photo).
Nanny McPhee is sweetly old fashioned. It reminded me of both of the movies my brothers mentioned in their reviews, Mary Poppins and The Sound of Music. Add in the presence of Angela Lansbury and this could practically be a Walt Disney movie from the 1960s. I didn't expect to enjoy it as much as I did. I'm now looking forward to seeing Nanny McPhee and the Big Bang, as well as the third movie in the trilogy whenever it comes out.
Photos © Copyright Universal (2006)
Related Review