Movie Review
Nanny McPhee and the Big Bang
You'll Believe That Pigs Can Fly!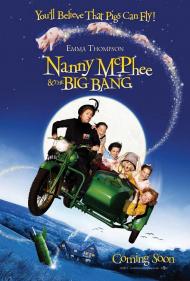 United Kingdom Release Date: 03-26-2010
Directed by: Susanna White
Starring
▸
▾
Emma Thompson

,

as

Nanny McPhee
Maggie Gyllenhaal

,

as

Mrs. Green
Lil Woods

,

as

Megsie Green
Oscar Steer

,

as

Vincent Green
Asa Butterfield

,

as

Norman Green
Rosie Taylor-Ritson

,

as

Celia Gray
Eros Vlahos

,

as

Cyril Gray
Rhys Ifans

,

as

Uncle Phil
Maggie Smith

,

as

Mrs. Docherty
Sam Kelly

,

as

Mr. Docherty
Ewan McGregor

,

as

Mr. Green
Ralph Fiennes

,

as

Lord Gray
Daniel Mays

,

as

Blenkinsop
Bill Bailey

,

as

Farmer MacReadie
Sinead Matthews

,

as

Miss Topsey
Katy Brand

,

as

Miss Turvey
Nonso Anozie

as

Sergeant Jeffreys

Reviewed on:
August 1st, 2010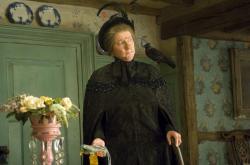 Emma Thompson in Nanny McPhee and the Big Bang.
With Nanny McPhee and the Big Bang (Nanny McPhee Returns in the US), Emma Thompson returns to the character she created in 2005's Nanny McPhee, based upon the Nurse Matilda books. Thompson not only stars, but also writes (as she did the original), creating a heartwarming lilttle children's movie that contains enough humor to keep the grownups entertained as well.
The story starts some 60 or 70 years after the first movie, during World War II. Maggie Gyllenhaal plays Mrs. Green, the mother of three children living in the English countryside. Her husband is off fighting in the war and she and her children are fighting to keep the farm going. The family is enlarged when two city cousins come to stay to get away from the London bombing. And matters are complicated when Uncle Phil tries to sell the farm to pay off his gambling debts.
Nanny McPhee enters unaged, like Mary Poppins, just in time to help the Green family with all of their various problems. As in the first film, she is here to magically teach the children five lessons and as each lesson is learned, Nanny McPhee's appearance becomes less ugly. She begins the movie with moles, a unibrow and bad teeth, but as the movie goes on she becomes more like Emma Thompson.
The humor is rather mild and gentle. It's definitely aimed at smaller children. Pleasantly though, unlike many American films, the children are rewarded for their good behavior and are shown that basically children want love and attention, but also require guidelines and discipline. It's pleasantly old-fashioned in this way.
Gyllenhaal does a good job as the put upon mother, delivering a very well done English accent in the process. Ralph Fiennes, Ewan McGregor and Bill Bailey all do small cameo appearances, while Maggie Smith has a small but memorable part as the rather absent-minded elderly woman who provides the connection to the first film. Thompson's McPhee ("small c, big P"), while in the title and key to the plot, is really in a supporting role to the children, but remains the center of the movie.
There are several moments of outright sappiness, but it's handled so deftly and so straightforwardly, that it works in the movie's favor rather than against it.
If I had young children, this is definitely the kind of movie I would want them to watch, and the kind I would have enjoyed myself at that age.

Reviewed on:
January 24th, 2014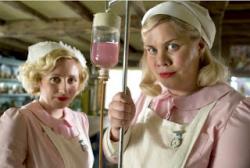 Sinead Matthews and Katy Brand as Miss Topsey and Miss Turvey in Nanny McPhee and the Big Bang
Nanny McPhee is a pleasant and entertaining enough character that a second visit with her was not unwelcome. Her guiding hand and magical stick make for an imaginative family film with a lesson about friendship. When was the last time someone made a children's movie where behaving was part of the plot?
As in the first film, Nanny McPhee and the Big Bang has humorous supporting players. My favorites are the two heavies who are sent to collect the debt from Uncle Phil. Although one sounds like a man, they are two women who come on more sweet than scary. Their names are appropriately enough Miss Topsey and Miss Turvey.
It also has some childish humor involving animals. This time around it is some tree climbing, synchronized swimming pigs. They are the kind of jokes that a parent can easily tolerate while small children may laugh out loud at.
Both Nanny McPhee movies focus more on the children than the adults, but this film lacks the air of romance that ended the first movie. It was a magical scene that capped the proceedings off nicely. Here we have a decent enough reunion but it is not milked enough for what it is. It lacks the required fantasy combined with reality that is the staple of these films.
We learn a bit more about Nanny McPhee this time around. She mentions at one point that if she loses her magical cane she has to fill out all kinds of paper work. She must belong to some extraordinary organization that works on a higher plane but who they are and exactly how they work is never disclosed. Perhaps a third film may give us more details.
Reviewed on:
June 26th, 2015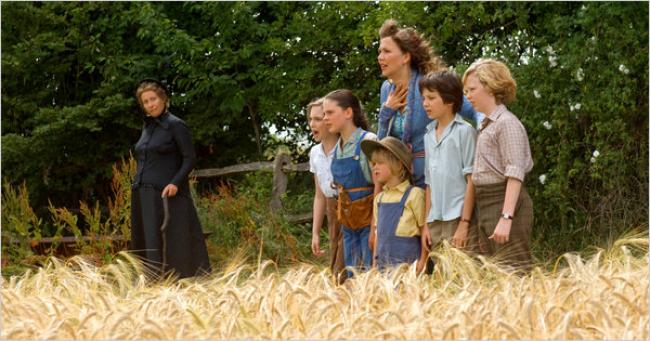 Emma Thompson, Maggie Gyllenhaal and cast in Nanny McPhee & the Big Bang.
Nanny McPhee is a wonderfully old fashioned character. She provides love and discipline in equal measures. Her credo, "When you need me but don't want me, I must stay. When you want me but no longer need me, I must go." is selfless. Think about it. She spends most of her existence as an ugly taskmaster and gets to be pretty and loved for only brief periods of time. Emma Thompson is perfect in the role, which makes sense since she also wrote the screenplay.
I agree more with Scott than Eric on this one. This second Nanny McPhee movie is every bit as good as the first one – perhaps even a tiny bit better. I actually found the ending here to be more emotionally satisfying than in the first movie. Sure that first ending was more romantic but how can you not be moved by a soldier returning from war and reuniting with his wife and small children? Add in the scene where it is revealed that Maggie Smith's character is actually the baby from the first movie and you have a wonderfully crafted and wholly satisfying conclusion.
The five lessons Nanny McPhee teaches are simple yet profound: to stop fighting, to share nicely, to help each other, to be brave and to have faith. With the help of her magic stick, Nanny McPhee works wonders and always in a clever, imaginative manner (piglets performing syncronized swimming as in a Busby Berkeley routine). As the children learn their lessons Nanny McPhee becomes symbolically prettier and prettier. The formula may be the same as in the first movie but the characters and time period have been changed.
Originally the Nanny McPhee movies were intended to be a trilogy. However, due to a lack of success at the box office, a third movie has never been made. That's a shame really because these movies are a delight. They entertain while teaching basic moral lessons. How many movies can you say that about these days?
Photos © Copyright Universal Pictures (2010)
Related Review