Movie Review
Mystic Pizza
A romantic comedy with the works.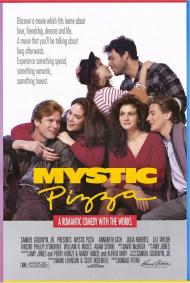 US Release Date: 10-21-1988
Directed by: Donald Petrie
Starring
▸
▾
Annabeth Gish

,

as

Kat Arujo
Julia Roberts

,

as

Daisy Arujo
Lili Taylor

,

as

Jojo
Vincent DOnofrio

,

as

Bill
William R. Moses

,

as

Tim Travers
Adam Storke

,

as

Charles Gordon Windsor
Conchata Ferrell

,

as

Leona
Matt Damon

as

Steamer

Reviewed on:
April 11th, 2007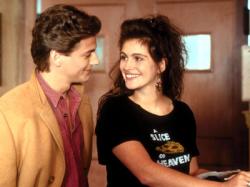 Julia Roberts landed her first starring role in Mystic Pizza.
The most memorable thing about Mystic Pizza is that it is Julia Roberts' first starring role and likewise the very first screen appearance of Matt Damon. But you better not blink or you will miss his one scene and one line.
Mystic Pizza tells the story of three romantically challenged young girls who work at a pizza parlor in Mystic, Connecticut. Jojo is a horn dog who loves having sex with her boyfriend, Bill, any chance she gets but does not want to commit to him even when he begs her to marry him. Daisy has the reputation of being the local slut. She falls for a rich guy, Charles. Kat, Daisy's sister, falls in love with a married man.
Yes, it is a chick flick of the highest order. Written by Amy Holden Jones, the male characters are only in the movie to cause problems for the girls. At one point Bill breaks up with Jojo by saying, "I'm telling you, 'I love you' and all you love is my dick." Yeah men hate it when they have that problem. That is just how most men talk.
But the superfluous male characters are not the only ones stuck with stupid dialogue. When Daisy is mad at Kat she hands her a mop and says, "Wipe your conscious." Later in the movie, Daisy's mom says to her, "I'm just so worried about you." To which Daisy responds, "Yeah, me too."
Mystic Pizza stays firmly in the cliche ridden Hollywood world. Charles's rich parents are, of course, snobs. The working class people are all terribly nice to each other. Kat willingly has an affair with a married man and then blames him entirely when he stays with his wife.
The only thing that stands out in this movie is Julia Roberts, looking gorgeous. Many aspects of this movie foreshadow greater things to come for her professionally. She dates a rich guy here like she does in Pretty Woman. A side plot involving a food critic bookends the movie. Roberts would later play a food critic in My Best Friend's Wedding. Her character, Daisy, is a lower middle class girl who dresses slightly slutty like Erin Brocovich. Okay, so I am stretching here a bit but I had to find something in this movie to enjoy.
Photos © Copyright Samuel Goldwyn Company, The (1988)